If you're looking for a reliable key finder device that can help you find keys and other items quickly and easily, then read on to learn more about the top 7 key finders that are currently available in the market.
Almost all of us have had to deal with misplaced keys or wallets and the subsequent chaos of not finding them in case of emergencies. Suppose you were wondering about the existence of any solution to this trivial everyday problem. In that case, technology does offer a simple and elegant solution, anti-lost Bluetooth trackers.
It is a simple Bluetooth-enabled device that fits easily in your key chain and tracks your keys' location. In the case of misplaced keys, all you have to do now is to pick up your phone and know exactly where your belonging is.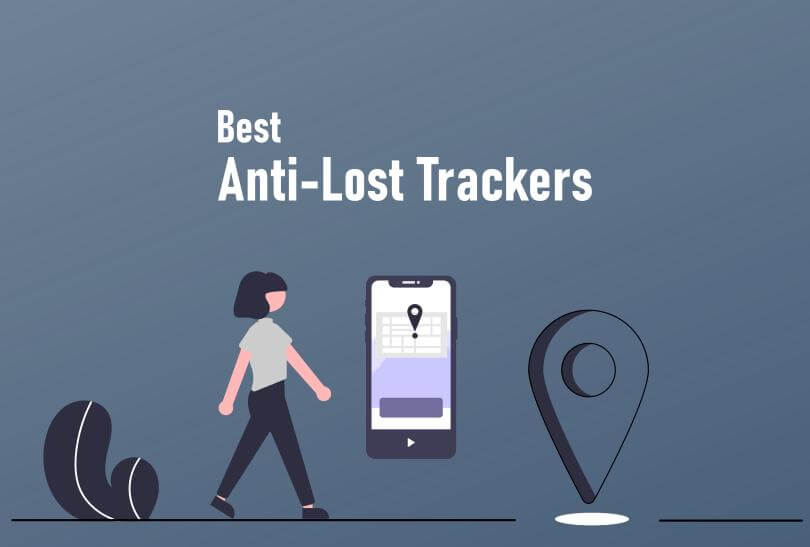 The best thing about the key finders is that you don't have to lose your cool about it any time you misplace your car keys. Just attach a Bluetooth-enabled tracker to your keys, and you can easily follow the alarm to locate your keys with ease. It is that simple.
Choosing the right Bluetooth key finder is not always straightforward. Many devices in the market boast similar features are competing, which leaves us in a pickle more often than not. Picking up the cheapest or nearest product can be counterproductive, as a fair amount of research is needed to pinpoint the best product fit for your specific needs.
A lost-key tracker can function as more than just a tracker and as an anti-theft device. So, it is crucial to consider factors like wireless range, battery backup, etc., to get the best out of the product.
Here are some of the top products available in the market which are sure to give you a run for your money.
List of best Anti-lost trackers/ Key finders available in India
1. Tile Pro
Tile is one of the best key finders out there, and the new Tile Pro promptly demonstrates this fact. Tile increased the range on the Pro, which is easily over 200 feet. The alarm is loud and clear and can be heard with ease and clarity over long distances. A replaceable battery was introduced in the previous model and made a welcome return to this key tracker.
The Tile Pro and any Tile tracker are compatible with Nest devices like a Nest mini or Nest Hub, which comes in handy at homes and offices. Google added Tile support to Google Assistant, making it possible to control the device with your voice.
The price is easily justified by its utilities, with the added presence of the cool features it offers. If you need a key tracker or anti-lost tracker with a wide range and reliable performance, this is the one to get.
Pros
Great Bluetooth coverage
Phone find feature
Community find support
Cons
No option to adjust the pingback volume.
The notification sound output/ alarm volume is loud.
2. tag8 Dolphin Smart Tracker
DOLPHIN Smart Tracker is claimed to be one of the world's most compact and efficient, Bluetooth trackers by the makers with a high range. DOLPHIN tracker is handy to secure your valuables such as wallet, keys, gadgets, and phones, and also to secure your travel items such as passport, luggage, and camera and even track pets!
It helps you find your valuable when misplaced and alerts you if you leave it behind or are moving away from you. When your belonging goes out of range, you can view the last recorded GPS location to track down your product.
You can also activate a community search and let other people join in to help you find it. Every phone running the tag8 tracker app joins in to help you find it. This GPS-enabled feature allows you to find your valuable quicker. Setting it up is very easy as all you have to do is download its app on your smartphone, and voila, you are ready to roll.
One added perk of the product is the selfie button available, which you can use in any creative way you want for some candid snaps.
Pros
Replaceable battery
Phone find option
Cons
Smartphone App need improvements
3. Panasonic Seekit
The tag line for Seekit is "Never lose anything," an apt catchphrase for the product. The presence of a buzz button on the Seekit app makes it ring and glow, hence catching both the senses' attention. The feature will come in handy in dark rooms and around dark corners.
An indicator will send a message to you as soon as your device goes out of range. You can also know your device's last known location through the app, making it extremely useful to track down the lost product on a map. The app even guides you to your product when you are around through a proximity guidance system.
The app also allows you to send messages to near and dear ones beside you, thus lifting the sole responsibility from your shoulders. And to make things even more interesting, all these features come at a very reasonable price. The product's weight is around 7 grams, which doesn't make it feel like you are carrying a burden.
Even though this key finder comes with a non-replaceable battery, it has a battery life of 12 months.
Pros
Lightweight
Can use as a selfie button
Cons
Battery not replaceable
Need improvement in coverage range
4. Tile Mate
The Tile Mate is another excellent product from Tile and a good alternative to Tile Pro. It allows you to spend less money on your key finder while making small compromises with the features like range and decibels.
The operating range of the new Tile Pro is better, while Tile Mate's performance is very similar to earlier versions. So the only factor in play here is the price. If you are looking for a cheap and reliable product, this is your call.
The Tile Mate has a replaceable battery, the same as previous models. Also, weighing around 30 grams, it is neither too heavy to become a liability nor too light to forget its existence. The range of the device is 80-90 feet.
The two-way feature can locate your phone as well; the app doesn't require any premium subscriptions. Tile Mate is one of the most budget-friendly products out there for you to try if you are new to key trackers.
Pros
Around 60 meters Bluetooth range
Replaceable battery
5. Samsung Galaxy SmartTag
First of all, Galaxy SmartTag works only with galaxy smartphones. So, if you already own a Samsung Galaxy phone, you could opt for Samsung galaxy SmartTag.
The design and security features are the most exciting part of SmartTags. It can fit into keychains and wallets, keeping a low profile, thus taking little space.
Other than this, the Galaxy SmartTag comes stocked with pretty much the same features as any other tracker device; A replaceable battery, a community search option, a track your phone option, and IoT. With IoT function, you can even remotely operate smart devices in your home, such as smart bulbs.
The price is also reasonable for the features that it offers. The designers have managed to make the tracker compact, lightweight and secure.
The main downside of this anti-lost key tracker is that it works only with Samsung Galaxy phones running Android version 8.0 or higher.
Pros
Lightweight
Replaceable battery
Budget-friendly key tracker from Samsung
Cons
Works only with Samsung Galaxy phones
6. Letstrack TAG Smart Bluetooth Tracker
A key tracker with all the stock features that you can't do without yet one that fits perfectly within your budget. The Letstrack TAG is a budget-friendly device with a range of 250 feet.
It comes with all the features like an alert feature, app compatibility, phone finder, the community search option, and even the selfie button. The 90-decibel audio alert will help you to find your lost item.
Another pro feature of the device is the water-resistant body, making it ideal to use in mild weather conditions. The battery will last for around 1.5 years before you need to worry about replacing it.
Also, you can integrate Letstrack TAG with Alexa, Google Assistant, and Siri. For the offered price range, the Letstrack TAG provides excellent performance for an affordable price, which in itself should be its selling point.
Pros
Replaceable battery
Can use as a selfie button
Cons
Need improvement in coverage range
Need improvement in map
7. Elegant Casa Bluetooth Anti-Lost Tracker
Elegant Casa Bluetooth Tracker is a trustworthy device to bestow the responsibility for your valuables like phone, key, wallet, credit cards, etc. It quickly finds your misplaced items provided the Bluetooth device is in range.
With the tap of the calling button, the locator device will alarm, making it easy to find your stuff. You can also double-press the button to alarm your phone and locate it.
The device has a remote control function and protects your valuables from theft or loss. It can also provide a last-seen pin-drop on the map via Kindelf/MyAPP/iSearching app to help you recover your lost items and search your cars on the parking site.
The button on the tracker can be used as a selfie button. Elegant Casa's anti-lost tracker works with the Android system as well as other mobile systems like iOS.
All android devices which support Bluetooth 4.0 or above version will work with the tracker. It has an effective range of up to 80 feet, and the cost is cheap for the values it offers.
Pros
Budget-friendly key finder
Replaceable battery
Cons
Smartphone App needs improvement
How do you decide which anti-lost tracker is the best for you?
The answer is subjective, but here are some key factors that you can take into account-
Range
The range you need the device to work with will ultimately decide the most suitable product for you. Although most devices are affected by obstacles like walls, it would be noteworthy to keep that in mind when shopping for your ideal product.
Alarm Sound
You have to hear the device over any other background noise. So keep in mind the decibels that you are going for! That should be a deciding factor for your product.
Phone find Feature
Key finders with two-way features that let you track your phone with the push of a button can be a fancy add-on feature for many.
Battery Life
The two options available are removable and non-removable types. Although most brands claim to have a battery life of between 6-12 months, a removable battery is always more flexible for everyday use.
Community search option
This feature helps to find the lost key with the help of other people who are using the same key finder brand via the smartphone App.
Tracking Multiple Items
Using multiple trackers is only common practice for many users. You need to make sure that the app supports this feature if you intend to do so.
Price
There's always a device that comes in your price range but does not have the proper specs you wish for. Finding the delicate balance is crucial as you wouldn't want a trade-off with any important feature for the money.
FAQ about key finders
Is there a gadget to find keys?
Yes, You can use an anti-lost tracker or key finder device to track your lost keys.
How can I use my key finder more efficiently?
Some tips for an efficient key finder are:
Always make sure enough charge is there on the key finder or tracker.
Get a key finder with a wider coverage area.
Get a key finder with the community search option.
Make sure your tracker also supports the phone find feature.
Do key finders work?
Yes, key finders can be a useful gadget to find your lost keys. The Key finders can provide you the location information, where you last kept your keys or wallet. They can also give notifications on your smartphone once you are out of the key finder range.
Conclusion
Anti-lost trackers can be a lifesaver for several situations. So get the right one for you if you need one.
These key finders come with different features, and hence choosing the best one can be difficult. By this time, after going through the above list of best key finders or anti-lost trackers, you might have a good idea about it.
Also, this gadget makes an excellent gift for your loved one. So go and grab the right one for you or your loved one!