At some point, we have all had to open up the inbuilt webcam of our laptops and look at the zoomed-out, grainy, low resolution, dark image at the screen, wondering how to fix it? It becomes worse for those who had to go through an actual online meet and be the ghost among the members.
Especially in 2021, when most human interactions have become online, the stock webcam just is not going to cut it if you plan to stand out among your peers or coworkers. It is high time you invest in a decent webcam!
It's a popular misconception that only those with corporate jobs require a good Webcam capable of HD streaming capabilities. They come in handy for a whole spectrum of work environments, the likes of which include vlogging, streamers and teachers, those attending a job interview, or ones using a PC where there is no provision for an inbuilt webcam.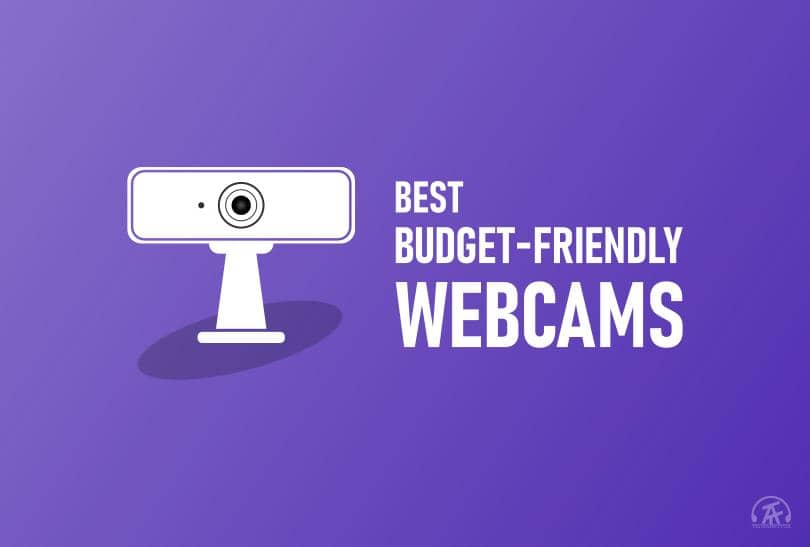 So what are the factors to look out for before buying a webcam that needs to serve your needs?
Features to look out for before buying a webcam
1. Webcam Resolution
A 1080p resolution webcam is enough to serve the most basic need of giving a smooth and clear picture. If you are looking for a clearer and sharper picture, a 4K webcam is the way to go.
Low resolution is directly linked to grainy images. It is highly recommended to have at least a resolution of 720p while buying a webcam.
It should be obvious that a higher resolution will need better internet connectivity for steaming the video.
2. Frame rate
The minimum frame rate offered by any good-quality webcam is 30 fps. Higher frame rates lead to more realistic pictures with no stutters.
60 fps webcams have the most realistic images. And if you are looking to stream, a frame rate of more than 30 fps is highly recommended.
3. The lens of the camera
Almost all inbuilt webcams in our laptops have a fixed focus lens which means that the focal length is not adjustable, giving you only a fixed field of view to work with. This means that the image will be cut out at places where you might want to have focus.
An adjustable lens will allow you to record a range of fields of view.
The lens decides how much light needs to be passed into the camera, which is directly related to lighting.
A good lens can give a bright, clear image even if the ambient light is comparatively low, while a cheap one gives a darker image that is very difficult to make out.
4. Webcams with microphones
Most of the time, it becomes inconvenient for a user to buy a separate, dedicated microphone to go along with a webcam. And given the fact that the quality of webcam microphones has improved over the years.
It's easy to find webcams with an inbuilt microphone that can serve your purpose satisfactorily if you aren't a hardcore streamer or a vlogger.
Webcam microphones can pick up the audio from the room and make it feel more natural if it supports stereo. Stereo microphones mean that you can distinguish the sounds coming from the left side from the right side.
Webcams with stereo support usually have mics placed on either side of the camera to serve this purpose.
5. Webcam Design
There can be different intended use for a webcam by different people. It is necessary to look into the build and design of the camera.
You may want to mount the camera onto the laptop screen or fix it to a table. You may want to tilt it, rotate, or zoom depending on the angle you set it up, the lighting, and what you intend to capture.
A frequent traveler may require a camera that is compact, sturdy, and easy to set up. Therefore depending on your use, go for a webcam that supports adjustable mounts, is lightweight, and is most suitable for your needs.
6. Mac OS support
It may seem to be a minor point, but it is something that is overlooked quite easily! Almost all modern Webcams have IOS support, given it has a USB 3.0 port.
But it is always advisable to double-check anyway if you are a mac user since it will be easier than going through the frustration of replacing the product if the webcam isn't supported.
7. Motion sensors
This may seem overkill and unnecessary to most users. But if you are paranoid about security, this feature enables you to turn your webcam into a security device, thus allowing you to monitor your PC or laptop while you are away from your desk.
8. Other Special Effects
Some webcams allow for special video processing in the video through their special software, which can be used to edit videos or blur out unnecessary objects from the video, before streaming making it useful for meetings.
Now that we have looked into the need-to-know basics about buying a webcam, let's look at some of the affordable products available in the market.
List of best budget-friendly webcams
Best budget-friendly webcams available in India
1. Lenovo 300 FHD
This webcam from Lenovo comes with a whole arsenal of features at an affordable price. The webcam is a full HD 1080p variant with CMOS technology, meaning it's incredibly fast and suitable for long exposure works.
The 2 mp camera is best suited for FHD applications and, the built quality gives you the premium feel at an affordable price. The connectivity type is USB which is supported by all existing operating systems like Ubuntu 20.04, Windows, Mac OS, etc.
It does not need to install any additional drivers, and it's as easy as plugging in and starting to record.
The webcam has a built-in stereo microphone giving you a detailed and multi-angle audio experience. The field of view of 95 degrees is a lot for conference calls or other daily uses and, the default frame rate is 30 fps.
There comes an external tripod mount with the device making it versatile to use at any location, adjustable at any angle, thanks to its 360-degree rotation capabilities. This is one of the Best budget 1080p webcams available in India.
2. Logitech C270 HD Webcam
The Logitech C270 is an excellent choice in the budget section of webcams. It is a 720p device with a wide-angle of video coverage, making it suitable for students and other casual users for daily use.
The frame rate is 30fps and, it offers a field of view of 60 degrees, which may seem low, but is more than sufficient for an average user.
The presence of a noise-canceling microphone is an additional benefit for those working in a noisy environment and, it delivers right on the money.
The bright light performance of the device is really good, providing a satisfactory image under low light conditions. The connection is simple and is of USB type with easy installation. The foldable stand allows it to be mounted on a computer screen with ease or to be used separately.
The only downside is that the webcam cannot be rotated vertically since it's fixed on that axis.
3. CASE U HW1
This particular model from Case comes with a full HD 1080p resolution and CMOS technology. The frame rate is 30fps, coupled with the build quality, automatic light correction, and HDR technology.
This device is capable of serving the average user with more than what is expected of it. The feed from the camera is wide-angle, although there seems to be distortion at the edges of the image.
The device is supported with almost all operating systems like Windows, Mac OS, Android 4.0, and higher with an easy plugin and plays feature. Still, there seems to be no Linux compatibility and, you may have to install a separate driver for that. Also, CASE U HW1 is one of the best budget 1080p webcams for PC available in India.
The inbuilt noise-canceling mic performs well with a nice audio quality.
The low light performance is good for the camera. But if you are looking to stream, the mic may be a bit of a letdown, although a 360-degree rotation feature is available.
4. Logitech C922 Pro HD Stream Webcam
The costliest product on our list, first off, let us see what the specs are that Logitech offers for the price. The C922 can record at 1080p, at 30fps or 720p, 60fps making it the best choice for conferences or skype call with your friends and family. It's even possible to stream games and other content without much hassle.
If you are looking for 4k recording capabilities and better frames, there are other models available, considering the price range. But the C922 pro offers some other exciting feature like a stunning low light correction feature, the ability to edit and replace backgrounds and a stand which is compatible with any monitor or a flat surface.
Its field of view is diagonal with 78 degrees and an autofocus feature. There is a stereo mic on both sides of the device and compatible with Windows 7, MAC OS 10.10 and higher, and Chrome OS.
This device will come in handy for streamers or other content creators requiring high frames at HD quality at an affordable price.
5. HP w300
This particular webcam from HP comes with all the stock features discussed so far. It can record at 1080p, 30fps and is suitable for casual calls on Skype, Microsoft Teams, Google meet, and streamers and gamers.
The build quality is good, with a premium feel to it. The audio recording system is stereo with dual digital microphones.
The connectivity is universal, supporting all versions of Windows currently in use, Mac OS 10.6 and higher. You have to plug and play, not worrying about any additional driver installation although, there isn't any mention of a Linux system supporting this feature.
The field of view is a wide-angle of 72 degrees with an amazing visual and audio experience. Also, the tripod fits well in any monitor or surface and is extremely helpful with its 270 degrees swivel, useful in recording videos and other content creation.
Conclusion
The choice of a webcam is highly dependent on the anticipated work and working environment.
Depending on whether you are a streamer, content creator, employee, or student with the natural lighting of the space you are in and the operating system you are using, the performance of every product will vary accordingly.
Before purchasing a webcam, it is often a good idea to have a clear concept of your requirements because the wrong choice will have consequences on your video quality, sound, and overall experience.