An electric drip coffee maker machine is one of the most common types of coffee maker. So, if you're looking for the best coffee maker under Rs 2000, you're in the right place.
Is coffee the first thing you need to get your day off in the morning? If so, buying the right coffee machine for home use is a wise investment. The aroma of freshly made coffee has the potential to lift your spirits and energize you.
So, having a good coffee maker will make your life even simpler. However, if you don't have a good coffee maker, it might spoil the rest of the day. That's why you should carefully consider all the different types of coffee makers on the market before making your decision.
We know how difficult it can be to determine which one to buy. That's why we came up with this post that entails the top 5 best electric drip coffee makers for homes under Rs 2000.
Best Electric Coffee Makers Under Rs 2000 in India

1. Pigeon by Stovekraft Brewster Coffee Maker
The Pigeon by Stovekraft Brewster Coffee Maker is preferred because of its small size and potential to prepare 5 cups of freshly brewed coffee using the quick brew feature.
Apart from taste and temperature, it ensures protection and hygiene with its food-grade material, easy-to-clean filter, and drip-stop feature, which prevents coffee flow as soon as the carafe is removed. However, you can drink barista-style coffee in your own house.
The transparent carafe and sleek black body of this best coffee maker under Rs 2000 will add to your kitchen's elegance while also allowing you to see when coffee is made.
Why we love it
Mesh filter and modern brewing technology
High-temperature glass Carafe made of glass with a water level indicator
Mechanism to avoid dripping
Dishwasher-friendly and ergonomically built body
600 ml capability with a 2-year warranty
220 – 240 volts operating voltage
Heating capacity of 600 watts
Specifications
Brand: Stovekraft Brewster
Item Weight: 1 kg
Item Dimensions: 14.5cm x 19cm x 24.5cm
2. Tefal Apprecia 6-Cup Coffee Maker
With a Tefal Apprecia coffee maker, you can wake up to the aroma of a delicious cup of coffee. Apprecia is a compact coffee maker that can be used in the house, workplace, or anywhere else you choose.
This lightweight coffee maker promises unmatched taste and experience due to its removable tank.
Apprecia runs at 600W and prepares 6 cups of coffee in one go, making it easy to use and maintain. This coffee maker, under Rs 2000, comes with an ejectable water tank that is quick to clean and refill.
Why we love it
This lightweight and ultra-convenient product is ideal for the optimal coffee experience.
It runs on 600 watts to provide you with a cup of rejuvenating coffee every time.
6 cups of coffee served in a 0.6l jug with the freshest flavor and fragrance
Easy to clean
Specifications
Brand: Tefal
Material: Plastic
Capacity: 0.6 liters
Item Weight: 1800 Grams
Item Dimension: 25cm x18.5cm x27.5cm
3. Croma CRAK0028 Coffee Maker
With this Croma best coffee maker under Rs 2000, you can commence your day with a relaxing cup of steaming hot coffee.
It has a maximum capacity of 1.5 liters, which ensures it will produce enough coffee to last you all day. The sleek heat-resistant carafe has a lid that helps you to hold your coffee without having to pour it into another cup.
The nylon filter helps optimize your coffee's optimal filtration, resulting in a smooth mix that will please your cravings.
Croma's coffee maker has a digital control option with a program selection, an on/off button, and hour and minute settings to help you make the perfect cup of coffee.
Why we love it
Capacity of 10 cups / 1.5 liters
Brewing in a hurry, with a timer that can be set for up to 24 hours; Carafe with a lid that is heat tolerant
Keep it warm with the auto-shutoff feature;
Display panel for an LCD clock timer with indicators for Auto and Run modes; Indicators for water level measurements
2 years warranty
Specifications
Brand: CROMA
Capacity: 1.5 liters
Item Weight: 1550 Grams
4. Prestige PCMD 2.0
Make your coffee come alive with a rich fragrance and flavor. With that wonderful cup of coffee, charm yourself and your guests. For those who enjoy authentic filter coffee, the prestige drip coffee machine is perfect.
And there's more! This coffee maker for homes under Rs 2000 is lightweight and can be brought with you everywhere you go. Simply add your favorite coffee powder, water, and plug it in, and you'll have a tasty decoction in minutes.
With its 400 watts and specially built mesh filter, you can enjoy the ideal cup of coffee anytime, any day, in the comfort of your home.
Why we love it
Compact design
Filter with an advanced design that allows 1- 2 cups of coffee
an anti-drip valve
Brew basket Lifter handle
1-year product warranty
Specifications
Brand: Prestige
Item Weight: 577 Grams
Item Dimensions: 11.8cm x 12.4cm x 20.4cm
5. Furn Aspire Krups ProAroma Filter Coffee Machine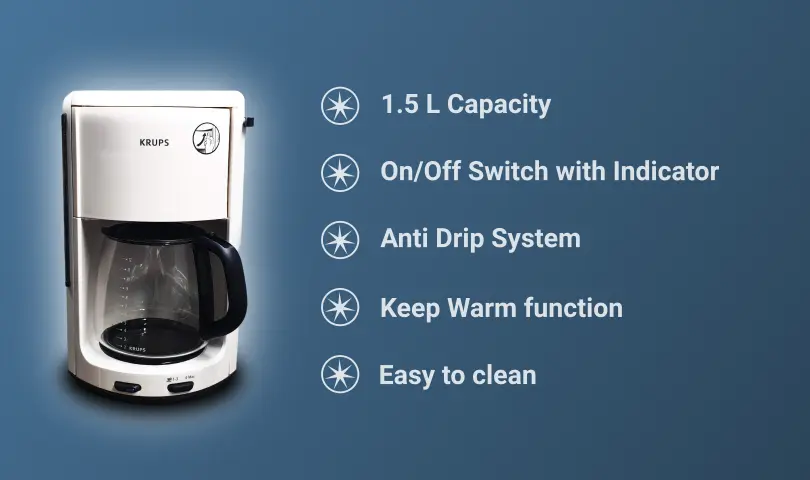 If you are fond of coffee, then this is perfect for you. You will discover the best way to start your day with the Krups Proaroma Filter Coffee Maker.
It has a large 1.25-liter capacity and handy features like a 30-minute keep-warm function for hot coffee.
Also, it has optimum temperature control for outstanding taste. The best coffee cup begins with the right temperature — the Pro Aroma brings out the coffee flavor's full quality with an improved taste.
Why we love it
1100-watt, double-walled coffee maker
High-quality, long-lasting plastic
Hot plate to keep your coffee.
Aroma-sealing glass jug that can be used in the dishwasher or microwave.
Specifications
Brand: FURN ASPIRE
Material: Plastic
Item Dimensions: 22cm x 20cm x 33cm
Conclusion
These are the best coffee makers for home under Rs 2000 that you can buy.
If you like coffee, purchase one of these coffee makers and start your day with your favorite beverage. This will save you much money at CCD or some other coffee shop.
You can get a stovetop espresso maker if an electric coffee maker is not a suitable option. So, review all the options mentioned here and choose the one that suits your budget and requirements.