Are you in search of the best electric hand mixer in India that offers powerful performance while being easy to operate? You could choose one from our curated list of the top hand mixers on the market for everyday mixing needs.
Whether it is about whipping egg whites or daily baking needs, an electric handheld mixer makes the task easier and more productive. Also called stick or immersion blenders, electric hand mixers are the most suitable equipment for mixing or pureeing ingredients within a bowl or even in a hot pot on the stove.
One of the primary advantages of electric handheld mixers over mixer grinders is you don't have to switch the ingredients to separate a bowl for blending.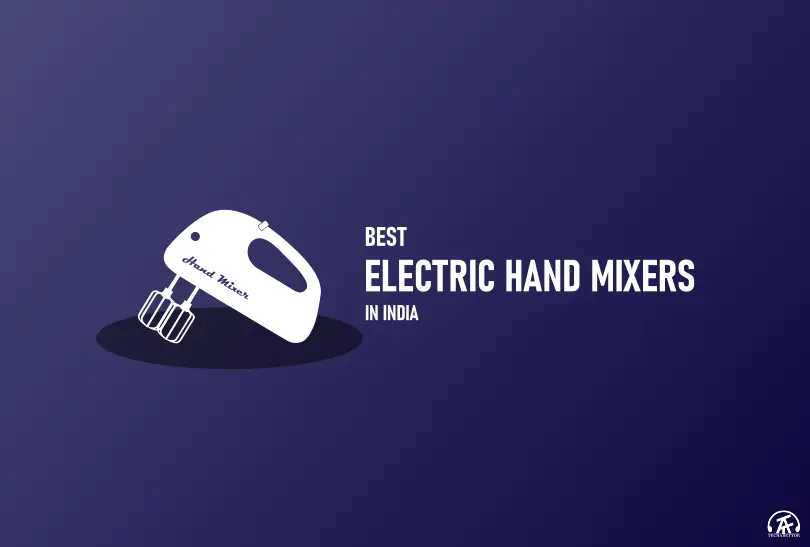 They are suitable for mixing, creaming, blending, and emulsifying a cocktail (like mayonnaise). Extra features such as chopping, ice crushing, and mixing dough also come with some high-end versions. But it can indeed be confusing to choose this smart device because all are not made equal.
We will help you choose the perfect hand mixer with our reviews of the top 5 best electric hand blenders in various aspects. To procure the best electric hand mixer for your kitchen needs, check our review.
Best electric hand mixers in India
1. Philips HR3705/10 300-Watt Hand Mixer
Philips is a popular household brand known for quality and fair pricing in India. This hand mixer is perfect for mixing, whisking, beating, and living up to the standard. With an ergonomic build, robust construction, and an excellent finish in black, this mixer is aesthetic. It is also versatile and compact for easy handling.
The mixer packs come with two sets of strip beaters, a set of dough hooks, and a 5-speed setting with the turbo feature that takes care of multiple kitchen needs, from mixing to baking to grinding. The mixer has a cone shape that makes every batter fluffier at a quicker pace because more air per minute can be incorporated.
Pros
With a powerful motor of 300W
Attachments: Beater-2, dough hooks-22
Five-speed setting
One-touch eject button
2-years Warranty
Cons
It gets heated up if used for a more extended period.
2. Bajaj HM 01 250-Watt Hand Beater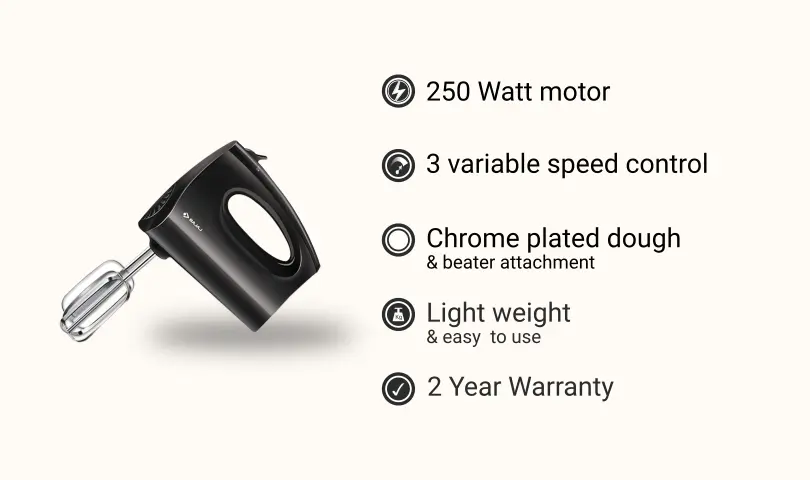 Bajaj is one of India's oldest appliance brands. Bajaj is present in the Indian market for decades with its extensive range of appliances that are used in many Indian homes.
The Bajaj electric hand beater is built with a 250W motor that is sufficiently powerful to comfortably do all your beating and blending requirements in your kitchen with such ease. It comes with a three-speed control for an outstanding beating experience. Its stylish design will certainly make you buy it right now. Like other items, it entails an eject button – that's handy when an attachment has to be changed or removed.
Pros
Powerful: Motor 250W
Attachments: Beater-2, dough hooks-2
3-Speed Setting-Low-Medium-High
One-touch button to eject
Wide sales service network
2-Year Warranty
Cons
Some users observed that the blending speed is relatively high, even in the lowest speed setting.
3. KENT Hand Blender- 300 W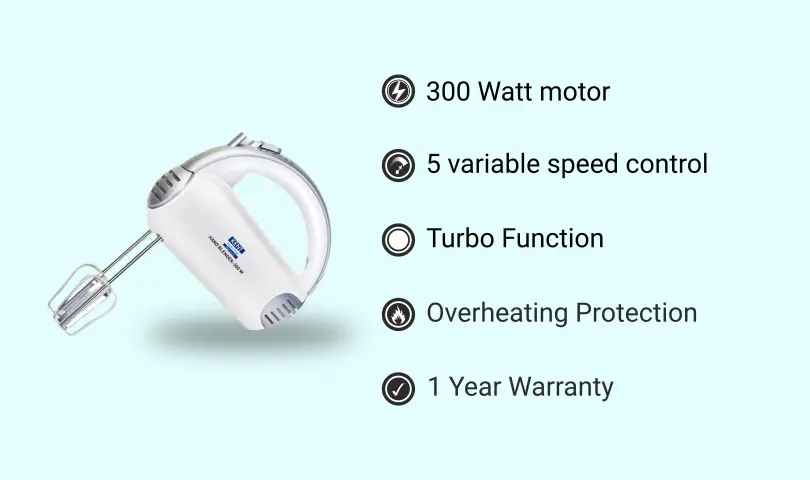 Kent Hand Blender carries out various kitchen tasks for you, like a pro. It helps mix, blend, whip the ingredients in a minimum time and provides better performance and hygiene. It is occupied with a powerful copper motor that ensures longevity and durability. Also, the motor has a power of 300 watts.
The 5-variable speed control feature will help you change the speed according to your convenience. There are chances that it will overheat with continuous use but do not panic as it saves the system with an in-built over-heating protection. The Hand Blender's body is made of food-grade plastic that is suitable for hygiene maintenance.
Pros
Powerful: 300W Motor
Turbo Feature for fast mixing
It comes with 5-variable speed control.
Stylish and trendy structure
Overheating Protection
Made from Plastic Food Grade
4. ADITYA fashion Easy Mix Electric Hand Mixer and Blender
Easy Mix is a great hand mixer from a famous brand, ADITYA fashion. The brand always ensures that its goods are produced after thoroughly knowing the needs and desires of customers. This helps to design quality, productive and enduring goods only for customers.
ADITYA fashion® Easy Mix hand blender has a 7-speed feature. The Blender has a beater and dough hooks in stainless steel for increased durability. Accessories ideal for cooking and baking are also provided. The tools give you the right solution for all circumstances.
Pros
Powerful: Motor 180 W
7 Speed Control Settings
Ergonomic modern design
Grip Handle Comfort
Control Turn Finger Strip
Beater & Hooks Detach Ejector
Cons
Overheat if continuously used for a prolonged period.
5. Prestige Hand Mixer PHM 2.0
We all know that Prestige is a renowned company that has worked hard for a long time to prepare household appliances to reduce household chores. There are many exciting aspects to this unit.
The Prestige Hand Mixer PHM 2.0 comes fitted with a 300 W motor powerful enough to meet all your beat and mixing needs in your kitchen. Due to its artistic characteristics, the maximum number of people enjoyed it. Quickly mix all the ingredients. The designer handles and the sharp blades work very well. This device's mode of operation is so simple that it can be accomplished by anyone too quickly. Control buttons are also attached to this device. It will allow the user to change the speed accordingly.
Pros
Powerful: 300W motor
Stainless steel attachments: Beater-2, dough hooks-2
5-speed setting
One-touch eject button
1-years warranty
Conclusion
Hand blenders are not a required gadget for most of you, but if you love to bake and try new recipes, then getting a hand beater is a good thing for you. From beating to whisking, India's best hand blender makes it simple. We have listed above the top 5 best electric hand mixers for your convenience.
So, whether you're a housewife or a chef and you love to prepare delicious food for your family or your clients, these electric hand blenders will help you out. These electric hand-mixers are compact, economical, portable, and healthy to support you inside your kitchen. Shop now!