Are you looking for a microwave oven that will fit your budget and fulfill all your cooking needs? Please read our top picks for India's best microwave ovens under Rs. 6000.
Nowadays, the microwave oven is an unavoidable gadget in the kitchen. A microwave oven is a kitchen appliance that uses microwave radiation (electromagnetic radiation) to heat and cook food. So, if you want to cook a dish, reheat, or defrost, the microwave oven can help you in less time.
Also, microwave oven helps to cook food faster than conventional methods. Considering the cost of cooking using gas, microwave ovens are also cost-effective.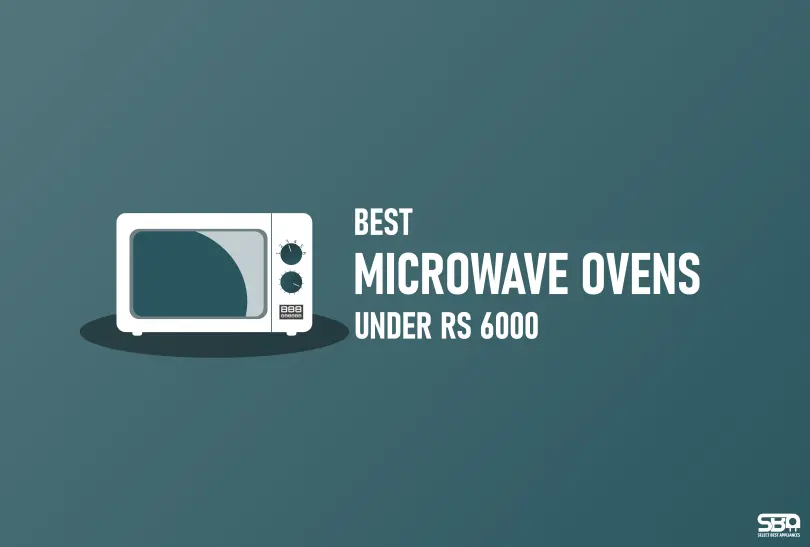 Main parts of a microwave oven
Before going to the buying guide and reviews of microwave ovens, let's look at the main parts of microwave ovens. It will be helpful for you to choose the right one and operate it.
Magnetron: This is the microwave oven's core part or heart. A magnetron generates the microwaves that cook the food.
Waveguide: Waveguide helps to redirect the microwaves generated in the Magnetron to the cooking chamber.
Turntable: It is a glass tray that helps to rotate the food inside the chamber. So the turntable helps to distribute heat evenly.
Chamber: This is where you keep food for heating inside the microwave oven.
Door: The door allows access to the chamber. Most microwaves have several safety features for the door. For example, if you open the oven door while the microwave is operating, it will shut off automatically.
Ventilation system: The ventilation system helps the microwave oven stay cool by circulating the air. Also, you should always keep enough space around the microwave oven.
Display screen: The screen shows information about the program you selected for cooking or reheating. It includes cooking time, power, and other details.
Control panel: The control panel allows you to choose the cooking programs, time, and power/temperature. Depending on the model of the microwave oven, you may have mechanical knobs, jog dials, or touch buttons for temperature and time settings.
How to choose the best microwave oven under Rs 6000?
Suppose you're looking for a budget-friendly microwave oven under Rs 6000. In that case, there are a few considerations that should be taken into account.
Wattage
One of the most crucial specifications to consider is wattage. A microwave oven with a higher power/wattage will cook or reheat the food faster.
But keep in mind that most microwave ovens available on the market range in power from 600 watts to 2,000 watts – so make sure you buy one that meets your demands.
Design
It depends on what you're looking for in a microwave oven. Some people like traditional designs on their appliances, such as a control panel with knobs and dials, while others prefer sleeker, more modern-looking equipment. If you are interested, you can also get a smart microwave oven for your kitchen.
Size and capacity
The size and capacity of the microwave you need are determined by the number of members in your family. A 20 Liter microwave oven will suffice for a single person or a small family.
Control Panel
As mentioned earlier, the control panel is where you set the time and temperature for cooking or reheating. Some people prefer jog dial type mechanical knobs for the adjustments. But the digital or touch panel controllers have more features and provide more flexibility.
Some models provide auto-cook menus for easy cooking or reheating. You have to select the auto cook program and press start.
Safety features
The most important safety features you must look for are auto-shutoff and child lock. Auto shut-off prevents overheating of the oven and automatically shuts it off if the temperature exceeds a particular level. The child lock feature prevents your child from operating the microwave oven without your supervision.
Overall rating
Before buying a microwave oven, please read what other people say about the product you're interested in. Check for ratings and reviews from customers who have used the same model. The research will give you an idea of its performance, durability, and ease of use.
Warranty
Make sure to check for the warranty provided by the manufacturer. Usually, a microwave oven comes with a comprehensive warranty of 1-2 years on the product and an additional warranty on Magnetron. It is also critical to understand what's covered by the warranty and what isn't so that you don't incur additional costs in case of a defect or malfunction.
What are the top 5 best microwave ovens under Rs 6000 in India?
Panasonic NN-ST26JMFDG 20L Solo Microwave Oven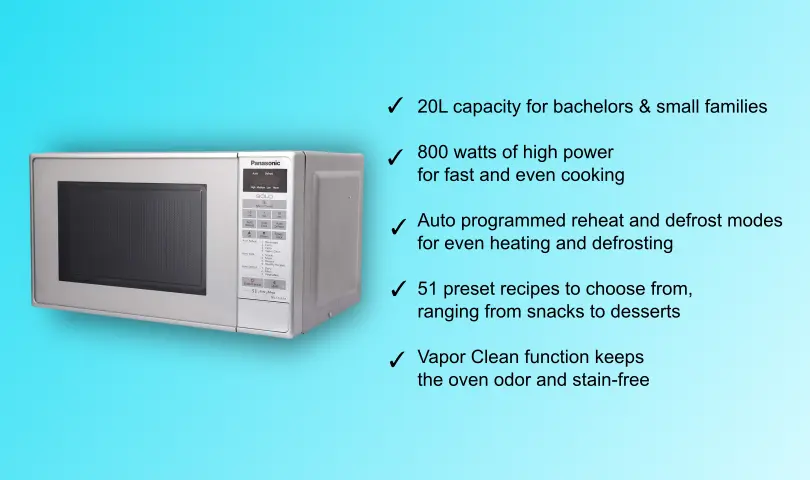 If you are looking for a microwave oven with a modern look and a compact size in your budget, we could suggest you the Panasonic 20L solo microwave oven. It comes with several attractive features and a user-friendly control panel.
Moreover, it has 51 preset recipe settings, making daily meal preparation much more effortless.
Sometimes we may find the cleaning of microwave oven a difficult task. But in the case of Panasonic NN-ST26JMFDG, it is no more a difficult task because of the vapor clean function. Also, this feature keeps the oven odor free.
This is an 800 watts microwave oven with a 25.5 cm (diameter) glass turntable suitable for bachelors and small families.
Features:
Easy-to-use reheat and defrost buttons
800 watts power output
Simple and compact design. It will give a beautiful look on the countertop.
51 preset cooking menu, including Indian recipes.
Pros
Best budget microwave oven with simple features
Easy cleaning with self-vapor clean feature
Compact in size and best for small families
Cons
Need improvement in buttons. Users find difficulty in operation.
A little learning curve for operating this model.
IFB 20PM-MEC2 20 Litre Solo Microwave Oven
IFB 20PM-MEC2 is also an 800W solo microwave oven that comes under Rs 6000. Unlike the above-mentioned Panasonic NN-ST26JMFDG, the control panel of IFB 20PM-MEC2 comes with two mechanical dial knobs; one is for heat setting, and the other is for time setting.
It is a very easy-to-use model without any complicated procedures. Select your desired temperature and time by turning the respective knobs.
One notable feature of this model is overheat protection. The microwave will automatically turn off if the temperature exceeds a particular level.
Overall, IFB 20PM-MEC2 is an excellent microwave oven for small families and bachelors with all the essential features needed in a microwave oven.
Features:
Simple mechanical dial knobs
Child lock feature
Overheat protection feature
20 L capacity
Even older people can use it very easily
Pros
Three years on Magnetron & cavity
Sturdy mechanical knobs with long life
Value for money product
Cons
There is no display on the control panel.
Have to handle the knobs gently
Also read: Best Sandwich Makers in India
Bajaj 1701 MT 17 Litre Solo Microwave Oven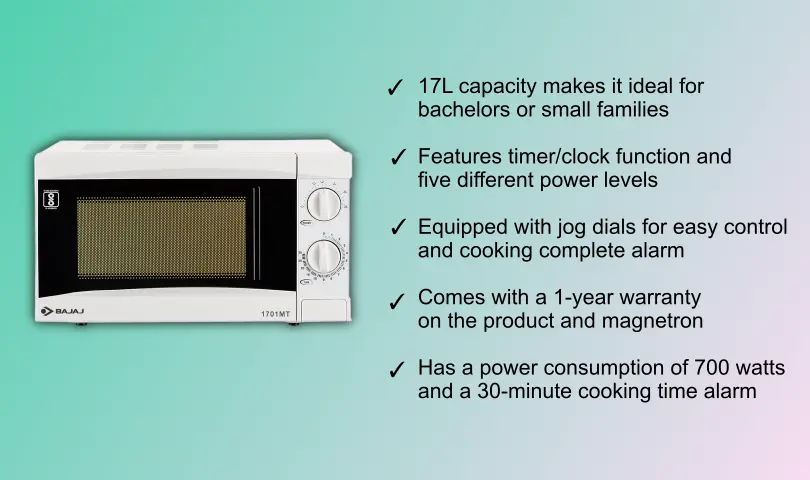 If you are looking for the best microwave oven under Rs 5000 in India, then Bajaj 1701MT is an excellent option. This is a 17L solo microwave with 700 watts max power output and five power level selection options.
This model also got two mechanical knobs for heat adjustment and time adjustment. This oven can handle reheating, cooking, and defrosting.
Overall, the Bajaj 1701MT microwave oven is an excellent option for individuals or small families on a tight budget and requiring essential features.
Features:
17 L capacity
Jog dials for temperature and time selection
Push-button door
One year warranty
Pros
Hassle-free and easy to use
Best suitable for reheating purposes
Value for money product
Cons
No display
The timer dial has max. 30 minutes
No light while opening the oven door
LG MS2043DB 20 Litre Solo Microwave Oven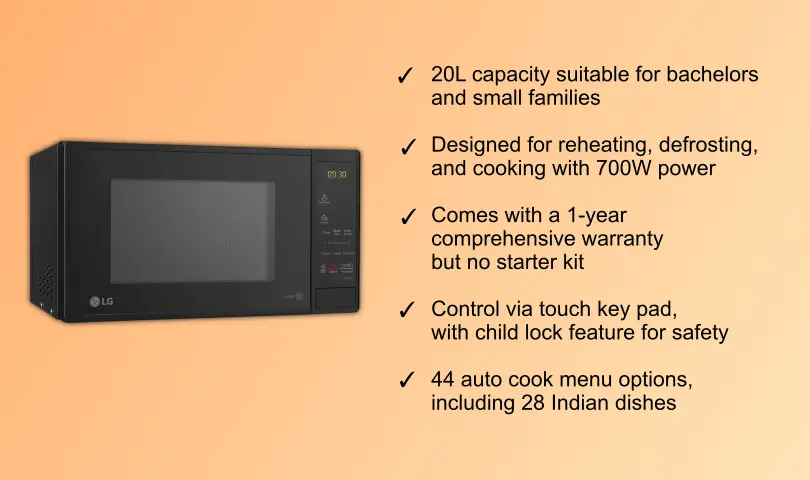 The beautiful design and the features make LG iWave MS2043DB one of the best microwave ovens under Rs 6000. With 20 liters capacity, this microwave oven can handle daily cooking and reheating task for bachelors or small families.
One standout feature of this model is its control panel. The control panel is a membrane touch keypad and is very easy to operate.
Moreover, it has 44 auto-cook menu options, including 28 Indian recipes, energy-saving features, and a child lock function.
Features:
Stunning efficient design and 20 liters capacity
The control panel is a membrane touch keypad
Anti-bacterial cavity to reduce bacterial growth
Energy efficient
Pros
Child lock function
Energy saving
Efficient defrost function
Whirlpool MAGICOOK PRO 20SM 20 Litre Solo Microwave Oven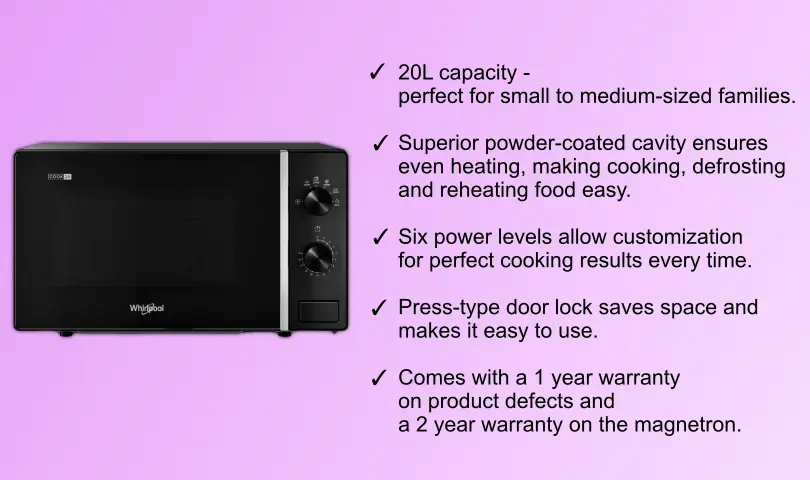 Whirlpool MAGICOOK PRO 20SM is a powerful and reliable solo microwave oven with the necessary features at an affordable price. With 20 liters capacity, this oven is suitable for small families or bachelors.
One of the notable features of this model is its powerful performance. It has 700 watts power output, ensuring quick and efficient cooking, reheating, and defrosting.
The sleek design and mechanical knobs for time and temperature adjustment make it easy to use. Additionally, it has six different power levels to choose from according to your needs. Also, the large glass turntable helps to cook large amounts of food at the same time.
Features:
20 liters Capacity
Push-type door lock
One-year comprehensive warranty and two years on Magnetron.
The power output of 700 watts for quick and efficient cooking
Six different power levels to choose from
Pros
Affordable price
Easy to use with mechanical knobs
Powerful performance
Cons
Lack of advanced features such as auto-cook menus
It does not come with the starter kit
The timer dial is only in minutes. No option to select seconds.
FAQs
What are the top 5 reasons to buy a microwave oven?
The top 5 reasons to buy a microwave oven include:
1. Fast and easy cooking: Microwave ovens are great for cooking meals quickly and easily. 
2. Quick cleanup: Microwave ovens take less time to clean than ovens using other cooking methods. 
3. Small footprint: Microwave ovens are small and compact, which makes them perfect for any kitchen type.
4. Economical: Microwave ovens are affordable and practical, making them a great choice for those on a budget.
5. Versatile: Microwave ovens can be used for various purposes, including cooking food, reheating food, and defrosting. They can even handle meals such as pizzas or macaroni and cheese.
What are the main types of microwave ovens?
Most microwave ovens on the market fall into one of three categories:
1. Solo microwave oven: This is the most basic type of microwave oven. It uses microwave technology to cook the food and has no additional features like grilling or baking. A solo microwave oven is suitable for simple cooking tasks like reheating, defrosting, and cooking simple recipes.
2. Grill microwave oven: This type of microwave oven has additional features compared to solo ones. It can perform tasks like grilling, roasting, and toasting in addition to regular microwave functions like reheating and defrosting.
3. Convection microwave oven: This is the most advanced type of microwave oven. It uses a combination of microwave and convection technology, which means it can perform tasks like baking, grilling, roasting, and toasting in addition to the regular microwave functions. It comes with the features of both solo and grill microwave ovens and a convection feature.
Are there any drawbacks to using a microwave oven under Rs 6000?
Some drawbacks of microwave ovens in the lower price range are:
➼ Lower-quality components used in budget-friendly microwave ovens may result in a shorter lifespan.
➼ Limited features and functionality compared to more expensive models, such as convection or grill options.
➼ Lower wattage may result in slower cooking times or uneven heating.
➼ Capacity may not be adequate for larger families or those who cook in bulk.
➼ Low-cost models may not have good safety features, such as automatic shut-off or child locks.
➼ Economic models may produce more noise while operating.
➼ Entry-level models may not be as energy efficient as more expensive models, resulting in higher electricity bills over time.
Conclusion
Microwave ovens under Rs 6000 offer a range of benefits, including quick cleanup, a small footprint, affordability, and versatility. However, some potential drawbacks when purchasing a budget-friendly microwave oven include limited features and functionality, slower cooking times, limited capacity, and higher noise levels while operating.
Considering all the significant factors, we created the above list of microwave ovens. If you are looking for a microwave with an elegant design and touch-button operation, we recommend Panasonic NN-ST26JMFDG and LG MS2043DB from our list.
Additionally, if you are looking for a budget-friendly microwave oven with 700W power output, Bajaj 1701 MT is a good option. However, if you prioritize energy efficiency and safety features overall, then LG MS2043DB is an excellent option to consider.
As with any purchase, weighing the pros and cons before deciding is crucial. By considering the aforementioned factors and researching different models, you can make a well-informed choice that best fulfills your requirements while staying within your budget.