Are you looking for a small and convenient refrigerator? Check out our list of the five best mini refrigerators available in India.
When options are too abundant, accommodation and room space become a big issue. This is where sleek, convenient appliances such as portable mini fridges come to the rescue.
In modern life, refrigerators are enormous, bulky appliances that are no less than a must. Buying a mini-fridge gives you all the advantages of this bulky appliance, but in a lightweight and portable form that takes up a small amount of space in your home.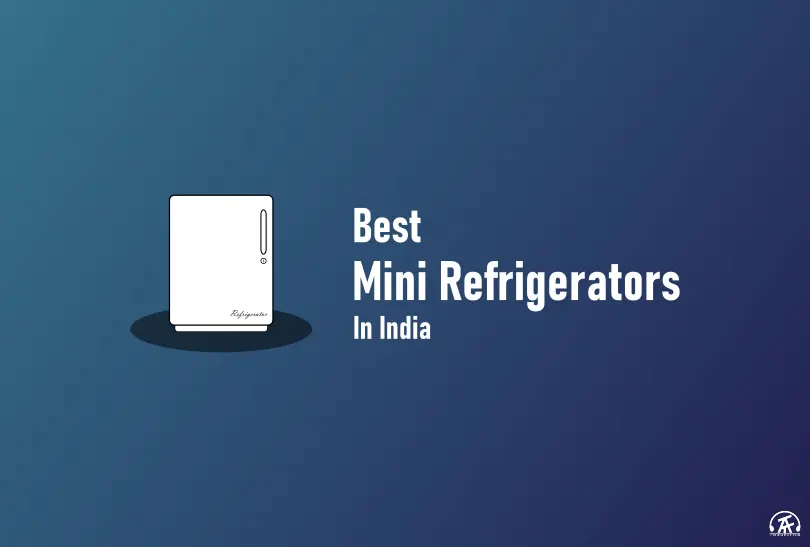 The mini-fridges may be used for a particular purpose and are mostly used for snacks or beverages as customizable storage. It is portable to carry these beverages and snacks anywhere without any risk of damage.
So, if you're searching for a portable mini fridge, there's a compilation of some of India's best mini refrigerators; let's have a look:
Best Mini Refrigerators In India
1. Godrej Direct Cool Single Door Refrigerator
The Godrej mini refrigerator has a capacity of 99 liters and also comes with a freezer.
It is very small but provides enough storage space in the summer to maintain vegetables and fruits fresh, cool water, and drinks. This mini fridge uses wire shelves that are very spacious for up to 2 people to store many items.
It comes with built-in stabilizers, so you can be confident that it effectively manages voltage fluctuations. Godrej offers a 1-year warranty, along with a compressor warranty for ten years.
Specification:
Type: Single Door
capacity: 99 (Ltrs.)
Star Rating: 1
Compressor Type: High efficiency
Shelf Type: Single Door
Freezer At bottom: NA
Compressor Warranty: 10 Years
Top Features:
It has a lightweight and elegant design.
Energy effective light
It comes with Stabilizers in-built.
This fridge is robust and long-lasting.
The cooling system defrosts automatically.
It's easy to clean and manage.
2. Whirlpool 65 W-ATOM PRM 3S 46L Mini Refrigerator
In the Whirlpool mini-refrigerator, there is not one, but available with seven varying temperature settings. These seven cooling ranges provide a great option to choose from and make this refrigerator great not only for summer but for the entire year.
With 46 liters, this Whirlpool Mini Refrigerator is perfect for 2-3 persons or even a small team carrying cold beverages and snacks.
Up to 11 water bottles, 90 tetra packs with a volume of 200 ml, and up to 30 cans can be stacked. The three-star energy-saving feature guarantees that your energy costs are paid for in the long term.
Specification:
Capacity- 46 liter
Energy- 230 Volts
Rating-3-star ratings
Dimensions- 47.4 x 44.7 x 49.6 (cm)
Warranty: 1 year on the product, ten years for the compressor
Top Features:
Has 3-star ratings
It comes with a special tray of chocolate,
Built-in ice maker
3. LG GL-B131RDSV.DDS PST Direct Cool Single Door Refrigerator
LG is a brand associated with high-quality electronics in India. It is a household brand trusted by thousands of people using its outstanding features, which form the loyal customer base of LG.
One such commodity that stands right on efficiency and technology measures is the LG Direct-cool Single Door Refrigerator.
This best mini refrigerator has a capacity of 92 liters, made from titanium. There are also additional aspects to this mini fridge, such as efficient cooling and ice trays.
Specification:
Capacity- 92 liter
Rating-2-star ratings
Shelf Type- Wired Shelves
Warranty: 1 year on the product, ten years for the compressor
Top Features:
It has a fixed gasket.
It has solid shelves.
Unique and long-lasting.
Can run stabilizer free
comes with a dedicated freezer compartment
It has a large basket for doors
User-friendly and less maintenance needed.
4. Hisense RR60D4ASB1 44 L Single Door Mini Refrigerator
Another micro refrigerator on our top list is from Hisense. The Hisense Bedroom Refrigerator has a capacity of 44L.
This refrigerator has a sleek and trendy style that completely fits your modern living space, keeping with modern aesthetics and designed to offer you unmatched results.
You can store up to 2L bottles in the door bin. This small refrigerator has a large storage capacity.
This best mini refrigerator also has a wire shelf to hold products organized, which will allow you to store any food item conveniently. This refrigerator can be used as a mini-bar in your kitchen or living room, or bedroom. There is also a small chiller zone in this mini-refrigerator.
Specification:
Capacity- 44 liters
Rating- 1-star ratings
Warranty- product has one year, and the compressor has ten years
Top Features:
Has 1-star rating
Huge space, which holds 2-liter bottles
Reversible door, which can be changed from the right or the left to open
Also Read: Awesome Electronic Gadget Gift Ideas For Any Occasions
5. AmazonBasics 43L Mini Refrigerator
The AmazonBasics Mini Refrigerator offers various smart features that have daily comforts, such as a freezer compartment, dairy rack, drip tray, adjustable shelf, and a reversible door.
The quiet and efficient mini-refrigerator keeps your food fresh and stable.
This Black Single Door Mini Refrigerator comes with eight temperature settings to store food, meat, and ice cream optimally. It is ideal because of its capacity of 43L for bachelors, households, and commercial use.
The AmazonBasics mini refrigerator has a 2 Star BEE rating fitted with handy features for enhanced longevity, such as an adjustable metal rack. The robust design is intended for the subcontinent and uses an environmentally friendly refrigerant and foaming agent.
Specification:
Capacity – 43 liters
Energy- 230 Volts
Rating- 2-star ratings
Warranty – 1 year for the product, five years on the compressor
Top Features:
2 BEE Ranking Star
The material of high-quality Foaming
Pleasant Refrigerant for the Environment
Conclusion
A mini fridge would undoubtedly fulfill the purpose of storing beverages and other food items, but it has its space limits at the end of the day.
So, look closely through the features offered and then go through the products we described, and they will surely help you get a nice mini fridge.
Nonetheless, all the portable mini fridges listed above are the best that the market has to offer. So, once you get everything you need to know before the purchase, you're good to go to make the right decision.