Are you looking for a paper shredder that is cost-effective, easy to use, and of good quality? This article will help you choose the best paper shredder for your office and home needs.
A paper shredder is a machine that helps to shred paper, credit cards, CDs, etc into short lengths of micro-cut bits. It works by chopping the paper crosswise through friction cutters moving across an array of rotating cutters.
Why use the paper shredder? If you're like most people, you probably have piles of paper cluttering up your home and office. And, if the wrong person got their hands on that information, it could mean big trouble. Paper shredder helps you destroy the hard copies of confidential documents in an effective way. So it can prevent the misuse of your confidential information.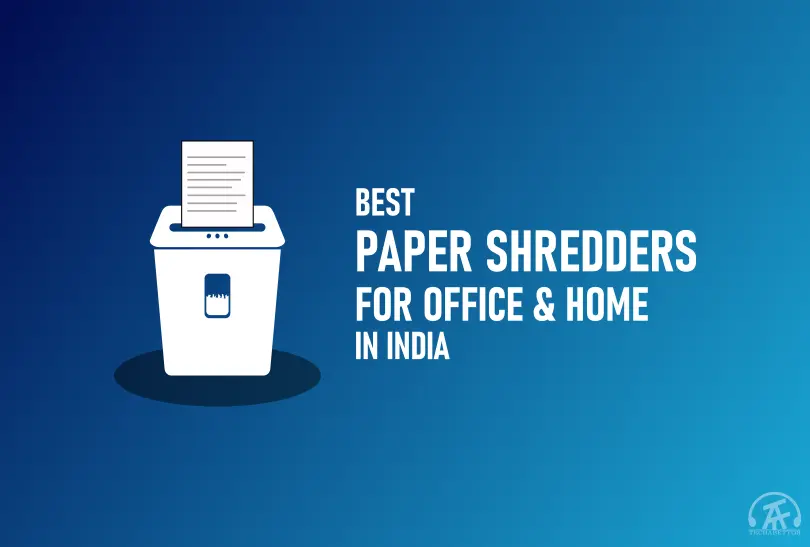 With today's paper shredders, you may rest easy knowing that your files are neatly diced and can't be pieced back together. While the primary function of a paper shredder is to shred documents, some of the devices can also destroy vintage credit cards, CDs, and DVDs.
However, with so many choices on the market, how can you determine which one is best for your picks? We've made things a little easier for you by creating a list of the top paper shredders in India to aid you in your decision.
Top 5 best paper shredders in India
1. AmazonBasics AS664C
Looking for a quality paper shredder that won't break the bank? The AmazonBasics 6-sheet cross-cut Shredder with a 14.4-liter basket is a great option.
This cross-cut shredder can shred credit cards and 6 sheets of 70 gsm papers. Also, it has a convenient size with dimensions 30.7 x 38.1 x 19.6 cms.
It shreds paper into 0.48×4.68 cm strips at a rate of 3 meters per minute. Plus, AmazonBasics AS664C can continuously operate for 2 minutes and requires a cooldown time of 30 minutes after continuous shredding.
If you encounter paper jams, use the manual reverse function to clear it. The shredder is made entirely of plastic and steel, and it seems sturdy and long-lasting.
The product is 3.65 kg in weight, which makes it somewhat substantial. The AmazonBasics cross-cut paper shredder comes with a one-year warranty. It's the best paper shredder for anyone looking for a versatile device with good performance under Rs 3500.
Pros
Cross-cut shredder
It takes just 30 minutes to get cooled off.
It is not necessary to remove the staples from the paper before shredding.
Angled feed entry
Cons
Built quality needs more improvement
2. SToK ST-30CC
Looking for a feature-packed paper shredder? Check out the features of the SToK ST-30CC cross-cut paper shredder.
With a bin capacity of 21 liters, this shredder can handle up to 8 sheets of paper at once. Plus, its cross-cut cutting technology ensures even and thorough destruction of your documents. You can also set it to automatically start and stop, making it easy to use.
As mentioned, this office shredder has a cross-cut mechanism and can handle up to eight sheets of A4 paper at a time, as well as one CD or credit card. The overall volume of the bin is 21 liters, and the feed opening measures 220mm in width. It has a continuous run time of 2 minutes and a cool-down time of 60 minutes. A one-year warranty is included.
The device has a compact and robust design that makes it suitable for use in most modern businesses. It offers a lot of features under Rs 3000. A large capacity and improved speed make it ideal for home and office use.
When it comes to more affordable options, STok is one of the most well-known brands. Most of its products strike a good balance between affordability and value, making it one of the best paper shredders on the market today.
Pros
21 Liters bin capacity
Shred CDs/DVDs
Cons
Cannot Shred paper with a staple pin
60-minute cool downtime
You may also like: 5 Best WiFi Routers under Rs 5000
3. Croma CRCP1007
Croma CRCP1007 is a strip-cut shredder with a 6-sheets capacity. Moreover, the bin capacity of this shredder is 10 liters.
This office shredder delivers a continuous run time of up to 2 minutes with an auto start/ stop function
Its dimensions are 29.5″ x 14.5″ x 32″. The bin with a see-through window allows you to see when the bin is full. Also, the lifting handle makes emptying the bin effortless.
For safety, the feed entry is angled, and there is an auto-start mode and manual reverse to clear paper jams. Customer service is covered for 6 months from the date of purchase.
This is one of the best paper shredders available for around Rs 2000 for home users as well as professionals working in offices or even any place that requires heavy security document shredding.
Pros
Compact size
Budget-friendly
4. AGARO Matrix 33641
The AGARO Matrix 33641 is a cross-cut paper shredder with 8 sheet feeding capacity. Also, it provides uninterrupted performance without the inconvenience of having to constantly empty the trash bin due to its 12 ltr size.
A continuous run of three minutes causes the system to automatically shut down due to overheating, followed by thirty to forty minutes of cooling.
This paper shredder can shred paper into 4 x 30 mm strips at a speed of 2.25 m/min. Also, it has a built-in jam-protection system. If the paper becomes stuck, use the reverse button to clear it. Moreover, AGARO Matrix 33641 comes with a one-year warranty.
Pros
Cross-cut shredder
3 minutes continuous run time
Transparent window on the collection bin
Cons
A little bit noisy
Cannot shred CDs/DVDs
5. Bambalio BCC-2200
Bambalio BCC-2200 is also a cross-cut shredder you can consider under Rs 5000. It comes with an 8 sheet paper loading capacity and 15-liter bin capacity.
The Bambalio BCC-2200 is an all-purpose paper shredder with a cutting-edge capability that is an ideal office shredder. In addition to papers, you can also shred credit cards and CDs/DVDs.
Moreover, it can continuously run for two minutes after that you should give a 60-minute cooldown time. The jam clearance feature and auto-reverse cycle give peace of mind while working on confidential documents at home or office.
This is one of the best paper shredders on the market with one year warranty, and you can get it for under Rs 5000.
Pros
15 L bin
Can shred CDs/ DVDs
Cons
60 minutes of cool-down time
How do you choose a good paper shredder?
Following is the list of factors you should consider while buying a paper shredder for your home or office.
Size of the shredder
Whether you want to buy a small compact shredder or a bigger one that depends on your need. The shredders listed in this article have average dimensions of 15cm x 30cm x 32cm.
Sheet capacity
The sheet capacity of a shredder is the maximum number of paper sheets that can be loaded into it at once. Most of the highly-rated shredders have an average sheet capacity of 6-8 sheets. Also. keep in mind that don't overload the shredder.
Bin capacity
Another very important factor is its bin capacity. Bin is the portion where all the shredded paper gets collected. In this article, we have listed shredders with bin capacities ranging from 10 liters to 20 liters. If you have many documents to shred daily then go for a shredder with a high bin capacity so that you can reduce repeated visits to the garbage.
Run-Time
The run time of a shredder is how long it can continuously operate before it goes to take a break. Most of the shredders listed in this article have a runtime of 2 minutes and 30-60 minutes of cool-down time.
Speed
Shredding speed can be measured in meters per minute. For example, AmazonBasics AS822SD can shred 3 meters of paper per minute.
Jam-protection system
Paper jams can damage the shredder due to overheating or clogging. So most shredders come with mechanisms to prevent paper jams during shredding.
Shredding Quality
Shredding quality can depend on the cutting type of the shredder. As mentioned earlier, mainly three cut types are available; stripe-cut, cross-cut, and micro-cut. Out of these three, the micro-cut shredder can offer more security by cutting your confidential documents into small pieces.
Noise level
Noise from a shredder while operating is unavoidable. But you could find a shredder with less noise level.
Warranty
Most shredder comes with a 12-month warranty. Get a shredder with a longer warranty period and good customer support.
Paper Shredders: FAQ
What are the types of Paper Shredders?
There are mainly three different types of paper shredders available:
Strip-cut shredders cut papers into strips that are around 1 cm wide or less.
Cross-cut shredders are quite similar to strip-cut shredders, except they shred even smaller pieces.
Micro-cut shredders are the best option for shredding confidential documents.
What are the advantages of paper shredders?
With a paper shredder, you can shred paper, credit cards, CDs, and staples
You can shred paper into small pieces quickly and easily.
Paper shredders are easy to use.
Portable and easy to store.
They can be used in the home and office.
They are inexpensive.
Are there any drawbacks to using a paper shredder?
some drawbacks are:
Noise level
Some shredders need a long cool-down time.
Sometimes it won't effectively destroy the sensitive documents.
Should be very careful while operating to avoid accidents.
In a shredder, what is the purpose of the reverse function?
The reverse function in the paper shredder is mainly used to clear the paper jam.
Which shredder is better: cross-cut or micro-cut?
Out of three shredder types (stripe-cut, cross-cut, and micro-cut), micro-cut shredders cut the paper into small pieces, which makes it more secure.
Conclusion
As businesses grow, the need to securely dispose of confidential documents becomes an essential part of the operations. That's where a paper shredder comes in!
Mainly three types of shredders are available in the market:- stripe-cut, cross-cut, and micro-cut. If your office needs a paper shredder for confidential documents our suggestion is to go for a cross-cut or micro-cut shredder.
To help you to find a suitable paper shredder, we've compiled a list of 5 top-rated paper shredders that can accommodate different types of paper on an affordable budget. Check out our list and take a look at which shredder is the best for you!