Every aspiring Youtuber, photographer, or Vlogger puts in their best efforts to make appealing and high-quality content to get that one break. But sometimes, despite all the passion and effort that goes into the process, the result may come out below average despite using the best cameras available.
As it turns out, lighting is as important as a good quality camera, and all seasoned photographers and video makers know this. Investing in a good lighting system is as important as carrying a great camera to look like a professional and get similar results.
There are various lighting systems available, but here we'll be discussing a simple and highly efficient system, the Ring Light.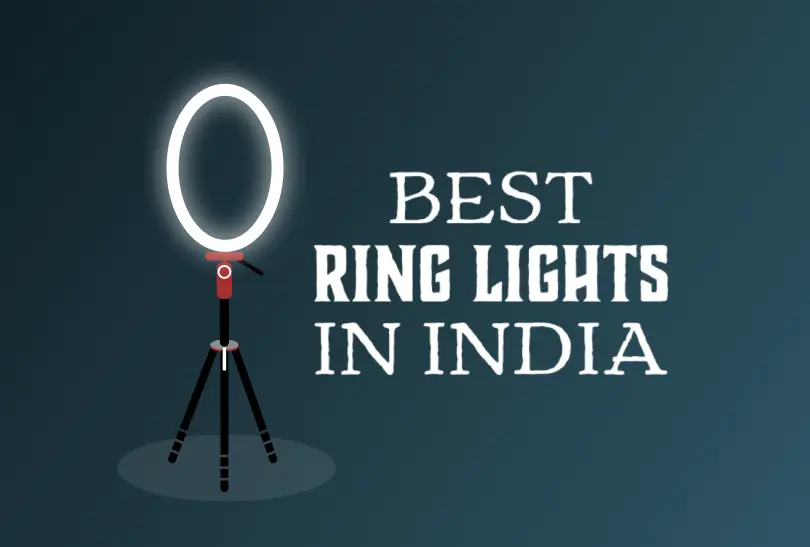 Advantages of a Ring Light
A ring light can be a fluorescent light source in a ring structure or lots of small led sources fixed in a ring structure. The main advantages of buying a ring light over other-directed sources are:
Really simple to use as you can directly start using it out of the box and is powered by batteries.
Portable in size and comfortable to carry around, making it versatile for different environments.
Relatively inexpensive compared to other devices and provides many features like adjustable brightness, color temperature, etc.
Comes in various sizes providing a smooth and uniform illumination to the surface illuminated providing the professional touch we all desire.
They occupy much less space than any other lighting scheme making it useful for people traveling a lot and shooting videos on the move.
Ring Light Buying Guide
Now the main features to look out for buying any lighting scheme but also highly applicable to ring lighting are:
Size of the Ring Light
By the size of the ring light, we specifically mean the inner or outer diameter of the ring. The common sizes available in India are 12, 14, and 18 inches (outer diameter).
It's a fact that bigger lights produce more diffused and softer rays hence eliminating sharp shadows. So it is always advisable to go with the bigger option as it is more versatile than the rest.
But for highly specific applications like a face shot or product photography, a smaller light will do the job quite well.
Adjustable color Temperature
What does color temperature mean? In simple terms, it means the color of light a light source is emitting. Different sources emit photons of different frequencies and hence give a different color.
A light source's color temperature is an essential feature because the color of the object perceived by the camera will depend on the lighting situation. Most people won't need an adjustable color temperature light.
Still, for the more seasoned and professional people looking to experiment with their shots, a led ring light will be a great option.
Adjustable Intensity
It just means if your light source is dimmable. According to the change in environment and availability of natural light, the amount of artificial lighting required for a space will vary greatly.
Hence, it is always best to buy adjustable light sources that can adapt to high and low background lighting.
Colour Rendering Index (CRI)
The CRI of a light source means the ability of the light source to reveal the color of an object with the natural sunlight. The CRI index is a measure of this ability for a light source.
CRI depends on the color temperature of a light source, and a CRI value of 90 or above is considered well for good quality applications. For best results, you can even go for a CRI value above 95.
Diffusion factor
Diffusion is the scattering of light due to various surfaces. Fluorescent light provides the best diffusion due to its large surface area as compared to an LED source.
Diffused light source eliminates shadows compared to a directed source which makes sharp and distinct shadows.
Power source
If you are looking for a portable, easy-to-set-up device and consumes less power, battery-powered ring lights are the obvious choice. They are not expensive, don't require large power cables to manage, and are easy to carry around with rechargeable batteries.
Flexible Ring Head
There are products available in the market whose ring head can and can't be adjusted.
The ability to adjust the ring head and thus direct the source of light to fall in a particular spot can be a huge bonus for those looking to minimize glare or get uniform diffused reflected rays off a surface.
You can rotate the light to fall on a screen and get a uniform illumination or shine it directly to the object, getting a brighter result. Whatever the case, the ability to move around your source in a specific axis is a huge perk.
Now that we have an idea of the basics of buying the perfect ring light, let's see the best ring lights available in India that will catapult your content-making career.
Best Ring Lights Available in India
1. DIGITEK DRL 018
This moderately priced ring light from Digitek comes packed with nearly all the features discussed in this article so far. This is an 18-inch variant that comes with two dimmable color modes and rechargeable batteries.
The light source is LED which explains the battery-powered technology under the hood, although it can be plugged directly into a power source.
The best part of the whole product is the availability of a smartphone adapter that can fit in your mobile directly onto the ring frame of the light, making it super convenient for recording videos at high quality in your mobiles anywhere on the go!
Other super cool features include intensity and color temperature buttons which, as we have mentioned earlier, can be tweaked to get the desirable effects on your photographs or videos.
This ring light is a great entry-level device for YouTubers, streamers, and photographers who aspire to get a decent quality product without having to burn a hole in their pockets.
2. Osaka 10 Inches LED Ring Light
Well, the name says it all. It's a 10-inch wide ring light that has LEDs as a light source.
The light is a USB-powered device, meaning you can plug it into any USB port like a laptop, computer, or adapter, and it will work just fine. However, it needs to be seen how the intensity will vary in these scenarios! Better stick to a dedicated adapter just in case.
This brings us to the next dilemma; the device doesn't have a battery backup. This may seem like an obvious compromise since the price is much lower hence more affordable, with the great build quality, but this greatly limits the device's versatility.
There is a phone mount that can be used for smartphones to record and shoot pictures, the product comes with a stable tripod stand and has no chances of tripping, and an adjustable color temperature, making it an appealing choice for its price.
3. Tygot 10 Inches Portable LED Ring Light
Another one of those cases where the name reveals the obvious is that this ring light from Tygot is a 10-inch device that is inexpensive, lightweight, easy to carry around, and powered by USB.
When I say it's inexpensive, there may arise some natural questions like it is any good? The obvious answer is that it's good if you don't expect over-the-top results. But having said that, it is a LED-sourced light, and there are the stock features like intensity control, color temperature controls, etc., and it will give great results for those who are dabbling in photography or streaming and just learning the tricks of the trade.
The obvious downside to such a cheap device is the build quality. Yes, it may have issues with the stand or the USB cable that powers it in the long run, but it certainly is a great investment for a beginner because the quality of light is really good. So, weigh in your pros and cons on this one before considering buying it.
4. Digitek DRL 12C
The second Digitek device on our list is a toned-down version of the previous version that we have seen with a marginally lower price range and features. Right off the bat, you can see that there is a difference inbuilt.
The DRL 12C is a 12 inch led ring light that does not support battery-powered operation. This makes it targeted at customers who won't be using it carry around and use outdoors. But this model is a USB-powered device, so it is still possible to connect it to your laptop.
Other notable features include adjustable color temperature, a mobile holder clip, adjustable brightness, and five feet stand.
It will serve you well sans the versatility that one may want if they plan to travel and shoot a lot for most purposes. Also, the comparatively smaller size may come in handy if you have a power bank to power it on the move.
5. Razer Ring Light
Razer light is the costliest of all the products we have discussed so far, but it is arguably the best USB-powered ring light on the list.
This 12 inch light comes with adjustable color temperature and brightness, and given its size and power source, it shows an excellent response in both areas.
The color change is highly noticeable and excellent, thanks to its beautiful light quality. The build quality is excellent, with the tripod being well balanced and firm. 
The Razer light is the perfect balance between a USB light and other main lights that professionals go for. It is reasonably priced to provide you that quality service within the constraints of its size, power source, and light source. A well-suited choice if you are into serious photography, content creation, etc.
There we have it! Some of the best USB ring lights available in India. With the right amount of brainstorming, you can find the best ring light that suits the type of work you are engaged in.