Are you looking for the best sandwich makers in India? Check out this list of 5 brands that are reliable, durable, and loved by many.
To enjoy toasty, hot sandwiches, you must have a sandwich maker at home. A sandwich maker will make your life simpler at home, whether you want the "after melt" of a cheese sandwich or the crunch of an excellent paneer club sandwich.
If you are a gourmet or a passionate cook, you may find it challenging to choose the finest sandwich maker because there are so many famous brands on the market.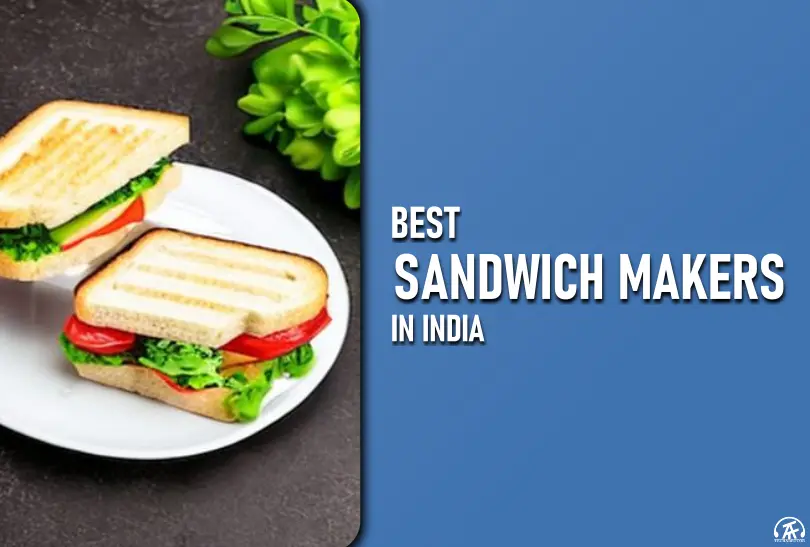 There are many sandwich makers that can be used for making burgers with a slight temperature adjustment, and others may have removable plates so that you can cook more than just sandwiches.
Today, many different models are available with distinctive and unique features, depending upon their versatility and use; you should perform thorough research before investing your money. Therefore, here is the list of the best sandwich makers in India.
Best Sandwich Makers in India
1. Prestige Sandwich Maker PGMFD 01
When you are in a hurry for your office or college, with this, you can effortlessly prepare healthy yet tasty sandwiches within no time. It comes with a non-stick coating, which requires minimum oil to toast the sandwiches.
This sandwich maker is undoubtedly going to add convenience and class to your kitchen. It has a Bakelite body of high quality, which makes the outer heat resistant. Also, the matte finish of the maker makes it easy to clean with a single wipe.
It has two light indicators. The red light will turn on during the preheating, and the green light comes when the preheating and cooking process is done. Undoubtedly this is the best sandwich maker in India.
Key features:
It utilizes 800 watts of power
It comes with durable Die-Cast aluminum grill plates, which makes the food healthy and the cleaning process fast.
The plates are non-stick.
It has a heatproof Bakelite body
2. Cello Super Club 800-Watt Toast N Grill Sandwich Maker
The Cello Super Club 800-Watt Toast N Grill Sandwich Maker is perfect for having a delicious brunch, evening snack, and lunch.
With minimal effort, you can cook all kinds of sandwiches with this product. Not just toasting, it comes with the added feature of grilling; therefore, you can make healthy appetizers as well, without any hassle.
The non-stick plate of the sandwich maker uses very little oil to grill and toast vegetables and bread.
If you're a health-conscious person, then this is the perfect choice for you. After you are done with the cooking process, you do not have to stress about its cleaning because the non-stick-coated surface needs only a soft cloth and mild soap to clean.
Key features:
It comes with a one-year warranty.
An easy locking handle makes it easy to use.
It comes with two colored indicators.
This non-stick sandwich maker requires 800 watts of power.
3. Borosil Super Jumbo BGRILLSS23 2000-Watt Grill Sandwich Maker
If you have a big-sized family, this Borosil Super Jumbo BGRILLSS23 2000-Watt Grill Sandwich Maker is the right fit.
The high quality and great performance make this sandwich maker extremely useful. It has a jumbo-size grilling plate, which can take up to 4 jumbo bread-size sandwiches.
The oil collector under the plate collects all the excessive oil and butter, making the sandwich even healthier.
The non-stick heating plate has detailed ribs for that extra crunch, and it can be opened up to 105°, which makes it easy to access all four sandwiches at the same time.
It has a slide-type lock on the handle and a red and green power indicator, which shows heat and temperature status.
Key features:
It has 2000 W power, which allows fast and uniform grilling
It comes with stainless steel and mirror finishing
The length of its cord is 1 m, and it is thermally infused
Also Read: Best Egg Boilers In India
4. Havells Big Fill 900-Watt 2 Slice Sandwich Maker
This sandwich maker can be used for grilling and toasting. The compact size and stainless steel cover of this sandwich maker will look classier in your kitchen.
The deeper grooves of the non-stick plates make the sandwich crisper and tasty. You do not have to pay attention again and again on the sides as there are two separate indicators given on the surface, which indicate power and the ready function.
Havells Big Fill comes with a hinge locking system, making it convenient to close the lid without any pressure.
It has a cool-touch handle as well. Also, this is one of the best sandwich makers in India.
Key features:
It is perfect for grilling and toasting slices of bread and vegetables both
It comes with a two-year warranty
This sandwich maker requires only 900 W of power.
It has fixed sandwich and non-stick sandwich plates
With a hinged lock and cool-touch handle, this sandwich maker is durable as well
5. Stovekraft Egnite Plus by Pigeon Bread Sandwich Maker
Stovekraft Egnite Plus is a toaster and griller which prepares healthy sandwiches in no time.
It has a shockproof body that will make all the cooking hassle-free. The plates are fixed; therefore, you can cook effortlessly without getting burned.
With a minimum amount of oil or butter, you can cook tasty and healthy sandwiches due to the non-stick plates. With this feature, the cleaning process has also become simple; you need to wipe the plates with a soft, damp cloth.
Key features:
It comes with non-slide rubber feet, which makes the handling stress free
It consumes 750 W of power
The outer body of this sandwich maker is heat and shock-resistant
It has power off and on indicators on the cover of the lid
Conclusion
Well, that is all about the Best Sandwich Makers in India. There is no doubt that a sandwich maker is one of the most attractive gadgets you can get for your kitchen. It not only saves cooking time, but the non-stick plates can make a healthy and crunchy sandwich all at the same time.
All the brands mentioned above are durable and reputed; therefore, depending on your family's needs, you can buy any of the sandwich makers mentioned above. Ensure that you are investing your money in the right product, so you do not have to regret it later.