Whether you are conscious of your impact on the environment or are looking for budget-friendly lighting solutions, solar-powered lights (also called solar lamps and solar lanterns) can work as a fantastic solution for your needs. However, in order to optimize your experience, you need to understand everything there is to know about solar emergency lights and how they function. This way, when you're buying one for yourself, you'll be able to make an informed decision.
What are solar emergency lights?
Solar lamps are eco-friendly lighting solutions. They collect energy from the sun and convert the same into light by using the photovoltaic effect, an effect that converts light from the sun into electricity at the molecular level. As the sun offers its energy daily, solar lamps are a renewable form of light that does not have adverse effects on the environment.
What are the different parts of a solar lamp?
A solar lamp is typically made of solar panels, batteries, and charge controllers. The solar panels convert the sun's light into electricity while the battery stores this energy for later use. Thus, you can charge your solar lights during the day and use them at night when you need them. These devices also have charge controllers that ensure that changes in the weather do not cause the lights to over-charge and get damaged.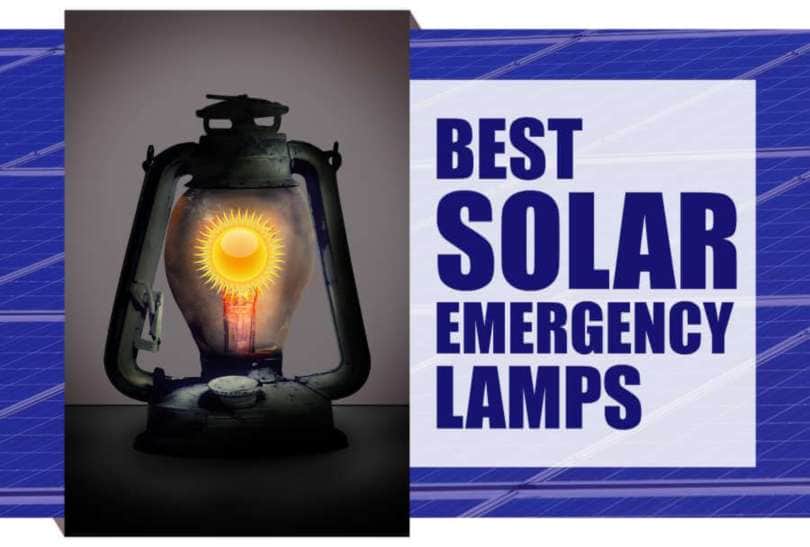 What are the advantages of using solar lamps?
Solar lamps offer a range of benefits such as:
They require low maintenance: Apart from a basic annual check-up, you can rest assured that your solar lamp won't need more maintenance than that. This means that you can expect them to work well throughout the year. This is why so many people rely on solar lights for an emergency – they know they can always count on it to work!
They are effective lighting solutions for rural areas: India is a country with a vast chunk of the rural population that is yet to experience the wonders of electricity. Equipping villages with solar lamps at the very least can help ensure safety and better standards of living.
They are available in multiple forms: From a small lamp that you can use during power cuts to giant floodlights or decorative lamps for your garden, solar lights are available in different styles to suit your needs.
They are eco-friendly: One of the most significant advantages of using solar lights is that they do not harm the environment. In a world where climate change has become an enormous problem, turning to such eco-friendly solutions is undoubtedly the need of the hour.
They help you maintain your electricity bill: If you are someone who wants to cut down on the cost of living wherever possible, turning to solar lights can be the right solution for you.
Best solar emergency lights
List of 5 best solar emergency lights
As there are quite a few brands that have ventured into the solar energy space, it can be quite hard for consumers to identify the right products for their needs. Here are some of the top solar emergency lights that you should have a look at:
1. Wipro Coral Plus Rechargeable Solar LED Lantern
Wipro coral plus is an advanced version of Wipro coral with a solar panel for charging. The dual charging feature allows you to recharge this emergency light with a regular AC power supply and solar energy.
If you are searching for a convenient study lamp or light for camping, this product should fit the bill. It has a polycarbonate body with an attractive design. Also, the brightness of 360 degrees light output can be adjusted by the knob provided on the front panel.
The brand claims that the built-in 4000 mAh battery can provide charge backup up to 20 hours if it's fully charged. It's also compact and lightweight; hence it could be a good choice for campers and travelers.
2. DOCOSS-ABS Rechargeable Solar Emergency Light
This light is equipped with 84 pieces of SMD LED lights that deliver bright light in all directions, thanks to the 360-degree omnidirectional reflector panels on the device. The light has a dimmer that you can use to change the brightness from low, medium to high. Do keep in mind that the brightness levels will impact the duration for which you can use the product. The brand claims that this light can work for an hour when you use it at its strongest setting and four hours when you use it on its weakest setting.
3. Pick Ur Needs Rock Light
This wall-mountable light is equipped with 44 bright SMD LED lights, along with a whopping 2200mAh battery capacity. According to the brand, the device can provide light for seven hours after being charged for only three hours. This device supports dual charging, which makes it all the more convenient.
4. Havells Glanz 1.5-Watt Rechargeable Solar Light
This light is equipped with a 900mAh battery capacity, which should ensure that you can use it for up to four hours, according to the brand. This makes it a good option for not only those who need an emergency light at home but also those who may want to use it for outdoor activities, such as illuminating a campsite for a while. The device also has a mini-USB port that you can use to charge it with a smartphone charger if required. Do keep in mind that this light delivers a 1.5W output.
5. d.light S30 Portable Solar Lantern
This light has a sturdy build and provides bright light in all directions. Based on the brightness of the light, you can expect the device to work for either eight hours or four hours, making this a good option for those who see themselves needing solar lights for an emergency for an extended duration. If your region faces a lot of power cuts, this light can be quite helpful thanks to its large battery. The device supports dual charging, which means that you can use a cell phone charger to power it up, apart from using solar energy, of course.
Whether you require an emergency light for your home, or a portable light while traveling, the above mentioned solar lights can certainly meet your needs. So, get one of these today!