Are you searching for the best table fans under Rs 2500? Your quest ends here!!
The blazing summer is the only reason you go ahead and invest in a table fan, which provides tremendous value by working in tandem with an air conditioner to disperse the cool air across the room.
With a table fan, you can direct the airflow to the place you want it to, and the products with oscillating features tend to be even more useful given their ability over a wider area.
Most popular brands have numerous price ranges of table fans available. If your budget is under Rs.2500, then we have done the heavy lifting for you. Below, we've reviewed the best table fan in India under Rs. 2500 that you must consider.
Best Table Fans Under Rs 2500
1. Usha Mist Air ICY
Usha is the most popular and reliable Indian brand, which is why we put Usha Maxx Air ICY first on our list. The table fan is like your friend. No matter whether you are in your studio, kitchen, or balcony, it keeps you cool.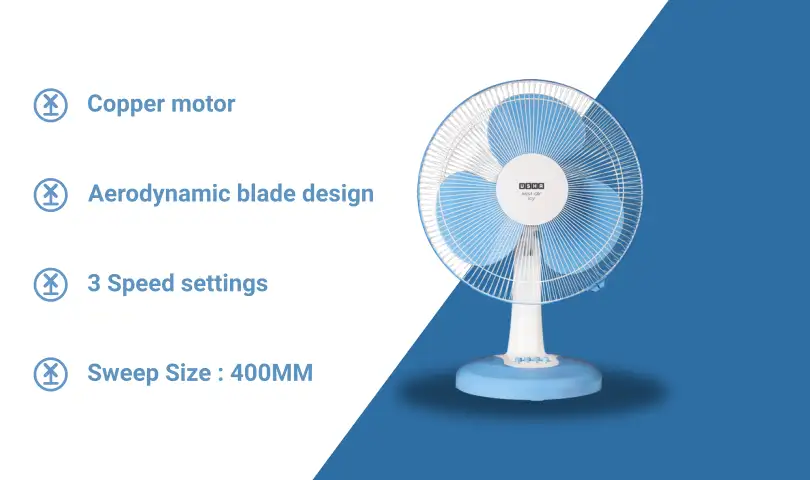 The best part of this table fan is its protection against motor overheating, giving it a long life.
The fan has a large base, which remains stable, and was engineered with high innovation. Even if you position it near windows or places where more activity occurs, the fan won't be easy to run.
It also offers a more generous air supply due to its aerodynamic blades. You can use it in your space for improved air circulation—overall, this is the best table fan in the market at the moment, and without a doubt, this is also one of our favorites.
We highly recommend Usha Mist Air ICY mainly because of its powerful built engine, which we believe is the heart of a fan.
Product Specifications
Power Consumption: 55 watt
Warranty: 1 year
No of Blades: 3
Material: Plastic
Item Weight: 4070 Grams
Additional Features
Jerk-free oscillation means that the fan doesn't switch from place to place.
Transparent blades encourage you not to miss a single speck of dust when cleaning.
Corrosion-free due to PP body and AS blades
2. Crompton SilentPro Pentaflo Table Fan
Crompton Greaves is a brand that has been around since 1937. The company has retained itself just because it knows the desires of the customers very well. That's the first explanation of why we've included Crompton in our best list.
The second factor is its high-performance capability, including sophisticated motors, extra strong materials, striking looks, and intuitive controls. The Crompton SilentPro Pentaflo table fan is true to both of these qualities. It has a large base that will help you position it anywhere, including on a rough surface.
Both the base and the fan's body are made of plastic, so it's steady and lightweight. So, it's easy for you to take it around. What we enjoyed about Crompton's table fan is the quiet action and smooth tilting of the neck with lower vibrations.
Product Specifications
Power Consumption: 62 watt
Warranty: 2 year
No of Blades: 5
Material: Plastic
Item Weight: 3300 Grams
Additional Features
Durable construction with solid ABS blade
Wide oscillation with motorized control for increased air distribution.
3. Bajaj Neo Spectrum 400mm Table Fan
Bajaj is an Indian brand that has been recognized and voted one of the most preferred brands in the Indian market. From Bajaj, Neo Spectrum is a small-size fan and comes with an easy-to-remove grill.
The fan has an elegant design and is very colorful to look at, making it blend with any interior, whether modern, traditional or even antique.
The material used for blades is polypropylene, which makes them resistant to corrosion. Also, the blades are aerodynamically engineered to provide improved air delivery and minimize noise.
Product Specifications
Power Consumption: 100 watt
Warranty: 2 year
No of Blades: 3
Material: Plastic
Item Weight: 5000 Grams
Additional Features
A thermal protector that serves as a fuse and protects the engine from damage.
The copper motor increase durability
4. V-Guard Finesta Table Fan
The V-Guard Finesta Table fan 400mm keeps you cool and happy throughout the summer season. It is best to use in any room of your house. That's why it's on our list of best table fans in India under Rs. 2500.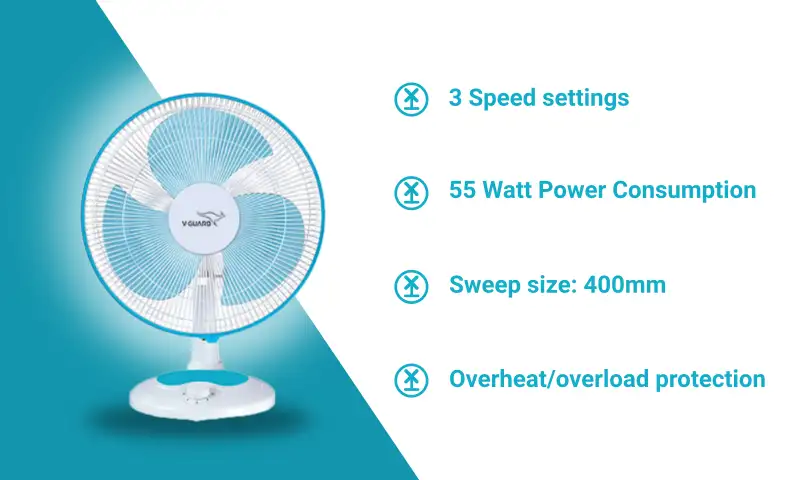 The Fan's Guard Ring offers a protective operation. It consumes nominal power while providing even cooling at every corner of your room. The Conveniently Placed Speed Controls can be readily available. This small fan has a velocity of 1350 rpm.
Product Specifications
Power Consumption: 55 watt
Warranty: 2 year
No of Blades: 3
Material: Plastic
Item Weight: 4480 Grams
Additional Features
Attractive design with the rustproof 120-spoke grill guard.
Best in performance due to sweep size of 400mm
5. Orient Electric Wind Pro Desk-60
The reason why Orient Electric Wind Pro Desk-60 is popular is the extra-high air thrust in heavenly silence.
It comes with innovative CTX (concentric winding) technology that ensures quiet operation, high air pressure, low power consumption, and higher reliability. The fan's elegant and sleek nature is quickly balanced by one's modern home décor, offering a premium look to their home.
The engine runs at a speed of 1300 RPM and ensures air distribution of 95 cubic meters per minute (CMM) with a moderate power consumption of 85 watts.
Product Specifications
Power Consumption: 85watt
Warranty: 2 year
No of Blades: 5
Material: Plastic
Item Weight: 3700Grams
Additional Features
The thermal overload protection device
Robust motor for longer life
Conclusion
It's not just about portability or power savings; a table fan has a lot more to offer than that. You can take them on your journeys and holidays, mount them in a temporary setup, and above all, clean and manage them easily. Also, Table fans are great gifts for housewarming celebrations.
If you're looking to buy the Table Fan for under Rs 2500, we hope our article has persuaded you. But, the decision is on you. We are hoping that you make a wise choice.