Are you searching for a good table lamp/ study lamp/ desk lamp for your room? Choosing the perfect study lamp isn't easy. There is a common myth that you could damage your eyes while studying under dim light. Although it's not true, studying under non-optimal light conditions can strain your vision. We have a list of best table lamps for study available in India at a reasonable price.
Table lamps can also call as task lights since they are used for highly focused activities like reading, writing, etc. The light from the table lamp/study lamps is highly focused.
An excellent study table lamp/ desk lamp can save you from eye strain and headaches while reading/writing/working at nighttime.
Desk lamps provide the necessary light required to cushion your eyes from certain discomfort. That said, you also need to consider optimal positions as well, and the best position is directly on the object you are reading. The same applies for brightness, as too much of it can also harm your long-term reading habits.
If you look at the last one-year search trend on google about the table lamp, it is always a highly demanding gadget in India. That means several people are searching for the best table lamp.
Also, Several Models of table lamp/ study lamps are available in the market. You have to select a suitable model according to your requirement. You must look for options like brightness, type of light output, wattage, rotation ability of stand, eye-friendliness, etc. while buying a table lamp. For a more detailed buying guide, please go through the table lamp buying guide.
The best study lamp often creates a softer and diffused source of light rather than a bright one. Here are a few suggestions for some of the best study lamps available online that can provide a splendid reading experience. So, without further ado, let's begin.
Also, subscribe to techabettor to get weekly recommendations directly into your e-mail.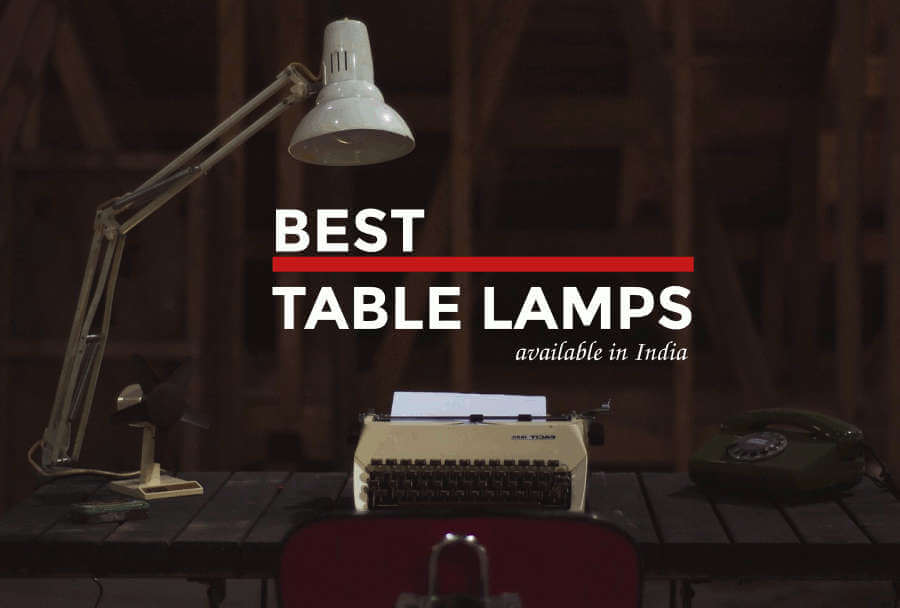 Best Table lamps/ Study lamps/ Desk lamps available in India.
1. Wipro Garnet 6W LED Table lamp
This 6W LED study table lamp can provide soft and glare-free light.
Design: Wipro Garnet has a highly flexible design. So, you can adjust the light focus direction according to your need. The easy touch control helps to adjust the intensity of light output and light tone. One con of this table lamp is that it is not rechargeable.
Reading experience: Wipro Garnet is dimmable and has three color tones selection options, cool daylight, neutral white, and warm white. The 200-lumen light output could provide a pleasant reading ambiance without hurting your eyes.
Final verdict: If you are specifically looking for a good study table lamp for your room, the Wipro garnet could be the right choice.
Features at a glance:
Glare-free light
Dimmable LED light
3 color tones options
Flexible design
Touch panel
200 lumens light output
1-year warranty
2. Syska Flexi SSK-TL-1009
You must certainly have come across the name Syska somewhere on the internet. Although it's a bit on the expensive side, the lights are well worth the extra buck.
Design: The Flexi SSK-TL-1009 comes with a futuristic design. The base is broad enough and does a great job of stabilizing the whole thing. You can freely adjust the neck according to your reading position.
Reading experience: At 400 lumens, the lamp makes up for a splendid reading experience. The soft milky light provides for long reading sessions without stinging your eyes. So if you're looking to burn the midnight oil, there isn't a better-led table lamp for the job.
Final verdict: Syska Flexi is equipped with an anti-dizzy light filter, and the minimalist design fits perfectly on your desk. You can even fold it to conserve desk space if you're in desperate need of it.
Features at a glance:
10W LED study table lamp
Flexible design
Dimmable
Material- ABS
400 lumens light output
2-years warranty
3. Wipro 6W Deco Table Lamp
Wipro Deco is a 6W table lamp with an eye-friendly light output.
Design: It has a smart design that allows you to use this as both a table lamp and a decorative lamp.
The touch-sensitive button helps to adjust the brightness and color tone of the light output. And they are quite easy to operate.
You can provide power to this table lamp using your mobile charger or USB port of your laptop or a power bank. So even during a power outage, Wipro Deco can be operated using a power bank.
Reading experience: Wipro Deco also has an adaptive light mode, will enable you to adjust between bright light, ambient warmth, and soft glow. Eye caring design with stable, soft, and non-flickering light output allows you to use this table lamp for a longer time.
Final verdict: If you are considering of buying a beautiful study table lamp that also serves the decorative lamp's purpose, then Wipro Deco will be a good option.
Features at a glance:
6W table lamp
Also, a decorative tamp
Body built with ABS
LED lamp with brightness adjustments
Touch buttons
Powered via a mobile USB charger, the USB port of the laptop,  or power bank
300 lumens light output
Even though it is not rechargeable, you can use a power bank to operate it.
1-year warranty
4. Philips 61013 Air LED Desk light
Philips 61013 is one of the most rated table lamps for study available in India. Also, this is a 5W LED table lamp with a minimalistic design.
Design: It is a non-rechargeable LED table lamp with a simple design. A simple on/off switch is given on the backside of the base. Also, it is lightweight and foldable. Philips Air table lamp is best suitable for study, reading, and office work.
Reading experience: Light source consists of 20 LEDs that can provide a total light output of 250 lumens. This reading lamp is not dimmable. But, the cool daylight output can provide a pleasant environment for reading. Philips Air is specially designed for comfortable reading.
Final verdict: looking for a simple budget reading lamp? Then Philips Air is a good option.
Features at a glance:
5W LED reading lamp
Cool daylight color tone
Foldable and lightweight
250 lumens output
2-years warranty
Not rechargeable
5. Wipro Symphony 6-Watt Rechargeable LED Table Lamp
Symphony from Wipro is a sleek and stylish rechargeable table lamp with 12 hours of power backup.
Design: This is a 6W table lamp. The driver of the Wipro Symphony is specially designed for India's electrical conditions. It includes overcharge and deep discharge protection with a recharging time of 8-10 hours.
Wipro Symphony has a charging indicator and high-quality rechargeable battery with 3000mAh capacity. Moreover, it has a physical on/off switch and a feather touch button for intensity adjustment.
One exciting feature of this study lamp is that it has a USB port at the base. This USB port you can use for charging your mobile devices. The foldable design makes it easy to carry and travel friendly.
Reading experience: It is an excellent reading lamp with 155 lumens light output. The light output intensity can be adjusted using the feature touch button. The light head is rotatable and bendable. Since it is a rechargeable table lamp, you can even use it during a power outage.
Final verdict: looking for a rechargeable study lamp? Then the Wipro symphony would be the right choice. Sometimes you can use it as an emergency lamp also.
Features at a glance:
6W LED Rechargeable table lamp
Body built with ABS
155 lumens light output
Dimmable
USB port for charging your gadgets
Foldable and travel friendly
6-month warranty
6. Syska Smartlight SSK-TL-1007-I-07W
Compared to the SSK-TL-1009, this one offers many features that could appeal to your reading habits.
Design: The smartlight SSK-TL-1007-I-07W this one follows a more traditional design. You get a more standard base, a reasonably bendy neck that allows for flexible adjustment.
Reading experience: The Syska light is regarded as the best table lamp for study primarily because of its mood settings. Night mode provides a warm ambiance, while the reading mode creates a brighter source for seamless reading.
In addition to the mood settings, you can also adjust color temperatures to suit your eyes and choose between warm white, white, and yellow color settings.
Lastly, the lamp is also voice-controlled; you can pair it with a voice assistant such as Alexa or Google Assistant and never bother with a switch anymore.
Final verdict: looking for a smart study table lamp? Syska Smartlight is the right choice. A wide variety of reading mode options are available in this model. If you are picky about reading lights, then the Syska SSK-TL-1007-I-07W is the best for the job as you get access to several options.
Features at a glance:
7W LED table lamp
Wi-Fi enabled and App control available
Dimmable
Feather touch control
Flexible design
Material- ABS
Input voltage- AC 220-240V 50Hz
2-years warranty
7. Bajaj Softlite
Bajaj Softlite is an affordable and long-lasting reading light solution for bibliophiles.
Design: The Bajaj Softlite is as normal as they come. There isn't anything special about this one. It also comes with a strong base, and you can easily adjust the neck to suit some really awkward reading positions.
Reading experience: The Baja Softlite is best suited to readers who are looking for a budget reading lamp that is also quite sturdy. Mind you that it does not come with different light temperature settings, you'll have to make do with only white. That said, you can adjust the brightness among 3 different modes, high, medium, and low, to prevent straining your eyes.
Final verdict: If you end up spending the majority of your money on books and not have enough for a reading light, then the Baja Softlite can be your optimal reading solution. Although it's inexpensive, the Softlite does deliver a superb reading experience.
Features at a glance:
Three different modes
Feather touch control panel
Glare-free light
Home and office-friendly design
6-month warranty
8. Havells Desklite Rizzutto Table Lamp (Desk Lamp)
Havells Desklite Rizzutto is also a 6 Watts LED table lamp with a soft glare-free light output.
Design: Havells' Desklite Rizzutto comes in three color variations (body colors- pink, white, and blue) with a beautiful foldable design suitable for modern home and office. Night light function is also available in this model.
Reading experience: It has eye-friendly light output, touch-sensitive on/off switch, and a touch sensor for brightness adjustment. This table lamp is suitable for the study room, home, and office.
The glare-free light output from Desklite Rizzutto can provide an apt ambiance for your reading habit.
Final verdict: It is a study table lamp with glare-free light, dimmable function, and modern look. If you are looking for a simplistic table lamp for your office or study room, this is for you.
Features at a glance:
6W LED study table lamp
Glare-free light
Body built with Plastic
350 lumens light output
Dimmable and foldable
1-year warranty
9. Philips Advantez FDS500 table lamp
Philips has always been in the light business, and the Advantez is among their best inventions by far. It's futuristic designs and strong base blends in with any decor making it the perfect reading solution in any scenario
Design: The ergonomic and flexible designs snuggles into any crevice you can imagine. Moreover, the energy-saving light bulbs can help you significantly cut down on your electricity bills.
Reading experience: The Advantez is yet again a budget option. The mechanism comes with only a single light setting and cannot be changed. Moreover, it's a table lamp and is not exactly suited for reading, especially because of the inability to adjust brightness.
Final verdict: It's a great choice if you are looking for a cheap light source and don't have any preferences for reading light temperatures, such as warm and cool.
Features at a glance:
11W fluorescent bulb table lamp
Cool daylight color
Flexible arm
600 lumens light output
1-year warranty
10. BillieJean Reading & Study Table Lamp
Lastly, we have the BillieJean, which is the cheapest on the list. It contains the bare minimum of a lamp out together in a neat classic package.
Design: There isn't much to say about this lamp other than its retro look. The wires jut out and are not concealed within the frame. The lamp is a steal if you're into vintage stuff and plan to decorate your room around a retro theme.
You won't get any inbuilt light source in this table lamp. You can choose a light bulb according to your preference separately. We recommend using a LED light bulb. Keep in mind; there is no inbuilt dimmable function available in this model.
Reading experience: No reading modes or brightness adjustment or mood settings inbuilt. We recommend buying a glare-free LED light source. The light is more than enough for clear reading, but longer sessions can strain your eyes if you are using a bright light.
If you have Wi-Fi access in your home or workplace, you can buy a smart LED bulb for this table lamp. So, it gives more flexibility for light output settings by a smartphone App.
Similarly, You could also get an inverter bulb for this lamp. That makes it a rechargeable study lamp.
Final Verdict: The online reviews speaks a lot for this one. The majority of readers find this quite helpful, and if you're on a super tight budget, the BillieJean might just be the perfect solution. You can change the light source according to your preference. It can function as both a reading lamp and a task light.
Features at a glance:
You can select the light bulb.
Smart bulb compatible
B22 bulb holder
Aluminum shade to prevent heating
Buying Guide or Tips for selecting a good table lamp
Some of the crucial points you should keep in mind before buying a perfect study lamp/ table lamp for your desks are furnished below.
Quality of light
You will be spending more time with your study lamp once you procured one. So the quality of light output is an important aspect you should keep in mind before selecting a table/study lamp. Studies show that people in their 60s need more light than the people in their 20s for reading. Also, look for a light with a color temperature that suits your needs.
Light source
The most common types of light sources for table lamps include LED, CFL, and Incandescent. LED lights have several advantages over other light sources. LEDs have lower energy consumption, long life span, and environment friendly.
Color temperature range
Table lamps with different color temperatures are available in the market. Color temperatures range from warm (0-2500K) to bright white (3000K -4900K) to cool white (5000K & Above). Generally, color temperatures ranging from 2500K to 4900K provide a clean and pleasant light to work beneath. Halogen or LED lights are great for this color temperature range.
Adjustable design
Also, look for an adjustable design. The flexible design provides a more comfortable feeling while using a study lamp. You can adjust its posture according to your needs. Mainly the flexible design includes swiveling head and swing/ boom/gooseneck arms.
Size
The size selection depends on the place you're going to use your study lamp. For a small desktop or table, a small lamp is the right choice, which helps you save a lot of space on the table. For a bigger table or work area, considers a table lamp with a bigger arm like an architect or swing arm design.
On/off functionality
Try to select table lamps with an on/off switch. Nowadays, on-off switches are coming in touch mode. Besides touch models, on/off switches in study lamps also available in base switch models or pull chain models.
Dimmable function
You may require different light brightness for various activities under a table lamp. It is good to have a table lamp with a dimmable function. It helps you to adjust the light brightness according to your needs.
Charging ports
Some of the rechargeable table lamps come with a USB charging port. It helps you to power your table lamp through a USB cable. Also, some table lamp models allow you to charge your mobile phone or other gadgets via its inbuilt USB port.
Rechargeable option
Sometimes a table lamp with Battery backup is the right choice. The rechargeable table lamps help you to work during power failure also.
Style
Select a table lamp that matches your room style. Different types of table lamps are available in the market which suits your Study room, drawing room, bedroom, and office, etc.
Where to buy a table lamp?
You can get a good table lamp from the local market or an online store. Online stores are a good option because they have a massive inventory of table lamps, which suits every need compared to local shops. Online shops like amazon have same-day delivery also. Please refer to the comparison table provided to select the best study table lamp of your choice.
Conclusion
There are hundreds of study table lamps to choose from on the internet. So, here are a few tips to help you make the right decision.
The general consensus states that softer and more diffused light is the best solution.
If you have a computer on your table, you're better off using a much softer light.
Choose lights with different moods if you work in front of a computer for prolonged periods (upwards of 8 hours).
Don't just grab the first one you spot on the internet. Test before you buy, even if it's not the same model. You may go through the above table for finding the best table lamp that suits you.
Now that you have a better understanding of how a lamp works and what to look out for, you should have a better chance of picking the perfect one for your study.