Backing up power is no longer enough for your laptop and your smartphones/tablets. Present days, most of the things in our lives are dependent on the internet; Life would practically come to a standstill for millions of people without the internet.
Whether it's for entertainment or a typical work from home job, a backup is mandatory for the Wi-Fi modems or routers to enjoy a hassle-free internet connection in cases of a power outage.
For this very reason, as with the inverters used to backup power for the whole-house, UPS that back up power for the desktop computers, power bank for smartphone, a power backup is provided for the Wi-Fi routers/modems.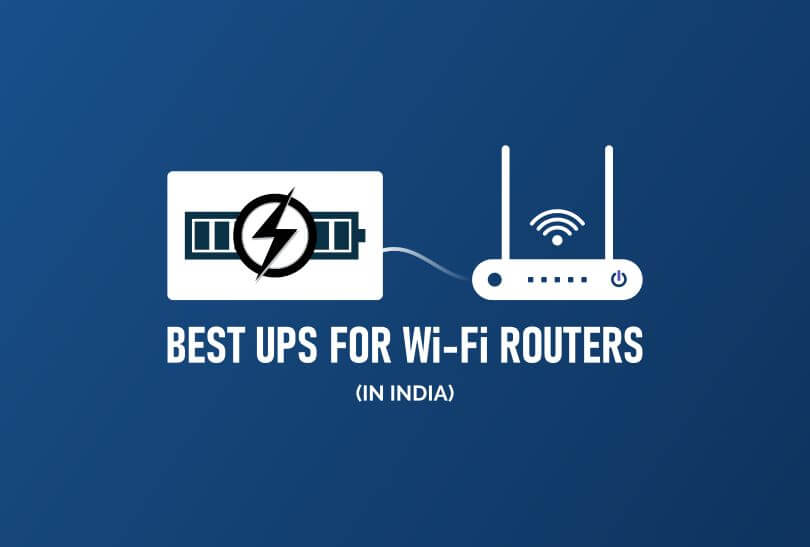 Hence, many UPS for Wi-Fi routers are available to purchase with smaller power ratings; we have compiled the best UPS for routers available in India for your Wi-Fi router.
Note: Please check your Wi-Fi router's input power rating before selecting a UPS/power backup. The power rating of your router and the UPS should be compatible.
Best Power Backup for Wi-Fi Routers
5 Best UPS for Wi-Fi Routers in India
1. Resonate RouterUPS CRU12V2
This mini UPS gadget ensures you have an undisturbed internet connection whether you are playing, working, shopping, or just hanging on social media at home.
Compatible with: 12V and <2A powered routers
The manufacturer guarantees that the power backup will last up to 4 hours once it is fully charged.
Note that the power backup can last up to 4 hours only when you use it for a single Wi-Fi router or ADSL router and not for any other tool/device.
The circuits used in the device are securely equipped with Intelligent electrical safety. Also, a smart battery management system is available, granting it a long operating life.
If all that sounds perfect for your router, then this power backup for routers is very nice to go with. Resonate also provides a 1-year warranty term for consumers for additional peace of mind.
Pros:
Build-Quality is outstanding.
Displays various colors of LEDs when charging and while using battery power.
Suitable for most modern-routers.
Cons:
At one time, it can connect to one device.
2. Zinq Technologies ZQ-6600 12V UPS for Router
Zinq Technologies has the ZQ-6600 UPS for budget buyers with similar features to other brands but with a lower price tag.
Compatible with: 12V and <2A powered routers
This UPS also has overhead protection and intelligent charging so that the UPS and your router are still secure.
The battery capacity of this best UPS for routers is 6000mAh, which is very decent given the price tag and can give power backup for up to 4 hours.
On the other hand, it's very well built and has everything required. Nothing can be complained about because it is compatible with all the 12V routers used by most people.
Only a minute is needed to set up, and all you need to do is connect a few wires to go.
Pros:
Zero Lag Switching
True online UPS function
Over-charging protection
Cons:
Single LED, which is too small.
3. Oakter Mini UPS for Wi-Fi Router
With the Oakter Mini UPS for Wi-Fi Router, enjoy uninterrupted internet access that provides your Wi-Fi router with up to 4 hours of uninterrupted power supply.
Compatible with: 12V and <3A powered routers
This mini UPS will maintain uninterrupted supply during power cuts, and its smart function turns automatically back to battery power until the power is cut with zero latency. The UPS charges itself while there is power, featuring an intelligent battery control system.
This best UPS for routers is easy to install in no time. Also, an extra pin adapter that supports most Wi-Fi routers comes with it.
Oakter Mini UPS is suitable for 12V gadgets, including Wi-Fi / ADSL Router, Set-top Box, and CCTVV.
Pros:
Support to all type of 12v Dc Wi-Fi Router
Smart Charging Mini UPS for Wi-Fi Router
Uninterrupted Connectivity.
Cons:
This model is only suitable for 12V Wi-Fi routers.
4. Cuzor UPS for Router
Cuzor 12V UPS is a 12V and 2A rated Wi-Fi router power backup solution. The integrated "Zero Lag Switching" and "True Online UPS" features guarantee 12V glitch-free performance in the course of short power interruptions or long-distance power interruptions.
Compatible with: 12V and <2A powered routers
Cuzor router UPS will provide your Wi-Fi, ADSL or Fiber-based Router/Modem, Safety Camera, SetTop boxes, or even a Cordless Phone with up to five hours of uninterrupted electricity.
It enables your system (Router/Set-Top BOX/Wi-Fi Modem/Security) to generally continue to operate with short/extended power interruptions.
Cleaning and maintenance of the textured exterior of Cuzor 12V UPS are simple. With the use of high-quality ABS content, a superior look and feel are achieved. It is designed and manufactured in India.
Pros :
Stiff body and advanced construction
Easy Installation
Compatible with mostly all the routers
Cons:
Some users faced a problem with the "Zero lag" function.
5. PowerFills Pro – 9V and 12V Dual Voltage UPS for Wi-Fi Router
PowerFills Pro UPS is a power backup system that can be used for electronic devices such as Wi-Fi routers, Wi-Fi repeaters, CCTV cameras, digital setup boxes, etc.
Compatible with: 12V and 9V powered routers
In the event of a power issue at your house, PowerFills Pro UPS offers up to 6 hours of backup. The compact, lightweight, stylish and discreet PowerFills device will rest on your work or study table.
PowerFills Pro is the only product in this list that provides both 9V and 12V selection choices to choose according to your Wi-Fi router's power rating.
The included 12V,2A power adapter charges the UPS faster than any other item, and you will soon be back to your job, study or fun!
Pros:
Easy to Connect
Supports fast charge
Last up to 6 Hours
Compatible with Wi-Fi Router, ADSL Modem, Repeater
Cons:
Conclusion
It is very common to deal with power outages in our daily lives, especially in India. But since most people rely on the internet, finding a solution is significant to keep the router running. This is why we have given you some of the best power back-ups for routers. We assume you've already defined the most appropriate UPS choice for yourself from the list, as it is not a difficult job at all. Shop Now!