The best DSLR Camera Tripod is the one that helps the photographer takes better pictures. Tripods have been designed to provide stability to photographers, thus improving photography.
A DSLR is often incomplete without its tripod.
Tripod allows you to take pictures that aren't possible otherwise. Think of long exposure photography, a niche that is possible only because of a tripod. Astrophotography can't be done without a tripod.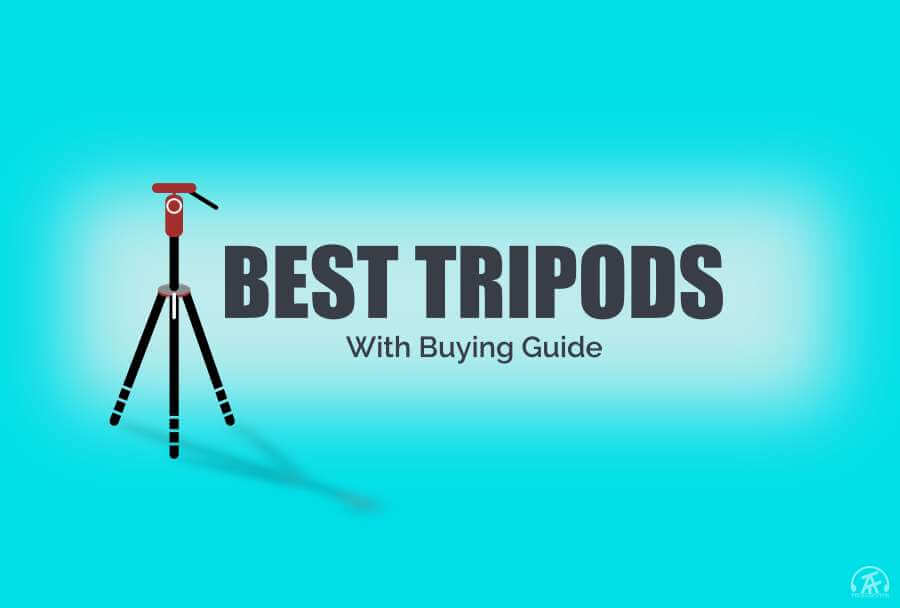 It is similar in the case with HDRs and panorama compositions. Compositions, themselves, gain because of the stable presence of a tripod. Add to that; tripods can also help take better pictures at low ISOs and reduce shutter speed. Both because the camera shake will be minimal with a good tripod.
Even in DSLR cinematography, a tripod makes one go through places that aren't otherwise possible. Add to that the weight of the camera, especially of the full-frame DSLRs and the long lenses.
Tripods have been one of the oldest inventions in photography, and with time, they have only become better. Also, it is one of the essential camera accessories.
Tripods for Cameras: Buying Guide and Influencing Factors
There's no 'best camera tripod'. It varies as per the requirement. Some of the factors that can help in figuring out the ideal tripod for cameras are:
Purpose:
Purpose plays a significant role in selecting a tripod. Whether you are looking for a cinematography specific tripod or a multi-purpose tripod, whether the purpose is for an in-studio shoot, or is it going to be majorly a travel tripod, is it for shooting speed or for long exposures- these help in defining the type of the tripod.
Build Quality and Weight:
If the tripod weights too much, it will hamper the overall ease with which the photography is done. The finest, sturdiest, and lightest tripods are built using carbon fiber. However, they are also the costliest.
The second-best option is aluminum, which is noticeably heavier than carbon-fiber tripods. Basalt lava material provides an in-between option. Stainless steel tripods are also used for cinematography purposes and are extremely heavy but the most durable.
The best DSLR camera tripod is, after all, the best build your budget allows.
Load Capacity:
Load capacity determines the maximum weight a tripod can take. While deciding on load capacity, a mistake buyer makes is calculating it as per their kit weight. However, it needs to be calculated according to the heaviest lens they will be using.
So, the load capacity should be 1.5-2 times the sum of the camera body weight (or heaviest bodyweight in case there's more than one body) and the heaviest lens weight.
Parts of a Tripod:
It's important to understand parts of the tripods for cameras. A tripod usually consists of a head and a leg. There can be, however, additional components, namely feet and center-post or center-column.
The head is where the camera goes. The legs are the component that provides stability. The feet are a component that can be changed based on indoor or outdoor usage, and the center-column is an extra shaft that helps adjust the height of the tripod by raising it further than the maximum possible height.
Head Style:
There are, majorly, two types of tripod heads, pan-head and ball-head. Pan-head is traditionally more stable, perfect for panning and smooth movements, and ideal for photography that provides the luxury of time and cinematography. Ball-head is the faster of the two, which is smaller in size and comes with snap-lock features.
With ball-head, the speed is faster; however, the stability is slightly lower. For an action photographer, a ball-head can be a boon. For a cinematographer or a long-exposure photographer, a pan-head is ideal.
There's a new gun-head or pistol-grip head that is available in some of Vanguard's models primarily. It provides a gun-like grip to the ball-head mechanism and works in both cinematography and photography, combining features of both the heads.
There's also the more sophisticated gimbal-head. Gimbal-head is a specialized head for longer lenses, usually 300mm or longer. It is specialized for heavier lenses and suits speed photography.
Leg Style:
Tripod legs are of two types – tubular and non-tubular. Tubular legs, usually in carbon fiber tripods, use a twist-lock mechanism instead of the flip-lock mechanism in non-tubular legs in aluminum, basalt, and steel tripods.
The legs can have 3 to 5 sections, depending on the height. More sections and height often come at the expense of stability, unless the build quality is sufficient.
Center-post:
Center-post is the single leg in the middle of the tripod. Apart from extending the maximum height of the tripod, it also helps in adding stability. When closed, it provides more stability. It also helps to change
the tripod's height more minutely. It isn't easy to balance the tripod unless when completely open or closed. This is where the center-post comes in handy. However, keeping much of the center-post open hampers the stability of the tripod.
Quick Release Plate:
Most of the tripods come with a simple plastic plate with a secure release latch or a snap lock. The plate screws inside the bottom of the camera inside the threaded hole.
Slightly better tripods use the plate from the same material as that of the body, like an aluminum base plate.
Many of the top-end tripods, though, have a quick-release plate. The quick-release plate is a larger plate that is superior to build-quality and provides for faster operation.
Tripod Height:
Two major factors can help to determine the correct tripod height. Firstly, it should be closer to your eye level at maximum height. Slightly longer is better than shorter because a tripod can always be lowered. The second important factor is its packed-up length. It is important when it comes to traveling. The best camera tripod for travel can be packed easily when folded.
However, an important point to note that the taller the tripods, the less stable they become. Unless, of course, the build quality is superior, in that case, the cost will be considerably higher.
Brand:
Manfrotto and Vanguard are industry leaders in tripods. There are some other brands too, and more affordable brands produce efficient tripods for their price.
The choice of the brand becomes easier, depending on the budget. The same budget can offer a completely different variety of tripods in different brands. While Manfrotto and Vanguard go hand-in-hand in terms of pricing and range, brands like Digitek and Sonia produce efficient lower cost tripods.
Top 7 Best Camera Tripods
Top 7 Best Recommended Camera Tripods
1. Digitek DPTR 610VD: The Sturdy Heavy-Duty Budget Tripod

Digitek DPTR 610VD is one of the best DSLR camera tripods for cinematographers. The tripod has a fast quick-release system and a load capacity of 20 kgs. Made with aluminum, the tripod extends up to 9.5 feet.
The range it covers is excellent, and its ball head provides a two-way pan. It consists of a bubble-head to help check the horizon. It is excellent for both photo and video purposes, and its build quality is superior.
The ball head in the tripod combines features of a pan head to make it ideal for videos while also adding a ball head's speed.
2. Sonia EI717X Tripod: The Pro Tripod in Budget

Sonia EI717X is a tripod with a bowl pan-head. It is a unique head that provides perfect panning movements with its hydraulic head. Perfect for videos, it comes with a quick-release plate for speed while shooting.
It has a length of 1880mm (6.17 feet) when fully extended. The load capacity of the tripod is 10 kgs. It can also shoot table-top.
It is an ideal tripod for video as well as studio and macro photography because of the features it packs and the sturdy build quality.
3. Manfrotto MVKBFRT-Live Befree Live Video Tripod Kit with Twist Leg Locks
Manfrotto MVKBFRT is, in short, built for photographers and cinematographers on the go. It is essentially meant for cinematographers, built with a fluid video head to make movements perfectly.
MVKBFRT comes from the Manfrotto brand, also the aluminum build of this Manfrotto perfectly showcases the brand quality. It has an innovative M-lock, a twist-lock system that is secure and provides quick access, and is compact and easy-to-use.
Manfrotto MVKBFRT is also a light-weight tripod, which can be folded to about 400mm in length.
4. Vanguard Alta Pro 2+ 263AP Camera Tripod: The Limitless Shooting Machine
Vanguard's Alto Pro 2+ 263AP Tripod Kit showcases Vanguard's brand's quality and versatility at the display.
This mid-level tripod is a machine that trespasses all the limitations of a tripod and can shoot almost anything. It has a MACC (multi-angle center column) that provides limitless shooting experience, making impossible angles possible.
The 3-way fluid pan head consists of 2 telescopic handles, a bubble level, and a quick-release arca-type system. Apart from being fast, this rock-solid build of magnesium and aircraft aluminum also provides unmatched stability and is a rock-solid tripod.
It also has angled rubber feet with additional spiked feet available separately.
5. Manfrotto PIXI Mini Tripod: Tripod for Compact System Cameras
An easy setup, quick-to-use mini tripod, Manfrotto MTPIXI-B is from the famous PIXI line of tripods from Manfrotto.
The Italian-style finish design makes it an attractive tripod that is great for compact camera systems like phones and digital cameras, and entry-level DSLRs.
Total weight capacity is capped at .97 kg (almost 1 kg or 2.2 lbs). It has a push-button lock mechanism that makes it easy to use. Tripod allows a 360 degrees rotation along with ±35 degrees of front tilt range.
It is excellent for shooting videos on the go without carrying large travel equipment. With today's constant video shooting requirement, this is an ideal tripod for fast shooting purposes.
6. DIGITEK DTR 520 BH Professional Aluminum Tripod Cum Monopod: Multi-Purpose Budget Tripod
At the budget of an entry-level tripod comes Digitek's DTR 520, the multi-purpose tripod-cum-monopod.
The multi-purpose swivel ball head makes it ideal for all kinds of shooting. It can do a low-level shooting at its lowest height of nearly 1 foot (320mm).
The tripod also can shoot even lower down the ground and is ideal for macro photography as well. It fits DV video camcorders perfectly and provides a perfect video shooting experience.
Its monopod function provides the same ball-head as bubble-head, which provides a smooth shooting experience with a monopod's flexibility, making video shooting even more breezy.
7. Manfrotto MKCOMPACTADV-BK: Advanced Three-Way Head for Superior Panning
Everything about Manfrotto MKCOMPACTADV-BK is about providing a compact tripod for a superior shooting experience.
It is built using reinforced aluminum that is sturdier than the regular aluminum tripod. The tripod has outstanding rigidity while being light and compact.
The load capacity of 3kgs makes it ideal for compact up to mid-range cameras. Two ergonomic and independent levers help navigate through movements with fluidity without compromising on stability.
It is also easier to fold and carry, making it portable and an ideal travel tripod.
Tripods- Frequently Asked Questions
Are tripods necessary?
Tripods aren't necessary. One can shoot handheld, or one can find places to keep their camera while shooting so that one can even take long-exposure shots without using a tripod. The cameras have also developed to include better high ISO performance, better image stabilization, and so on. Tripods are, however, ideal for elevating photography to the next level.
Can tripods fit any camera?
Any camera that has a bottom-hole for base plate screw can be mounted on a tripod. Tripods can fit any camera these days because cameras are built with the option. Even digital cameras are built to include the bottom-hole where the tripod's base plate screws in. The best tripods for cameras can adjust a variety of cameras, even phones with phone-holders that can be attached to the tripod through the same mechanism.
How to use a tripod?
To use a tripod, spread the legs and lock the tripod's position as per the composition. After that, check the bubble-level to make sure it is leveled. Then, take the base plate out and screw it on the bottom of the camera. Secure the base plate back on the tripod head. There may be a snap-lock feature that will get locked automatically, or one has to secure the release latch. Lock the camera head in the correct direction and angle and start shooting.
What is the difference between monopods and tripods?
Monopods and tripods, as the name suggests, differ in the number of legs. Monopods have one leg while tripods have three. Tripods are, naturally, more stable. Monopods provide stability while giving the flexibility of shooting handheld. Monopods often come with a tripod leg set on the bottom to provide added stability. Still, it isn't secure as a tripod. A monopod is meant for support and stability for fast shooting. However, one still needs to hold the camera while shooting on a monopod.