Wondering how to pick the right digital weighing scale for your kitchen? Here is a list of the top 5 kitchen scales you can consider.
We're pretty sure you've experienced a moment where you wanted to check the weight of a food item but couldn't at that moment. Don't worry; you're not all alone here, as this is a concern that many people have. And for the same reason, the idea of a digital kitchen weighing scale comes into the picture.
When you plan to make a sweet dish and need to use an exact amount of a food ingredient, a kitchen weighing scale comes in handy. You can conveniently measure the quantity of a food item and use it correctly with the help of a measuring machine.
One thing to remember is that kitchen weighing scales should provide reliable results. If you are concerned about knowing the best kitchen scales, then don't go back. We have done heavy research for you. What you need to do is scroll down and read on!!
Best Kitchen Digital Weighing Scales
1. AmazonBasics Stainless Steel Digital Kitchen Scale with LCD Display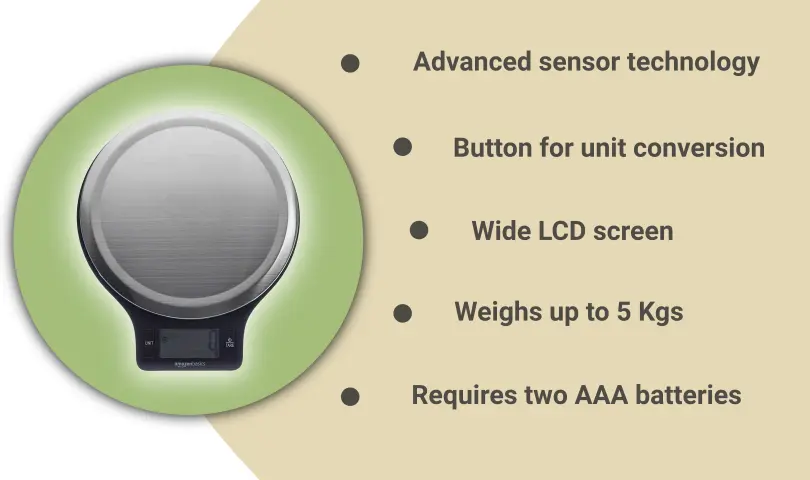 The AmazonBasics Digital Kitchen Weighing Scale is a handy kitchen gadget for quickly measuring ingredients or food items.
This digital scale has a compact size and outstanding build quality. It is made up of stainless steel and is portable. This kitchen weighing scale also has a tare button and advanced sensor technology that comes built-in.
It's made of BPA-free plastic and has a big LCD display and an automated shut-off timer of 135 seconds. You can weigh anything from ingredients for new or favorite recipes, including health-conscious meal plans.
Salient Features
Smart design
Convenient Size
Battery Operated
Easy to use
Specifications:
Brand: AmazonBasics
Material: Stainless steel
Item Weight: 0.84 Pounds
Pros
large display
Classy looks
Incredibly accurate
Pounds, ounces, and grams are shown
After 135 seconds, the auto-off feature is triggered
Cons
Maximum weight capacity is only 5 kg.
2. Hesley Smart Kitchen Scale
Hesley is known for its elegant style and sleek appearance. It is the most preferred choice for professional chefs and homemakers who need the best measuring companion, particularly baking.
If you want to use this product for both commercial and domestic purposes, then without any doubt, it will be one of the best options.
The weighing scale's upper layer is made of 3mm tempered glass, making cleaning very easy. This weighing scale is perfect if you want a sleek appearance as well as high-quality features.
Salient Features
Multi-Function, APP Controlled
Correct measurements
Nutritional Calculator and Diary
Coffee Scale with Timer
Specifications:
Brand: Hesley
Material: ABS and glass
Item Weight: 300 Grams
Pros
Smart scale
Elegant and stylish
Accurate LCD display
Tare function.
Auto-off function
Calculates in grams, kilograms, pounds, and ounces
Cons
Could be a bigger size
Need improvement in auto shut off feature; shut off very quickly.
3. Dr. Trust (USA) Electronic Kitchen Digital Scale – 517
You'll adore this small, sleek, and elegant scale because it integrates precision and accuracy.
It's built for regular use and looks amazing on your kitchen counter. It accurately weighs ingredients and assists in the preparation of better meals.
It can be used to measure the volume of the liquid. Dr. Trust (USA) Electronic Kitchen Digital Scale-517 is pretty good and simple to use.
From measuring, tare weight, and switching units, only two buttons are needed to run this scale smoothly.
This multifunctional scale weighs in grams, kilograms, pounds, ounces, and milliliters. It has a Tare feature, an easy-to-read LCD display, and is easy to clean and manage.
Salient features
Precise Weight Measurement
Easy Scale Weighs Up to 5 Kg
Small, Sleek & Easy To Maintain
Low & "Error" Indicators
Specifications:
Brand: Dr. Trust
Item Weight: 300 Grams
Item Dimensions: 20cm x 16cmx 1.4cm
Pros
Economical
Is Equipped with the tare function
Weigh up to 5 KG
Easy to use
Cons
Need improvement in quality
Also Read: Awesome Electronic Gadget Gift Ideas For Any Occasions
4. HealthSense Chef-Mate K 40 Digital Kitchen Weighing Scale
It brings a lot of flair to your kitchen counter with its elegant, lightweight, and ergonomic style. It even comes with a bowl.
Since this weighing scale is made of durable materials and does not contain BPA, it is a hygienic and healthy digital weighing scale for your kitchen.
It has a big LCD display with a blue light sensor for easy reading. HealthSense Chef-Mate KS 40 has a unit button, which shows quantities in grams, milliliters, ounces, and pounds.
The machine's flat surface makes it convenient to clean and store in narrow spaces such as your kitchen cabinet or counter.
Salient features
Precise Measurements
Easy Tare Function
Unique Hanging Design
Battery Included
Specifications
Brand: HealthSense
Material: Plastic
Item Weight: 220 Grams
Item Dimensions: 18cm x 14cm x 1.8cm
Pros
Well-known brand and a unique design.
The minimum amount of weight it can calculate is 1 gm.
Tare function on a clear LCD display
Auto-shutdown function
Conversion of units is possible.
Cons
The maximum weight it can measure is only 5 kg.
5. Glun Multipurpose Portable Electronic Digital Weighing Scale
Last but certainly not least!! This Glun product is one of the most inexpensive and best kitchen scales on our list.
It comes with an LCD screen display that makes the measurements easy to read. It also has a maximum capacity of 10 kg and a 1-gram increment. Even though it uses less energy, the auto-off feature helps to save even more.
It also has a battery life indicator that shows the battery status and a tare function, making it a user-friendly product.
All of the measurements are highly accurate, and the device only requires two AA batteries to operate.
Salient Features
Wide Screen Display
Automatic Locking of Data
Low Power Consumption
Low Battery Indicator
Specifications
Brand: GLUN
Item Weight: 340 Grams
Weight Limit: 10 Kilograms
Item Dimensions: 20cm x 7cm x 25cm
Pros
Super affordable.
Low power consumption
High Precision Tension Meter System
Cons
Basic in design.
Need improvement in quality
Conclusion
With the growing need for a digital kitchen weighing scale, it is rapidly becoming an essential gadget. And here, so far, we've looked at some of the best kitchen scales in the market.
We hope that we have provided ample options to choose the right match for your kitchen, both in terms of priority and cost. So, go ahead and pick the right kitchen weighing scale for your needs.