If you're searching for an electric kettle that can do more than boil water, continue reading to learn about India's top five multifunctional electric kettle. These kettles provide everything you need, from making tea to preparing noodles!
Electric cookware has evolved as an integral part of every modern kitchen. Many Indian families have begun moving away from traditional LPG-based cooking techniques to recent, electricity-based options.  
Think of all the things that you do with a typical cookstove, boiling water, tea, coffee, eggs, preparing noodles, and much more. All these things consume effort and time. However, with the invention of electric kettles, you can perform all these tasks with ease and much more. Multipurpose kettles provide far more potency and effectiveness.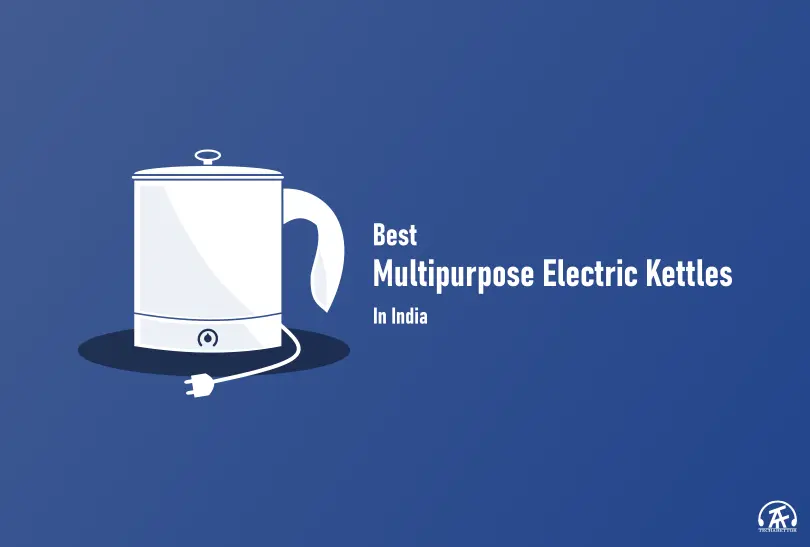 With so many multipurpose kettles flooded in the market, we thought of getting on to the topic more detail to find out the best multipurpose electric kettles among the lot. We put in quite a tough test to disclose some of the significant bits of the five best multipurpose electric kettles in India, well gathered by our expert reviews. To know more, read along:
Best Multipurpose Electric Kettles in India
1. Pigeon by Stovekraft Quartz Kettle 14299
This Pigeon electric kettle by Stovekraft Quartz 14299 is a quick, efficient, and effective 1.7-liter kettle with a 1500-watt boiler.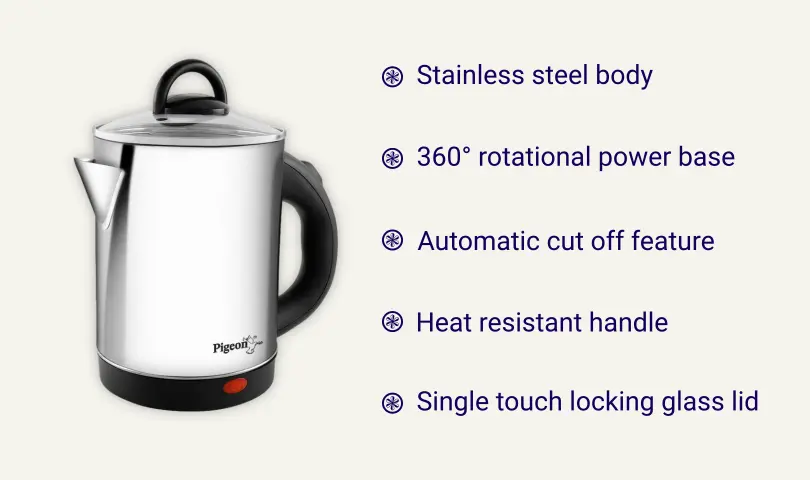 It comes with a hygienic stainless-steel body equipped with a unique, elegant handle for a comfortable grip and easy locking of the lid that allows water to boil in no time. Additionally, the 360° rotating base in a Pigeon multipurpose kettle makes it effortless to carry around.
This kettle has an illumined power pointer that glows when power is on. The automated cut-off feature makes it an attractive buy that automatically shuts off the power supply when the water is boiled. It saves the appliance from damage, makes it safe, and expands the lifespan of the electric kettle.
Key Highlights:
Balanced Performance and style
Simple to operate with indicator light
Massive opening glass lid for effortless cleaning
Comfortable Heat resistant handle
Automated power cut feature
Easy locking of the top cover
2. Butterfly Wave 1.2-Litre Multipurpose Kettle
Butterfly Wave multipurpose kettle is your right kitchen partner. It features sturdy stainless steel and has a capacity of 1.2 liters with 600 watts and a 1-year warranty.
This kettle has a 360° swivel detachable power base that enables you to plug it in any direction for convenient usage.
It comes with an impressive feature of an egg boiler that can boil up to 6 eggs simultaneously from the steam induced by the heater contained in the kettle.
Moreover, the crystal-clear glass top cover lets you see through the lid to check whether the eggs are boiled or not without unlocking the lid.
Butterfly Wave also features a smart light indicator feature and a temperature control knob. After being cut off, it maintains the temperature of the water.
Key Highlights:
Unique design with impressive finishes
Extra-wide mouth and glass lid
Egg boiler
Auto-switch-off feature
Lightweight and easily portable
3. Morphy Richards InstaCook 1200 W Kettle
This Morphy Richards InstaCook kettle has a modern and classic design with 1200 watts heating element to perform its chore minus any break within seconds.
This kettle can perform a range of tasks, including boiling water and egg, steaming corn and vegetables, preparing tea, coffee, and soups, heating milk, and preparing noodles and pasta. 
It comes with a steaming wire stand and a steaming basket. You can set the needed temperature and thus can cook different menus with pre-set temperatures.
Further, it has a capacity of 1 liter with a durable stainless steel body that enables sturdy and rough usage. It also features a high-quality thermostat control and supports the cordless connector base for easy movement.
The kettle automatically shuts down the electricity supply when it surpasses the required temperature.
Key Highlights:
Auto-cut-off and dry boil protection
Concealed heating element
360° detachable base
Temperature control knob
2- years warranty
4. Prestige PMC 1.0 1 Litre Kettle + Multi Cooker
The Prestige Multi-Cooker has a capacity of 1 Litre with 600 watts power consumption and provides a vast list of attractive features like temperature control, Automatic cut-off for dry heating, ergonomic handle, stylish glass lid, and many more.
It is a fantastic accessory for hassle-free and quick-cooking needs that can be added to your kitchen essentials. You can instantly prepare noodles, and rice, boil eggs, brew soup, and make tea, or coffee, with pre-set temperature settings in a matter of minutes.
Also, Prestige Multi Cooker 1 Litre – PMC 1.0+ has a compact size. So, you can use it while traveling. This kettle is effortless to clean because of its concealed element that enables you to spin your hands through the kettle while washing it with soapy water.
Key Highlights:
Power indicator light
Temperature control knob
Stylish stainless-steel body
360° detachable power base
Cord winder to adjust the cord length
1-year warranty
5. Bajaj Majesty KTX 9 Multifunction Stainless Steel Kettle
This Bajaj Majesty KTX 9 Multifunction Stainless Steel with polypropylene enclosure Kettle with a 1-liter capacity and 1200 watts heating element is a highly convenient Multipurpose electric kettle for everyday use.
It is a cordless electric kettle and features one of the best design aspects. The kettle has a 360° connector and detachable power base too.
Due to its compact size, Bajaj Majesty KTX 9 does not occupy much room in your kitchen. Further, this multipurpose kettle's ergonomic handle provides a firm grip and prevents it from slipping, making it easy to hold.
This kettle also has a spout design for easier handling and easy cleaning, with a hinged lid for safety. It is an ideal choice for multiple purposes as it has seven pre-set menus.
Key Highlights:
Stylish cordless design
Hinged lid for safety
Concealed heating element
Overheat protection
Auto-cut-off and dry boil protection
2-years warranty
Conclusion
Multipurpose electric kettles are great for making tea, coffee, oatmeal, and much more. They are easy to operate and clean.
Whether you're a busy parent looking for a quick and easy way to prepare simple meals or want an efficient electric kettle for your home kitchen, these kettles are a great alternative to traditional cooking.
All the above-mentioned Multipurpose electric kettles are reliable and from high-end brands. Before buying any electric kettles, we suggest you read the safety and maintenance instructions carefully.
You must follow the company's guidelines for using it as that will enable better usage. If your electric kettle doesn't support specific operations like boiling milk or preparing dishes like eggs, you must avoid it.