Are you looking for the best budget power bank? Well, you have arrived on the right page as today we will discover the seven best portable power banks that are suitable for everyday needs.
We have become so much dependent on the smartphones that it's hard to imagine our lives without it. In such a case, if we have to spend an entire day without our phone, then everything we have planned will fall to chaos. With modern smartphones, we can barely manage to last half a day rather than having the phone charged 24/7. So, we need a power bank.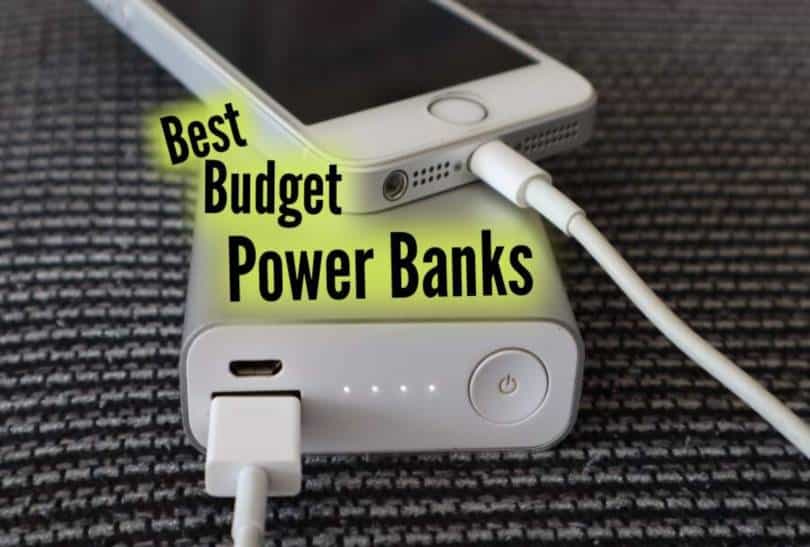 Power Bank Buying Guide
To help our readers, we have compiled the perfect power bank buying guide. We understand that not everyone has the technical knowledge on how to choose the right power bank for their needs. So, we will highlight the points that will serve as crucial elements that you need to check in the product you choose to buy.
Uses of Power Banks
Well, the primary purpose of power banks is to provide charging backup. So, you need to get the best power bank for that purpose only.
However, you might have to charge devices like smartphones, tablets, Bluetooth speakers, headphones, fitness bands, and some other devices. So, before you pick the best portable power bank, make sure that you choose one according to the usage.
Capacity
One of the essential points in the power bank buying guide is the charge capacities of the device. The capacity is usually given in milliAmpere hour (mAh). A 1000 mAh battery can supply 1000 mA or 1 A for one hour.
While the old phones tend to have a lower capacity, the smartphones have more than 3000 mAh nowadays. So, you have to make sure that the power bank capacity is always higher than the device you intend to charge with it. If you want to charge multiple devices, then choosing capacity over 10k will be better.
Size & Weight
Nobody would want to carry a power bank that is hard to carry around. The primary purpose of these devices is to provide us a power source where there is no other source present, which happens during traveling.
Hence, the size and weight need to be ideal. The small the size and weight, the easier it will be for you to carry the power bank.
Voltage & Current
The standard USB charging voltage and current are 5V and 0.5 A, respectively. It is essential to mark both voltage and current in this power bank buying guide because we can't ignore these metrics. When the voltage is the same and current increases, the electricity flow rate also increases, draining the power bank faster and charging the device quickly.
So, for a faster-charging cycle, we will need a power bank that has a higher voltage up to 5V and a current between 2.1 A to 2.4 A.
Input And Output Ports
In the early stages, the best power bank is decided with voltage, current, and overall capacity. But now that there are devices that support different cables, we need multiple input and output ports.
It will be better if your power bank has both micro USB and Type C USB input and output support so that you don't have to carry multiple cables.
Charging Indicators
One additional feature which will be beneficial for use is the charging indicators.
It often happens that we forget to charge the power bank, which has a high capacity. And eventually, when it runs out of power, we are left with other alternatives, if any. Therefore, having a LED light indicator will be useful. This way, we'll always know when the power banks need charging.
Price
If you know which specifications are important for the power bank, then it will be easier for you to narrow down your options. The perfect power bank that fits your needs might be cheaper than you think.
But don't just go with the price always as they can deceive. Review the quality of the power bank as well to ensure that you are buying a quality product at an affordable rate. Check if the power bank is well tested and met the safety measures or not, then pick it.
Brands
It is not just the brand of the power bank that matters. The devices you will charge with the power are also manufactured by various brands.
So, overall, you must gather information about the ideal power capacity for the device you want to charge with the power bank. Also, by dividing the capacity of the power bank with the battery capacity of the smartphone, you can determine how many times you will be able to charge it.
List of 7 Best budget Power Banks In India
1. Mi Power Bank 3i
When you are looking for an affordable power bank, then the Mi 3i Li-Polymer power bank can be the answer.
It is one of the best portable power banks with features like Triple port output, dual input port, quick two-way charge, and twelve layers of circuit protection. Also, the type-c port can function both as an input and output port.
This power bank will serve you right with the stylish aluminum casing and 18 W fast charging feature.
With the ultra-slim and lightweight design, the power bank is easy to carry in your bag and pocket. So, from now on, wherever you go, don't worry about charging your smartphone, watches, tablets, or fitness band.
There is even a Low-Power Charging Mode that will allow you to charge devices such as Bluetooth headsets and fitness bands.
Features:
Capacity- 20000 mAh
Size- 15.1 x 7.2 x 2.6 cm
Charging Time- Approx 6.9 hours (18W charger, USB-C / Micro-USB)
Triple output port
USB Type-C input and output
2. Redmi PB200LZM
With an 18W fast charging support and 20000 mAh capacity, this device is among the best power banks in the market.
Along with the usual features like Dual Input and Output support, two-way fast charging, and multiple device compatibility, there are other advanced features present in it.
This power bank has a 12 layer circuit protection that enhances the charging efficiency. Moreover, you don't have to worry about electrostatic protection or chip thermal shutdown protection now.
This model is available in various colors to give an aesthetic appeal to the consumers. In addition, all variants have a Low-Power charging mode to charge devices like Bluetooth or fitness bands.
The textured grip provides an anti-slip edge, making sure that you don't accidentally drop the power bank. Choose this power bank if you want excellent features within your budget.
Features:
Capacity- 20000 mAh
Size- 15.4 x 7.4 x 2.7 cm
Charging Time- ~ 6.7 hours with 18W charger and ~10 hours with 10W charger
Dual USB-A Output ports
USB-C/ Micro USB input ports
3. Mi 20000mAH Li-Polymer Power Bank 2i
The Mi Power Bank 2i has another variant with 20k battery capacity. With a black sandstone finish, this is undoubtedly the best portable power bank in the market under Rs. 2000.
It is crafted with quality in mind and material that gives a superior and comfortable feel in hands. With the ideal nine layers of circuit chip protection, the power bank is protected against:
temperature,
short-circuit,
input/ output overvoltage,
output overcurrent,
over-discharge and other factors.
Also, Mi Power Bank 2i is compatible with a wide range of devices. It has an intelligent power output to adjust the voltage according to the device's requirements.
The high-density Lithium Polymer batteries inside the power bank provide 18W fast charge support. So, you can charge your Android and iPhone along with other devices faster than ever.
Features:
Capacity- 20000 mAh/3.7 V
Size- 15.06 x 7.23 x 2.63 cm
Charging Time- Approx 6.7 hours (18W charger, standard USB)
Input/ Output– 2A/ 1.5A-2.4A
4. Ambrane PowerLit XL
Ambrane PowerLit XL is one of the best power banks in the market. Designed with a high-density lithium-polymer battery, this power bank has USB type-C input and triple output modes via Type C and USB-A.
This device can serve greatly as a power backup to charge your mobile phones and other gadgets whenever you want. The device is manufactured with high-quality ABS plastic that provides durability and sturdiness.
Along with this, users will get six months manufacturer warranty.
There are three output ports with universal compatibility features. It can charge smartphones, tablets, Bluetooth speakers, digital cameras, headphones, and other devices that support USB charging.
There is a high-quality chipset with power delivery technology. Ambrane PowerLit XL also has an LED charging indicator to ensure there is always sufficient charge remains in the power bank.
Features:
Capacity- 20000 mAh
Size- 13.3 x 10.1 x 3.9 cm
Charging Time- ~8.5 hours
Type-C input and Triple output ports
5. Ambrane Capsule-10K 10000mAh Lithium Polymer Power Bank
Another best portable budget power bank under Rs. 2000 is Ambrane Capsule. As the name specifies, this power bank has a stylish capsule shape with a compact design.
It is lightweight and needs only a little bit of space for storage. By using the ideal high density 10k lithium-polymer battery, it is much more durable, safer, and reliable than other non-branded lithium-ion batteries.
The outer body is manufactured with a hard ABS plastic material, which makes this power bank resistant to scratches and marks.
Dual USB output, universal compatibility, and the 180 days warranty make the deal more appealing to the consumers.
The power bank is available at slightly lower rates than its counterparts with aesthetic features. So, we can say that this power bank will be a good deal for you.
Features:
Capacity- 10000 mAh/5V
Size- 136 x 68 x 14 mm
Charging Time- 5 to 7 hours with 2A charger
Input/ Output- 2.1 A/ 2.4 A
6. URBN 20000 mAh Ultra-Compact Power Bank
With the help of this compact high-capacity portable power bank, users get the technology that supports faster and safer charging.
It is on the list of best budget power banks because of its ability to charge your smartphone over three times, at least.
Output overvoltage protection, short circuit prevention, input overvoltage protection, and output over-current protection are also provided to keep your devices safe under all conditions.
With this URBN 20000 mAh Power Bank, users will get a 12-month warranty along with easy-to-reach support.
Features:
Capacity- 20000 mAh
Size- 12.8 x 7 x 2.6 cm
Charging Time- 10-12 hours
Dual USB-A output ports
USB Type-C and micro-USB input ports
12W fast charging
7. Ambrane PP-150 15000 mAh Lithium Polymer Power Bank
The Ambrane Power Bank with 15000 mAh power capacity has enough power to make sure that your devices don't run out of battery. The compact design, dual Input and Output, and rubberized finish make this device ideal for a backup power source.
It has high efficiency and charging conversion rates. The power bank is built with the typical nine-layer protection chipset. It has temperature resistance, input/ output overvoltage protection, reset mechanism, short-circuit protection, etc.
Users can carry this power bank easily as it has a compact size and lightweight. The high-speed charging technology will allow you to charge devices such as mobiles, tablets, and other devices that support USB cable charging.
Features:
Capacity- 15000 mAh/5V
Size- 137 x 76.5 x 21.5mm
Charging Time- 10-12 hours
Input/ Output- 2.1 A (input and output)
Final Thoughts
When you are choosing the best power bank under Rs. 2000, our power bank guide and the list will help you pick the right one. From our position, we understand that every consumer wants a power bank that has amazing features and comes at reasonable prices.
So, you can choose Mi 3i or Redmi power bank if you prefer high capacity. However, if you want to make an affordable choice, then Ambrane Capsule-10K will be a good choice.
Also, If you are exclusively looking for '20000 mAh power banks', then our article on the best budget 20000mAh power banks could help you to pick the right one.