Children are naturally very inquisitive. Also, they like to explore the world around them in their unique ways. Some even show a heightened interest in science and experiments. As parents, you should foster the natural curiosity of your kids. Don't worry; you don't need to be a scientist to do so. Just investing in a science kit or two will do the job.
Science experiment kits not only help in kids' early development, but they also keep them away from bad habits that they might have picked up from adults. Spending too much time in front of a screen might be the most common example. So, these small science-related activities can shift their attention to some great learning and exploring sessions.
There are tons of science experiments for kids available in the market, and it might become challenging to select the right activity kit for your kid. After all, science is a vast subject, and so, there are infinite options available for the various streams. To help you pick the absolute best science toy, we have compiled the following list by taking various factors into account.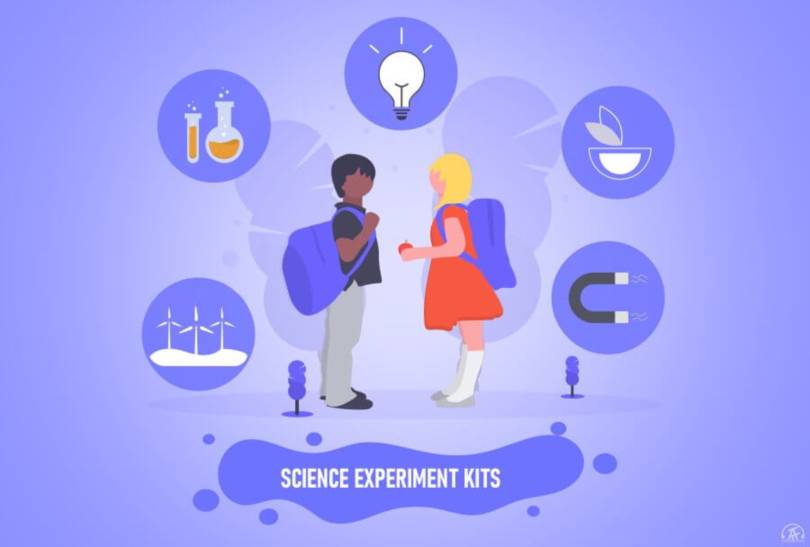 7 Best Science Experiment Kits
1. Einstein Box Science Experiment Kit
Einstein box Ultimate science kit is one of the best highly rated science experiment kits for kids in India. This science kit comes with 40 exciting science experiments, which helps to evoke interest in science.
Most of the experiments in this kit are chemistry-based. Also, they are easily doable with the help of chemicals and equipment given with the kit.
A well-illustrated instruction manual is provided with this kit. Also, the scientific principle behind each experiment is clearly explained in the instruction manual.
Some examples of the experiments include soap making, chemical reaction principle, liquid viscosity, capillary action, phosphorescence, luminescence, etc.
This kit is best suitable for kids of age between 6 and 12 years. Also, this is one of the best science kits that helps in cognitive development and creates interest in science.
2. Butterfly EduFields 20+ Science Experiment Kit for Kids
This kit from Butterfly EduFields helps kids understand a fundamental concept in science – the conversion of electrical energy into mechanical energy. Even then, it is a straightforward experiment to do. Moreover, there are 20+ projects available with this kit.
As such, this is an inexpensive kit that you should definitely buy for your kids, perhaps on their birthday. It can also be possible to build excellent school science projects using this kit.
These simple experiments can help them understand even the most complex and sophisticated concepts in science. What's more, the experiments take only a few minutes to build and conduct, and so, they can be part of a quick learning session.
3. Kit4Curious® Science & Fun DIY Activity Kit
The first science kit on our list is an excellent product for children aged 7 and above. Kit4Curious® Science & Fun DIY Activity Kit comes with 320 different components and 241 projects focused on science, engineering, technology, and math.
It will help your kid build projects on solar power, robotics, electronics, light, sound, chemistry, and a lot more.
Also, this science experiment kit comes with video tutorials with step by step instructions to make the building and learning process smooth and easy.
There is also a colorful instruction booklet to aid kids in building their creative DIY projects. Also, some of these projects may need adult supervision, while others may be left to your child's whims.
The varied projects will serve as a great way to enhance creativity, logical reasoning, critical thinking, motor skills, imagination, and other vital skills of your kids. If they are inclined towards science and technology, you should definitely consider buying this kit.
4. StepsToDo Hydro Electricity Kit
StepsToDo Hydro Electricity Kit is a great value-for-money science kit that your children will absolutely love. It will help them make a real working model of a hydroelectricity turbine. In fact, they can even watch their science experiment to come to life.
The small turbine that the kid makes will produce electricity from flowing water to light up tiny bulbs that come included with the kit. You can also use tap water to simulate water flow.
An instruction manual, along with all the necessary material, comes with the kit, and your kids just have to assemble the turbine. This science experiment is suitable for kids from middle school to even those in high school.
As such, it is a great birthday gift that will spark your kids' curiosity and help them understand the importance of practical experiments.
5. Kit4Curious Magnetic Levitation Experiment School Science Project Kit
Kit4Curious Magnetic Levitation Experiment kit is one of the simplest science experiments for kids that you can get. As such, you only have to pay a few bucks to help them understand the magnetic levitation concept. It is based on this concept that the maglev train works.
The kit comes with a necessary project report and instruction manual to help conduct the experiment. As a bonus, the components used in the project are environment friendly.
Also, the project takes just a few minutes to build, and the result is very satisfying. It demonstrates the concept of magnetic levitation by levitating a pencil above a few magnets. If your kids need something for their school science project, this kit is your answer.
It is recommended for kids aged 6 years and above, but even teenagers will find that it is a fun little experiment.
6. Fratelli Little Drip Irrigation Kit for Kids
This science kit designed by Fratelli provides a fun way for children to learn the concept of drip irrigation. Since drip irrigation is a technique that helps conserve water, it is an essential concept for kids to understand. This creative toy will also instill in them an awareness that water should be conserved as much as possible.
As for the experiment, the instruction manual will guide your child to build an actual drip irrigation system. Also, it will easily keep kids engaged for 3 to 4 hours.
This experiment will help enhance creativity, imagination, curiosity, logical reasoning, critical thinking, and even hand-eye coordination. Also, all the parts that come with the kit are environment friendly, which is always a bonus and another important lesson that kids should learn. This Fratelli kit is suitable for kids aged 3 years and above.
7. Explore.. My Chemistry Lab
The final item on the list is a highly affordable chemistry lab kit for kids aged 6 and above. Chemistry is a subject that is often loved by children as it involves doing practical experiments. And when they are able to do it at their homes, it is a doubly fun experience.
My Chemistry Lab from Explore provides the perfect method for kids to indulge in their favorite chemistry experiments.
With this kit, your kids will learn about the different states of matter, chemical reactions, reactive osmosis mixtures, and give them a glimpse into what it feels like to be a scientist. The kit components are all safe and tested, so you can allow your kids to play with them to their heart's content.
The contents include balloons, baking soda, citric acid, food coloring, safety goggles, funnel, and more. Make sure you are there to oversee or supervise your kids while conducting the experiments.
Final Thoughts
Science experiment kits can be an excellent resource for additional learning for your kids. We all know that the school systems can have their limitations and focus more on the theoretical aspects of things rather than practical ones. But it is essential to understand how things work in science rather than just mugging the facts up. This is where these science experiment kits come into play.
It might seem like these are little science experiments, but the curiosity and inspiration that they can initiate is unimaginable. Sometimes, only a single moment is required to motivate kids to pursue a career in science. And if they are already inclined towards science, engineering, technology, and math, you should make sure that you gently nudge them in that direction.
The kits mentioned above are the best ones among a sea of other products that you can get for your kids. They are economical and will make learning an enjoyable experience. Regular indulgence in these experiment-based learning sessions will have a substantial impact on your children's minds. You can even conduct the experiments with your kids and have a quality time together. Who knows, maybe you might learn a few things too!