If you are fond of who likes filming videos with your smartphone and wants to attain more professional outcomes, you'll need to weigh several things to get the perfect shot!
To get the desired image or video, along with skills, you'll need the right equipment. Since nearly everyone has a mobile, using the camera on your phone to begin filming is a perfect way to get started.
You may be familiar with Gimbal stabilizers for DSLR cameras. Well, there are also Gimbal stabilizers available for your mobile as well.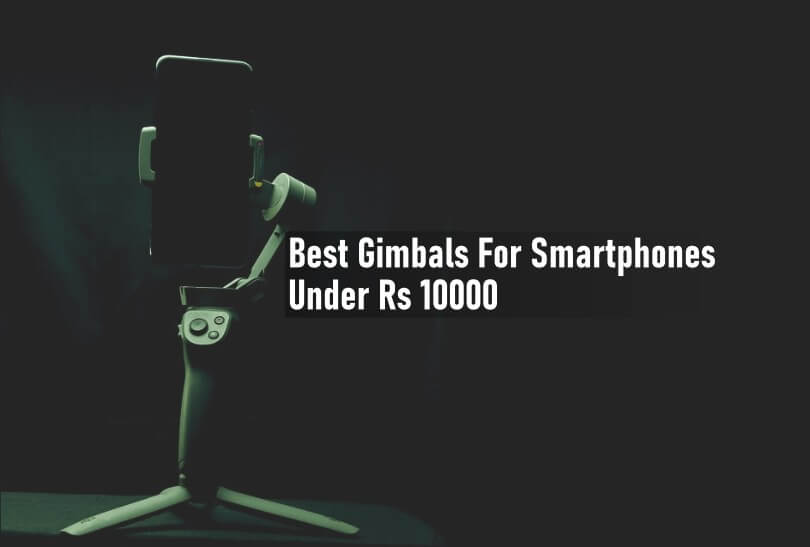 A gimbal is a portable mechanical stabilizer that can help you film a smooth, cinematic video without the need for a bigger tripod or a costly dolly.
And, if you're always on the go mode, you might want a gimbal for the smartphone that fits in your bag. This review includes all the best gimbal for the phone under rs 10000 with their in-depth details:
Best Gimbals for smartphones under Rs 10000
5 Best Smartphone Gimbals Under Rs 10000 In India
1. DJI Osmo Mobile 3
The DJI OSMO Mobile 3 Gimbal Stabilizer is an ergonomic stabilizer with excellent functionality that is slightly more costly, but still, a budget buy.
This gimbal stabilizer has instinctively positioned buttons and can be worked with only one hand.
The three axes minimize the chance of blurry video, and the product's foldable nature makes it easy to bring with you anywhere.
Additionally, the EIS (electronic image stabilization) and gimbal stabilization allow you to shoot Hyperlapse images, as well as panoramas, timelapse, and slow motion.
It also has a sports mode and ideal for those who love to travel just for video shoots.
Features:
3- axis stabilizer
Rechargeable batteries last up to 15 hours
It's 14.3 ounces in weight
Compatible for both iPhones and Androids
What you get
1 X DJI Osmo Mobile 3
1 X Power Cable,
1 X Storage Pouch,
1 X Wrist Strap,
4x Anti-Slip Pads
2. hohem iSteady Mobile Plus
So, another best gimbal for phone under rs 10000 is hohem iSteady mobile plus. It has 3-axis stabilization, a 12-hour battery life, and only weighs around 200g.
It has a new sport mode that boosts performance. hohem iSteady Mobile Plus also supports various modes, such as different timelapse types, slow motion, and beauty retouching.
If you can see, these features are oriented to please casual users; the device's low price reflects that. iSteady Mobile Plus from hohem is one of the best mobile gimbals under rs 10000 available and best for those who love to shoot video with various modes.
Features
3D Inception Mode is a newly developed model
Sports mode has been revamped, and a mastered balance
High-performance motor
Various Modes
Hohem Gimbal has infinite possibilities.
Time-lapse
Running time of up to 12 hours
Compatible with mobile phones
What you get
1 X ISteady Mobile
1X Mini Tripod
1 X Storage Bag
1 X Power Cable
3. Zhiyun Smooth 4
The Zhiyun Smooth 4 3-Axis Handheld Gimbal Stabilizer is the third choice for the best gimbal for phone under rs 10000 on the list, and it comes with a range of features with regards to the price.
It has an embedded control panel with smooth instant controls that mitigate the need to touch the screen and precise focusing through the handwheel continuously.
You can access hotkey buttons such as "Vertigo Shot" and "POV Orbital Shot." also feature to zoom in and out of the footage.
Also, when you need an immediate scene transition, Zhiyun Smooth 4 has the PhoneGo mode.
The best feature about this affordable gimbal stabilizer is that the charge can last up to 12 hours. If needed, you can also use a portable power bank to charge it. On the tilt axis, there's even a USB port for charging your devices.
Features
3-axis stabilizer
Rechargeable battery
Weighs 2.2 pounds
Best for both iPhones and Androids
What's inbox
1 X TRM03 tripod
1 X Type-C USB cable
1 X carrying case
1 X A user guide
4. Moza Mini-MI
During your creative projects, the Moza Mini-MI Mobile Gimbal Stabilizer helps you to enjoy the ease of wireless charging anywhere at any time.
Power, focus, zoom, display images, slow-motion time-lapse, panoramas, adjust ISO, shutter, EV, and white balance can all be accomplished with the built-in buttons on the handgrip.
Also, the Mini-Mi has four accessory mounts in total. The smartphone mount has two mounts located at the top and bottom for light and microphone.
Features
Wireless phone charging
Super follow models
Ergonomic Buttons for Cinematic Camera Control
Inception Mode with No Limitations
Newly designed UI interface
With a newly designed UI interface
The intelligent APP control system
What you get
1 X Moza Mini MI Gimbal,
1 X Charging Cable,
1 X Carry Bag,
1 X Mini Tripod
5. hohem iSteady X
The hohem iSteady is also one of the best mobile gimbals under Rs 10000 because it is lightweight and foldable, making it convenient to carry in your pocket.
Selfie stick mode, motion timelapse, face tracking, moment mode, and real-time beauty mode are just the best features that will help you take professional-looking photos.
It also has a vertical and horizontal switch mode that makes it simple to capture videos. Without any further hesitation, you can go for this option as it has everything that one videographer required, so this can be fit to needs.
Features
3-Axis Stabilizer provides all-around anti-shake and high-resolution photos and videos.
Multi-gear options with a load capacity of up to 280g
Real-time Beauty Mode and Auto Inception Mode provide cinematic videos in a single click.
Selfie-stick Mode, Smart MotionTimelapse Mode, Auto Rotation Low Angle Shots
What You Get
1 X Hohem iSteady X gimbal stabilizer
1 X Tripod
1 X Storage Pouch
1 X Power Cable
1 X Wrist Strap
Conclusion
That's all on the best gimbal for phone under rs 10000.
A gimbal is a way to go if you want to enhance the quality of your smartphone footage. They allow you to capture smooth, transparent footage, and, in the case of smartphones, they can have a plethora of features to boost your videos.
Whether you are new to videography or pro, no worries, these above-mentioned mobile gimbal under rs 10000 are the best options out there and give you the fantastic experience you crave!!