If you want to experience fantastic sound quality while watching TV, listening to a song, or playing enchanting games, then you should look for 2.1 speakers. They are highly efficient. To amplify audio performance, all you have to do is to connect the speakers to your appliances, or your smartphone. There are so many best 2.1 speakers in India that are available under 3000. Also, there are so many brands that have launched the best 2.1 speakers under 3000.
You can select your speaker for yourself, depending on your desires and requirements. The options may include speakers like Home theaters, multimedia speakers, Bluetooth speakers, soundbar speakers, portable speakers, etc. The main difference between stereo speakers and 2.1 speaker systems is that the 2.1 configuration includes two satellite speakers and one subwoofer for the bass. These 2.1 speakers are affordable and reasonable!
These best 2.1 speakers below 3000 prices have all the best features that you will love. These speakers can be attached with Bluetooth to your mobile, tablets, and laptops. You should find this selection of the best 2.1 Bluetooth speakers under 3000 useful, if you are searching for any low-budget speakers.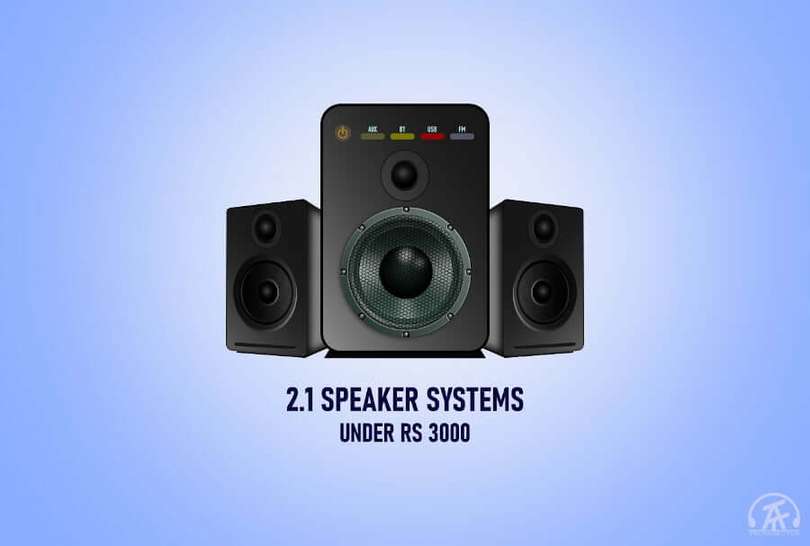 Best 2.1 Speakers In Rs 3000
2.1 Speaker Systems
Total RMS
Output (Watt)
Bluetooth
Connectivity
Remote
control
FM Radio
On Amazon
Zebronics BT2490RUCF
34
Yes
BT, AUX/RCA, USB, SD, FM
Yes
Yes
Check Price
Philips MMS2625B
31
Yes
BT, AUX, USB, FM
Yes
Yes
Check Price
F&D A510
52
No
AUX/RCA
No
No
Check Price
Murphy MSD2100
45
Yes
BT, AUX/RCA, USB, FM
Yes
Yes
Check Price
Zebronics Omega
40
Yes
BT, AUX/RCA, USB, SD, FM
Yes
Yes
Check Price
Creative SBS E2400
25
No
AUX/RCA, USB, FM
Yes
Yes
Check Price
F&D A111U
35
No
AUX/RCA, USB, SD
No
No
Check Price
F&D F210X
15
Yes
BT, AUX/RCA, USB, FM
Yes
Yes
Check Price
iBall Hi-Basss
18
Yes
BT, AUX/RCA, USB, SD, FM
Yes
Yes
Check Price
Impex 2.1 Micro Plus
20
Yes
BT, AUX/RCA, USB, SD, FM
Yes
Yes
Check Price
Best 2.1 Speaker systems Under Rs 3000
Zebronics BT2490RUCF
ZEB-BT2490RUCF is one of the best 2.1 speakers under 3000. It has an impressive build quality and looks elegant. Also, it has a sleek style and high gloss front panels. The sub-woofer cabinet has sound, bass, treble and more settings.
ZEB-BT2490RUCF lets you have communication options such as BT / USB / SD and AUX support to give you a full variety of connectivity options. Not only this, but it also has inbuilt FM radio, fully functional remote control, and Blue LED Power indicator.
It is effortless to set up; it supports mostly MP3 file format. The speaker comes with a terrific bass and fantastic treble. The level of sound is so unique; you will enjoy every moment. It comes with the highest quality that you will love.
The impedance of the speaker is 6 ohms, and the satellite has 4 ohms of impedance. The frequency response of these speakers varies from 40Hz to 20 KHz, and the range of FM is between 87 MHz-108 MHz.
Pros:
34-Watts total RMS output
It has a good build quality
Remote works well
Inbuilt FM radio
Bluetooth connectivity is good
Quite affordable
It has multi-connectivity options
Cons:
Issues with FM radio channels
It has a small cord
Philips MMS2625B/94
Philips has launched so many fascinating speakers. Most of the speakers of Philips are of low budget. And one of them is the Philips MMS2625B/94, which is the best 2.1 speaker available under 3000. It has a Home Theater Speaker. It has a single base unit and two speaker modules.
You can connect to Bluetooth, and its range is 10-meter range. Philips MMS2625B/94 also comes with a simple control panel that you can use to change and monitor the input and volume.
The total power output is 31W RMS. It is a portable Bluetooth speaker with great voice quality. You can take it anywhere with you wherever you go. It has Bluetooth 4.2 connectivity, which ranges 10 meters.
It is overall a good speaker with efficient features. Dimensions of the subwoofer are: 26.4 cm x 15.5 cm x 26.2 cm. The frequency of these speakers is from 30 to 20KHz.
Pros:
Bluetooth and FM tuner for radio enjoyment
Well designed
It has a clear and loud sound
One year standard manufacturer warranty
Bluetooth 4.2 connectivity
Memory Card Slot
Bluetooth connectivity is fast
Cons:
F&D A510
There are two satellites and a Sub-Woofer in this speaker. There is also a pair of RCA audio connectors. Inclusion with RCA offers you the benefit of connecting it with the single CD / DVD players at home. The A510 subwoofer turns out to be a front-fire with a bass port in the rear. The right-side houses and monitors all communications such as speed, bass, and power transfer.
The woofer driver's 6.5-inch dimensions interpret it as a Bass Heavy unit. F&D A510 can be connected to your MP3, CD, DVD, PC, or TV set. The polished panels finish, and the satellite metal grill renders the speakers a fantastic look. They undoubtedly offer a fair playing performance on sound consistency.
It is indeed the best 2.1 speaker under 3000 in India. The subwoofer frequency response range is 20Hz – 120Hz. It has a wooden cabinet that does not allow any distortions at all.
Pros:
Set up is easy
5000W PMPO
Green LED indicator
It has an independent power switch
Wooden cabinet
Multi-connectivity options
One-year warranty
Controls for volume & bass
Cons:
Lacks Bluetooth and FM radio
Remote control is not provided.
Murphy MSD2100

MURPHY MSD2100- 2.1 Wireless home theater system has authentic wireless surround sound capable of conveniently positioning the speakers as expected. Their performance makes them one of the best 2.1 speakers under 3000 in India.
The system features good speakers combined with a wireless subwoofer, providing crystal-clear, sound-quality booming sound. This blend together allows you to have an exciting home theater experience. Using RCA, AUX, optical, and Bluetooth, you will experience superior quality audio.
In this 2.1 channel sound device, be at the forefront of your entertainment world, you will witness immersive sound that spins around you. Wireless ensures that when you get an excellent sound, your home remains free of hassle.
Built-in Bluetooth allows you to stream audio wirelessly from your smartphones. Murphy MSD2100 has good Bluetooth connectivity and range is also good. 
Pros:
45-Watt total RMS output
Room-filling surround sound
Seamless streaming with built-in Bluetooth
A powerful antenna attracts the signals of FM stations
Wired and wireless connectivity options available.
6 Month Warranty
Cons:
Average sound quality
Issues with FM radio
Zebronics Omega
ZEB-OMEGA 2.1 speaker has a sleek style influenced by hexagons that include a trendy overall finish with a volume knob and other front panel functions. It is the best 2.1 speaker under 3000. Omega 2.1 speakers come with multi-connectivity choices such as BT / USB & SD / MMC card / AUX that offer you more choice to select your favorite media mode.
You can also use it in a dark room as it has an LED digital display. It also has a built-in radio mode to switch on to the FM radio mode and stay up to date with current events and fun.
It allows you to relax back and run your favorite music from your sofa with the remote control provided with the ZEB-OMEGA 2.1 speaker. This speaker also has a separate volume, bass, and treble buttons to fine-tune the audio performance to your tastes.
Pros:
40-Watts total RMS output
LED digital display
Fully functional remote control
Virtual surround sound experience
Bluetooth connectivity
Elegant design with high glossy front panels
Supports USB
One-year warranty
Cons:
Issues with a range of Bluetooth
Not so good sound quality
Creative SBS E2400

Creative E2400 Home Theatre Package has the potential to bring the entertainment level to a new stage. These speakers are multifunctional and can be used to connect to virtually any audio device. There are two speakers and one subwoofer in the home theater system. A well-balanced, home theater speaker device, it provides around 25 watts of RMS output.
E2400 Home Theater System has a built-in FM receiver that allows you to tune in to your chosen channels to listen to music when you're out. The subwoofer is constructed of wood and is suitable for bass replication. The wireless remote control is available so you can easily manage the volumes and the equalizer.
You can easily connect this speaker to TV, DVD Player, and smartphones as well. All the features are remarkable and make it the best 2.1 speakers under 3000.
Pros:
The high-performance speaker system
Wooden subwoofer cabinet
Built-in MP3 player
Built-in FM radio frequency receiver
RCA connectivity TV and DVD
Included wireless remote
Cons:
No base control button
No Bluetooth connectivity
F&D A 111U 2.1 Channel Multimedia Speakers
If you are searching for a multimedia speaker offering a superbly beautiful combination of features and functionality, then the multimedia speakers F&D A111U 2.1 are a hard-to-resist alternative. The F&D A111U 2.1 channel multimedia speakers with their elegant finish and lightweight construction help to accentuate the overall charm of the contemporary interiors.
They include two satellite speakers and one sub-woofer and are excellent at delivering clear sound quality. You will have a great listening experience, from movies to songs. F&D A111U 2.1 Multimedia speaker system is straightforward to use. The volume and bass controls are placed on a side panel to allow convenient usability.
This speaker device comes with a LED light, which indicates whether the device is on or off. It has 25 W subwoofers for maximum bass output and loud volume. It delivers 3000W PMPO and is indeed the best 2.1 speaker under 3000.
Pros:
35W RMS output speaker
Multiple connectivity options include USB cord and an SD card reader
Built-in AVR
Wooden cabinet
Multi-functional panel keys
High definition sound quality
Portable due to its lightweight
Cons:
Low bass quality
Need more improvement in sound quality
No remote control
No FM Radio
F&D F210X 2.1 Channel Multimedia Bluetooth Speakers

These speakers are the beautiful ones with a classic look. You can hear absolute, consistent sound from a strong bass, with the help of a 2.5 "wide-range driver for satellites and a 4" bass driver for the subwoofer. It will leave you with a fantastic sound experience that you love.
It has Bluetooth 4.0 connectivity, and it functions within a range of 15 meters. It also features a USB reader that can efficiently decode MP3/WMA dual formats.
F&D F210X comes up with excellent FM storage and can store up to approximately 100 FM radio stations. Digital FM works using the concept of PLL (Phase-Locked Loop) technology. These are one of the best 2.1 speakers under 3000 in India.
The remote-control functions well, and you can operate it sitting on your couch or bed as it works well within the range of 10 meters.
Pros:
Bluetooth 4.0 connectivity
Plug and play USB card reader
Wireless streaming of music
Great FM storage
Fluorescence full function remote control
15W total RMS output with 9 W sub-woofer for maximum bass output
Cons:
Sub-woofer is small
The woofer is not powerful enough
Short cables
Sound distortions
iBall Hi-Bass 2.1 Speaker

These look very attractive due to their excellent build design. These speakers have come up with lots of great features, which makes them one of the best 2.1 speaker systems under Rs 3000.
The iBall Hi-Bass is physically elegant and has the best performing Bass performance. Its body is designed to complement your style and take up little space, providing maximum comfort.
It consists of one Sub-Woofer with Two Satellite Speakers fitted with an LED panel, and it allows you to manage your tracks. Aesthetically built front panel allows it simpler by rendering things user-friendlier.
The great thing about this sound system is that it supports all input types, such as Aux, Bluetooth, SD, and MMC. The iBall Hi-Bass 2.1 speakers have built-in FM and Remote control. It has 18 W total RMS output, which is quite perfect for unforgettable parties.
Pros:
Attractive and decent build design
High Sound with Excellent bass reproduction
LED display
Bass and Treble level Controller
Multiple Equalizers
Play music wirelessly
Multiple input options – BT/USB/ SD/MMC and AUX (RCA)
Built-in FM Radio
Remote control
Cons:
Low-quality bass
Remote control issues
FM radio problems
Impex 2.1 Micro Plus 20 W Speaker
The Impex Micro Plus is a portable music device built to provide you with minimum specifications for a simple, high quality, and efficient audio performance. This is a home theater speaker with 2.1 channels, which can be connected wirelessly to many portable devices.
like other sound systems in this list, It also comes with various connectivity interfaces like Bluetooth and Aux. With the built-in FM- transmitter, it is even tuning in live audio networks. Also, this sound device includes digital ports for USB pen drives and SD cards.
 As mentioned, Impex Micro Plus has excellent Bluetooth connectivity. It allows you to link your smartphones, tablets, laptops, and other similar devices. With the help of such superb Bluetooth connectivity, you can stream your favorite music wirelessly.
This speaker device is pre-programmed with sound equalizers to let you enjoy the fantastic sound quality. Based on the type of music being performed, it reproduces sound through the linear filters in the equalizers. It is considered to be one of the best 2.1 speakers under 3000.
Pros:
20 Watts total RMS output
Bluetooth Connectivity
Built-in FM Radio
Portable Size
Compatible with memory devices
Pre-Set Sound Equalizer
Cons:
Problem with ports
Average size
Bonus Tips for selecting a good sound system
Several factors determine the quality of the sound of speakers. So, it is imperative to keep these factors in mind and consider them to have the best 2.1 speakers under 3000 for yourself. Several such essential elements are mentioned down below:
Select speakers with High RMS
Its RMS (Root Mean Squared) Quality determines the speakers' power output. It means that high RMS denotes high sonority or amplification. Make sure you select a Sub-Woofer with High RMS. Some manufacturers represent the Power Output by the name PMPO (Peak Momentary Power Output). You could find more details at Wikipedia about this topic.
Frequency Response
Sub-Woofers having low response frequency range are known as the best ones to provide good deep bass. It's best in the 20Hz – 20KHz range.
The Usage
The use of the 2.1 Bluetooth speakers is an essential characteristic to think of before you buy them. Different speakers have different services, and must, therefore, be chosen primarily based on your needs and requirements. If you're a party lover, and you're the best qualified to enjoy music, a speaker with a sub-woofer would be positively perfect.
Bass and Treble Controls
Make sure that you choose speakers having Bass and Treble function. This allows you to change the sound volume right on the speakers rather than adjusting them to the PC, which is convenient when the feedback comes from a DVD player or computer.
Prefer Large Speakers
Sub-Woofers, which have a large size, are known to produce excellent bass. The scale and form of the structure enrich the bass. Wooden Enclosures would be the perfect choice to have exceptional bass quality.
Selecting Audio Cables
The next essential aspect to look at before purchasing the best 2.1 speakers is picking the audio cables. To do this, you need to evaluate speakers' architecture. Its always good to procure an RCA to RCA cable, RCA to 3.5 mm AUX cable and a Bluetooth receiver adapter while buying a home theater.
Conclusion
It is quite a challenging task to pick the best 2.1 speakers under 3000 in India. You should first have detailed information regarding all the 2.1 speakers and their unique individual features. Take your time to analyze before you decide. Ensure you make the right decision and select the speakers, which will make the perfect choice for you as per your requirements.
If you are looking for even a low-budget speaker, you could consider 2.1 speakers under Rs 2000. Also, know all about Bluetooth connectivity, Power output, Bass – treble, and other great features available in the selected model. The comparison table provided would be helpful for selecting the right speaker system for Rs 3000.
When you think you have analyzed enough and found a speaker suitable for you, don't wait much longer and get one for you as soon as possible. Have a great listening experience!