What is the most difficult challenge you confront when visiting another country? Cuisine? Is there a language barrier? Currency? However, we often neglect the importance of a socket.
Whether you travel or stay at home, adapters play an essential part in our day-to-day lives in our tech-savvy world. And if you are one who constantly moves, then charging your devices may be difficult.
We utilize most of our devices that operate only on electricity, whether it's our camera, 360-degree camera, IP cameras, Action Camera, phone, laptop, or any other item that has to be charged or else it will run out of power.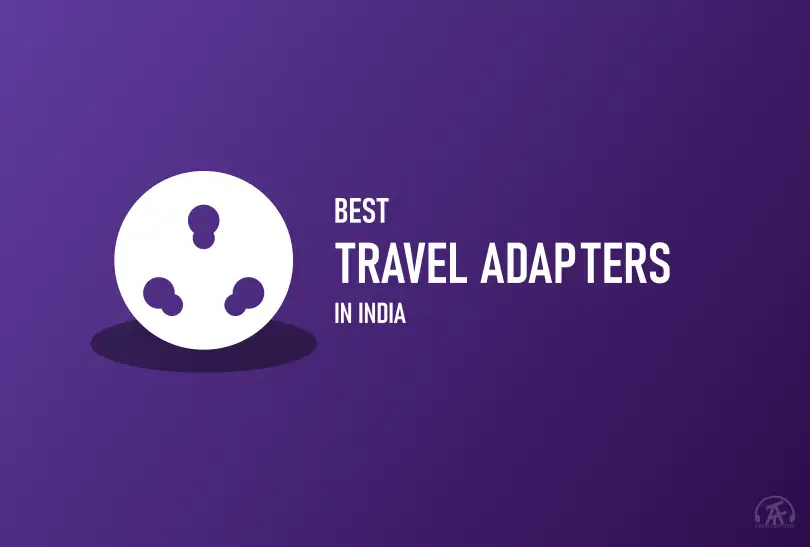 So, in this article, we have handpicked some of the top Universal travel adapters that may help you while traveling!!
Best Travel Adapters in India
Finally, here is a list of the best travel adapters available on the market right now. You can have a look at their features, pros, and cons to get the best travel adapter for you.
1. GoTrippin Universal Travel Adapter
The GoTrippin Universal Travel Adapter is an international charging connector that can charge your phone, laptop, camera, tablet, and other devices. It contains a dual USB port for charging two gadgets at the same time at fast speeds.
GoTrippin is an excellent solution for avoiding the need to carry numerous chargers when traveling to different parts of the world. It offers a unified solution and includes spike protection. This adaptor is compatible with more than 150 countries that use US/EU/AU/UK plugs.
It also includes a clever IC chip that intelligently recognizes your device and provides the appropriate output, which also increases charging speed while protecting your device from voltage fluctuations.
Main Features
This USB adapter charger features dual USB ports that allow you to charge two devices simultaneously at high speed
Universal power adapter with safety certification; safety shutters, built-in surge, and spike protection; ROHS, CE, and FC certification for safety
More than 150 countries are covered by this all-in-one universal travel plug adapter.
Pros
A one-year warranty covers it.
It comes with a small and convenient travel pouch.
GoTrippin travel adapter is ROHS, CE, and FC certified, which ensures its safety.
It accepts three-pin plugs, which are common in India, and is compatible with most adapters.
Has premium looks
Cons
2. rts Universal Travel Adapter
If you're seeking a high-quality multi-country travel adapter that's also reasonably priced, you should undoubtedly consider the rts Universal Travel Adapter.
Rts Universal All-in-One Worldwide Travel Adapter with Dual USB Charging Ports supports the plugs for the United States of America, Europe, the United Kingdom, and Australia.
This Travel Adapter is compatible with most 2-pole plugs. It is the most secure way to connect your portable, non-grounded gadgets all around the world.
It can be used in a variety of devices such as MP3 players, digital cameras, mobile phones, GPS, PDAs, travel speakers, and so on.
Main Features
This Universal Travel Adapter has plugs for over 150 countries, including the UK/US/EU/AU/IND.
This Universal Travel plug Adapter comes with a Surge Protector that shields users from the direct contact of electrical parts with the socket outlet. There is also fuse protection and an LED indicator.
This travel adapter only converts the power outlet; it does not change the electrical output current or voltage.
Advanced Certified Safe incorporates a safety system into this adapter socket that will automatically stop charging once the devices/gadgets are fully charged or overheat, offering total protection for you and your devices.
Pros
There are four types of international sockets.
2 USB charging ports for a variety of electrical devices
Travel-friendly design that is compact and foldable
Cons
3. Croma CREP0144, 2.1 Ampere Universal Dual USB Adaptor
With over a decade of retailing expertise, Croma has gained a greater understanding of India's needs and aspirations. This is due to the fact that, over time, Croma users have upgraded their lifestyles and changed products.
Travel Adapters are helpful gadgets that come in handy while connecting various devices. If you don't have enough time but need to charge multiple devices, this adapter with two USB ports will come in handy.
It also features an LED indicator for user convenience and is dual voltage compatible. Aside from that, it comes with an extra fuse in case of an emergency. Furthermore, the AC outlet with a safety shutter ensures that plugs have a safe fitting.
Main Features
One of the critical concerns is safety, and this adaptor has an extra fuse to ensure that your devices/gadgets are protected in an electrical malfunction.
A variety of gadgets such as phones, tablets, laptops can be charged with this travel adapter.
With a power input range of 100V-250V AC, this adapter can be used worldwide for various devices that take voltage in that range.
This adapter includes power LED indicator to tell the user whether the adapter is turned on or off.
Pros
Affordable
Safe to use
Compatible with most plug styles
Lightweight and small
Cons
4. SeCro Plastic Film Universal Travel Adapter
This Universal Travel Adapter is ideal for charging your phones and devices when traveling to different countries. With its safety shutter, you can keep your children secure while charging your devices at all times. It is universally compatible and fits into electrical outlets almost everywhere in the world.
You can charge your devices rapidly by connecting the cord to one of the three replaceable adapters. This adapter is very lightweight and slim, and it comes with a storage tube, making it extremely portable.
It is compatible with a variety of devices such as MP3 players, digital cameras, and mobile phones. This travel adapter is not only inexpensive, but it also protects your devices from voltage fluctuations.
You don't have to think about your kids playing near the adapter because it has safety shutters and a switch that can be opened/locked. Trust us when we say that this is the travel adaptor for all of your journeys around the world.
Main Features
Safet shutter, surge protector, and power indicator light are all included in this all-in-one adapter.
With US/EU/UK/AU plugs, cover over 150 countries.
It shields your expensive electrical device from spikes and surges.
It accommodates plugs from dozens of countries, both earthed and unearthed.
Pros
Affordable
It supports most plug styles
Safe to use
Lightweight and small in size
Cons
5. eErlik Universal International Travel Adapter
This all-in-one travel adaptor is my personal favorite because it is both inexpensive and valuable in various locations. It is compatible with over 150 nations globally, including US, UK, Australia, Japan, and Spain-styled plugs, and is tiny and portable.
eErlik Universal Travel Adapter also includes a built-in surge protector, which protects your devices from damage caused by power fluctuations. It also has a safety shutter to keep your children safe and a power indicator light that indicates whether the adapter is on or off. Furthermore, the open/lock controls make it more secure than other adapters.
This Travel Adapter is compatible with most 2-pole connectors. It is the most secure way to connect your portable, non-grounded gadgets all around the world. It can be used in a variety of devices such as MP3 players, digital cameras, mobile phones, GPS, PDAs, travel speakers, and so on.
Main Features
This travel adapter accepts plugs from over 150 countries that use US/EU/UK/AU European plugs, including Thailand, New Zealand, Israel, Italy, Rome, France, Spain, Canada, China, Australia, India, Hong Kong, and others.
The built-in safety shutters on this International Travel Power Adapter protect users from direct contact with the live parts on the socket outlet.
The detachable charger comes with five different input plugs.
World Adapter Plug, which is compatible with nearly all USB devices.
Pros
Inexpensive
Safety Shutter
Power indicator
Works in more than 150 countries
Surge protector
Cons
No proper ground connection
No warranty
Travel Adapters Buying Guide
Choosing the perfect travel plug adapter does not have to be complicated; this guide will assist you in determining the correct type. We've highlighted a few factors to consider while shopping for the best travel adapter for your journey.
1. International travel adapter
It is essential to keep this in mind when selecting a travel adapter because you never know what sockets will be available at hotels, resorts, etc. As a result, constantly double-check that your adapters meet your needs.
2. Safety Features
The universal adapter should include built-in safety features to keep you safe from electric shocks and other electrical problems at all times. Check to see if it has built-in kid protection safety shutters so that it is safe to use even in the presence of children.
3. Size
Travel adapters come in a variety of styles and sizes. Some will be universal adapters that will cover most countries, while others will be single-region adapters. You may be convinced to get a universal travel adapter because it works in numerous countries, but its large size may be a concern for you.
Some universal travel adapters are more comprehensive than the sockets and obstruct the socket next to them. On the other hand, the universal travel adapters frequently fall out of the socket if they are hefty or the socket is loose. As a result, you must select a small adapter that will operate in most of your places.
4. Supported devices
Finally, consider using approved devices as your primary power source while traveling. Many people choose their travel adapters in a rush and neglect to observe the number of pins.
Several adapters are only compatible with two-pin connectors. This is plenty for charging cell phones or tablets. Some larger gadgets have three-pin plugs. If you skip this step, your device may be out of function for the duration of your trip.
Also, keep in mind that travel adapters are designed for charging devices with low power consumption. And they are not suitable for high-power devices like electric kettles, iron boxes, etc.
Conclusion
All travel adapters mentioned in the article have been updated and detailed after their features and value for money have been considered.
There are various types of travel adapters on our top 5 list, and each one has a different price range and set of features. So every one of you can find a travel adapter that best suits your budget and needs.
We hope you find the above information on travel adapters useful. Have fun shopping! Thanks!
Frequently Asked Questions
Do travel adapters have step-down or step-up features?
No travel adapters don't have step down or step up features as travel adapters allow a device/gadget from one country to be plugged into a wall socket from another. However, they do not convert electricity.
What are the devices, travel adapters supported?
Depending on the adapter's power consumption, you can connect it to any cable or plug. It can be used to connect a laptop, iPad, smartphone, camera, tablet, etc.
What is the distinction between a travel adapter and a voltage converter?
A travel adapter enables you to easily connect your smartphone to the various power outlets in different countries. On the other hand, the electrical converter is used to convert the electrical current and voltage of the outlet to be compatible with your electrical equipment.
How does a travel adapter work?
The power outlet for your appliance is converted using the travel adapter. You could connect the adapter to a separate power socket on the wall of an international country that differs from the one used in our country. After that, connect the electrical appliance to the adapter's sockets.