Are you looking for a rechargeable LED emergency light? As you know, a need for the hour when there is a power failure is nothing, but a lamp with battery backup.
The name "Emergency light" is being used for its use during a power failure as an emergency alternate for providing light.
If you examine the market, several variations of emergency lights are available.
In older days, we used to have CFL base emergency lights. But, CFL lights-based emergency lights have now been upgraded into LED-based lighting systems for safer, affordable, and efficient power management.
Also, Emergency lamps are available in several designs, including rechargeable lamps or lanterns, rechargeable torch lights, solar rechargeable emergency lights, inverter bulbs, etc.
Below listed are some of the best emergency lights for your household based on their cost and efficiency. These rechargeable emergency lights would solve your problem of blackouts and would help you to resume your essential work in any situation. Also, they are suitable for home use and camping trips.
So, suppose you are planning to buy the best rechargeable emergency light for your home. In that case, you can also go through the emergency light buying guide, which would surely help you buy a perfect emergency light under your budget.
Best Rechargeable LED Emergency Lights Available in India
1. Wipro Coral Rechargeable Emergency Light
Wipro coral (rechargeable emergency lamp) comes with 84 pieces of bright LEDs, arranged in 360 degrees.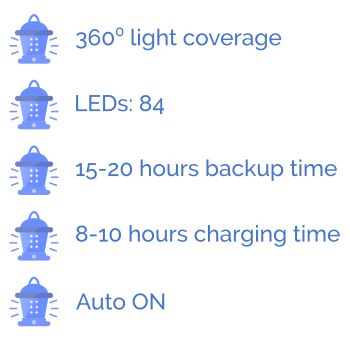 It is very suitable for lighting up a medium-sized room. Wipro coral can be charge quickly and have a backup time of a minimum of 3 hours.
It has a height of ~28cm and a weight of ~650 grams. Additionally, it's designed to give a feel of the lantern which we used in earlier days. Brightness can be adjusted using the brightness control knob.
Coral is one of the highly-rated rechargeable emergency lights from Wipro.
Features:
LED Light Source
84 LEDs
360 Degrees light output
Rechargeable
649 grams of weight
Body built with Polycarbonate material
2. Philips Ojas Rechargeable LED Emergency Light
Philips Ojas is the most rated best LED emergency light available online to buy. Also, this is one of the best automatic rechargeable LED emergency lights.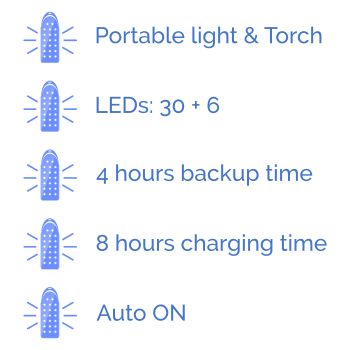 It is ideal for study rooms and kitchen applications. Both emergency light and torch are portably designed together in this model. It has a deep discharge and overcharge protection features.
Philips Ojas can be used continuously for a maximum of 4 hours once it got fully charged. It is the best rechargeable emergency light for personal and home use.
It takes a maximum of 8hours to get fully charged. Auto-on feature switches on the emergency lamp automatically during the power cut.
There are 30 LEDs in the central emergency lamp part and 6 LEDs in the torch. It is a 6W led lamp with a weight of ~820 grams.
Features:
LED light source
30 LEDs in the main panel and 6 LEDs in the torch
Rechargeable
Overcharge protection
395 grams of weight
Body built with synthetics material
3. Philips Ujjwal Plus
From Philips, Ujjwal plus is an emergency lamp with 360 degrees light output. This LED lantern comes with 32 pieces of LED lights and 250Lm luminosity. A holder on the top makes it easy to carry and provides better visibility.
Other features of Ujjwal plus include, on/off button, charging indicator, and silvery metal plates to increase the brightness.
Features:
LED Light Source
32 LEDs
Rechargeable
Overcharge protection
549 Grams of weight
Plastic body
4. Wipro Amber
Amber is one of the highly-rated emergency lights from Wipro. It has 36-pieces of LED with two brightness settings. Once fully charged, in the strong light mode, it can operate up to 1.5 hours, and in the dimmer light mode, it can run up to 20 hours.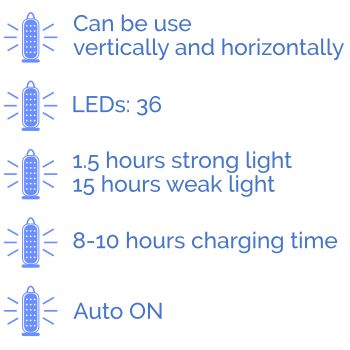 The compact design of amber allows you to use it both vertically and horizontally. It also has overcharge and deep charge protection.
Features:
LED Light Source
36 LEDs
Rechargeable
Overcharge protection
608 Grams of Weight
ABS body
5. Eveready HL52 Portable Rechargeable Lantern
Eveready HL52 is an emergency lantern with a study light model. The central panel has 24 super-bright LEDs, and the torch portion is occupied with 9 LEDs. Each has a 4500 mcd & 2500 mcd output, respectively.
Eveready-HL52 also has overcharge protection and deep discharge. Altogether, this is a maintenance-free rechargeable lantern with long battery life.
Features:
LED Light Source
24 LEDs in the main panel and 9 LEDs in the torch
Rechargeable
Overcharge protection
1.48 Kg of weight
Plastic body
6. Bajaj Dhyuti Mini Rechargeable Lantern
Stylishly designed Bajaj Dhyuti Mini has a lantern look.
It has 360 degrees light output; comes with six months warranty. It weighs 310 grams, hence portable as well. Also, a brightness adjustment switch with three modes is available in Dhyuti Mini.
It comes with a 2000mAh Li-ion battery, which lasts up to 18 hours on low light intensity.
The body is made with ABS plastic. So, it is lightweight and easy to carry. The top cap is detachable and has a hook-like design. The overall design makes this emergency lamp best suitable to use during power failure and camping trips.
Features:
LED Light Source
360-degree light output
Rechargeable
310 grams of weight
ABS plastic housing
Three mode brightness adjustment
Detachable cap
7. Pigeon Sirius Emergency 360 Degree Rechargeable Lantern
Pigeon Sirus is a high-quality emergency lamp with a strong body and 360-degree light output.
The power backup is supported by a 1600mAh rechargeable Lead-Acid Battery.
In the strong light output setting, the Pigeon Sirius emergency light can provide backup for 1.5 hours. The brightness can be adjusted using the knob provided on the front panel.
Also, according to the manufacturer, it can give backup up to 8 hours in dim light output.
On top, a foldable handle with a hanging hook is provided, which makes it easy to carry. Also, the flat bottom allows you to use it as a desk lamp.
Overall, Pigeon Sirius is a perfect emergency light with lightweight and easy to carry.
Features:
84 bright SMD LEDs
Rechargeable
Knob provided for brightness adjustment
Portable and easy to carry
ABS Plastic body
Up to 8 hours backup in dim light output
8. Wipro Azure LED Rechargeable Lantern
Again, from Wipro, Azure is a color-tunable LED emergency lantern. It has a beautiful, attractive design with 360-degree light output.
Wipro Azure will be a great addition to your home if you face frequent power outages in your area.
It is a rechargeable emergency light with 1800mAh battery capacity and overcharge & deep charge protection.
According to the manufacturer, the charging time of Azure is around 6-8 hours. The operational time is between 4-6 hours depends on the light output intensity.
Another unique feature of this emergency light is its flexible ribbon-like handle. Also, a brightness and color adjustment knob is provided on the top.
Overall, Wipro Azure is a budget-friendly LED emergency lantern with an attractive modern design and features.
Features:
LED light source
Attractive modern design
Rechargeable emergency light
Charge indicator
Overcharge and deep charge protection
Flexible handle
Color tunable (2700K – 6500K)
6 months warranty
9. Eveready HL51 Emergency Light
From Eveready, HL51 comes with a 24 LED model.
High performance, lightweight, and durable plastic body make Eveready HL51 one of the best rechargeable LED emergency lights. Also, HL51 is a bright white LED lamp with an extra-wide lens flasher.
Automatic On/off feature turn on the emergency light during the power failure. Manufacturer climes 20-30 times more battery life for this product.
Features:
LED Light Source
24 LEDs
Rechargeable
Overcharge protection
1.49 Kg of weight
Plastic body
10. Philips Ujjwal Mini
Ujjwal mini is a smaller version of Ujjwal plus. It has 16 pieces of LEDs and 100 lumens light output.
Also, it is very compact, lightweight, and has 360 degrees light output.
Like Ujjwal Plus, it also has an on/off button, top holder, and charging indicator.
Features:
LED Light Source
16 LEDs
Rechargeable
Overcharge protection
381 Grams of weight
Plastic body
11. BAJAJ ELX 36 LED Emergency light
Finally, Bajaj ELX 36 is one of the powerful emergency lights on this list. Bajaj ELX 36 comes with 36 super-bright LEDs and bright chrome plated reflector for best light output.
It has an incredibly beautiful and compact design for a better experience. A 4500mAh lithium-ion rechargeable battery supports the power backup. Also, a charging indicator is provided.
One noticeable feature of this emergency light is that it has a double-sided illumination facility. LED lights are distributed on two panels on both sides of this emergency light.
You can switch On LEDs on either one side of the light or both sides. The total light output of this emergency light is 500 lumens.
This portable emergency light would be a great addition to your home.
Features:
36 LEDs distributed on two panels on both sides of this emergency light. Each panel has 18 LEDs,
Double-sided illumination
10 to 12 hours of power backup.
4500 mAh lithium-ion battery
Single-button operation
Portable and beautiful design
Buying Guide: Emergency lights
Irregular power cuts have always been a major problem in our daily life. Whether they are due to low power generation, transmission issues, or any other fault, people are likely to hit the worst.
In this situation, Emergency Lights have come up as one of the most fruitful solutions to frequent electricity problems.
Well, the emergency lights which were invented long years ago were not effectively used for blackouts. Incandescent light bulbs, which were the earliest to be invented, could dimly light an area during an outage and perhaps provide low light.
The battery backup systems used in the past were huge and required high maintenance costs as they mainly used lead-acid batteries to store a full 120-volt charge.
So, the need for a focused, brighter, and longer-lasting light was realized. With advancements in technology, voltage requirements for lights dropped and replaced the traditional emergency backups with LED emergency lights with reduced battery size.
The latest emergency lights are wide-coverage lights that can illuminate an area quite well.
Emergency Light Components
Light Source
The latest emergency lights are occupied with LED as the light source. LED is the short form of a Light-emitting diode, a semiconductor that emits light when current flows through it.
Also, LED lights have a long life, and they are energy efficient.
Battery
The battery is the source of power for emergency lights. In this, power is stored for operation during power outages.
Several types of batteries are available, including Sealed lead-acid batteries (the same type used in cars), Nickel-cadmium batteries, Lithium-Ion, and Nickel-hydride. Each has different purposes.
But the most used battery is a Lithium-ion battery. The presence of these batteries in the modules gives rise to one of the best emergency lights.
Housing
The housing for emergency light is often made in various materials and shapes for different environments and applications. It is done to focus and intensify the light they produce.
Emergency Light Module
All the operations required for supplying power and charging the light fitting are made into practice with the help of an emergency light module.
Transformer
A step-down transformer is used to convert the AC 220V input power supply into 12v.
Charging Indicator
The status of charging is indicated by a charging indicator, which is nothing, but a small intensity LED fit into the system.
Mode of operation of Emergency Light
The working of emergency lights is too easy and simple. The emergency light modules consist of Relay, which senses whether the input source of power is ac or dc.
The battery is charged through the rectifier made up of diodes whenever there is an ac power supply, thus keeping the led in the off state. When the ac power supply is stopped, the LEDs will start glowing by using the battery's energy.
The step-down transformer used in the circuit steps down the ac 220V into 12V. This 12V ac is then converted into 12V dc, which can be further stored in the battery. This way, the led in the modules can illuminate the area on which it is made to be focused.
Type of emergency light base on operation mode:
Maintained: The emergency lights are illuminated permanently in a maintained operation mode.
Non-Maintained: The emergency lights are only illuminated when the power supply is lost or controlled by a light switch in case of a non-maintained operation mode.
How to choose the best emergency light?
Some of the features to look for while buying a rechargeable emergency light are listed below.
Backup time:
The evolution of technology and the use of batteries like lithium-ion has extended the backup time of lights up to 12 hours if charged fully.
So, look for an emergency light with a higher backup time.
Charging options:
The battery used in the system usually comes with the facility of fast charging through an adapter that steps down the input to 9V-12V and thus charges the battery quickly and efficiently.
Some emergency light comes with both AC and DC charging options. But most of the lights have an AC charging option.
Also, some models of emergency light come with solar charging options. Select one according to your preference.
Auto start/switch on the feature:
Well, the latest emergency lights are enabled with an automatic start-off system with the help of LDR sensors and relay. That quickly senses the need for light and thus illuminates the area automatically whenever there is a need.
Simply, this feature auto switch on the emergency light when there is a power outage. So, choose an emergency light with the auto on/off feature.
Overcharge protection:
The overcharge protection circuit on the emergency light protects the battery from overcharging. It thus enhances the battery life of the system.
Wall hanging option:
Some emergency lights have the option of the wall hanging. So they can be hanged on the walls of the living room or dining room to solve a blackout problem.
Flashlight feature:
The latest rechargeable emergency light can be easily used as a normal LED flashlight for camping, traveling, hunting, fishing, emergency light for helping, or working light for car repairing, etc.
This feature makes it a more reliable product. The portable system also helps to focus the light on a specific area.
Light output setting:
The light output intensity from the emergency light can be easily adjusted according to the needs. It can be done effortlessly using the given button on the module. This feature makes it energy efficient and robust.
So, look for a light with adjustable light output intensity. Also, the backup time for an emergency light will be high in dim light output compared to intense light.
Source of light output:
As mentioned earlier, most of the emergency lights now available have LEDs as a light source.
Some models have LED tubes also.
The intensity of light output depends on the type and number of LEDs available in the light panel. So keep special attention to the number of LEDs on the panel while selecting an emergency lamp.
The direction of Light:
Another feature that may have to consider is the light output direction. Emergency lights with 180-degree, 360-degree light output are available in the market.
An emergency lamp with 360-degree light output can provide light in all directions. You can place these kinds of lamps at the center of the room, so all the parts of the room get illuminated. Most of the time, lamps with 360-degree light output have a lantern-like design.
Build quality of a light device:
Most emergency devices are made up of superior unbreakable plastic, which makes them a durable product.
LEDs used in the system are of the range of 80-90 CRI (Color Rendering Index), which makes them more realistic.
The lithium-ion battery used in the system makes it easily rechargeable. All these features make a superior quality and long-life product.
Warranty:
Once again, the use of the latest batteries increases the system's life and thus makes it capable of warranty for one year (warranty time may differ for different brands). Usually, all the batteries come with a 6-month warranty.
Check for the duration of the warranty before buying an emergency light.
Application of Emergency Light
The Automatic Emergency Light system finds its most common use in the household where we can easily switch to this backup source of light whenever there are electricity outages. It can also be used in workplaces and study rooms to avoid sudden power failures.
Its use in the offices has been a boon to the staff by providing backup power in case of an outage. This way, everyone could resume their work and save time.
Automatic Emergency Light System helps the occupants to quickly locate the exits in case of any casualties and efficiently evacuate the building.
Advantages of Automatic LED Emergency Light system:
Automatic emergency Light System is more energy-efficient than conventional lights that have been in emergency lighting luminaires for many years as they often show energy savings of 30 percent or more. The combination of many small LEDs provides sufficient light with low power consumption.
LEDs are also very robust and have excellent low-temperature performance and are easily digitally controlled. Not only this, but the long life of LED which can be operated for 50,000 hours or more also brings the significant time, money and maintenance advantages
The Emergency Light system is most suitable for emergency exits. It allows everyone within the premises to evacuate calmly in the case of a fire, even if the mains power is affected.
Emergency Light provides lighting when the main power supply fails during a power outage in the household.
All the components used in the Automatic Emergency Light circuit are very easily available and at a cheaper cost.
Simple set-up with low maintenance cost
Some FAQs on emergency light:
1. Can we use an emergency light as a table lamp/study lamp?
Yes, you can use an emergency light as a table lamp or study lamp. It is portable, and the LED light is sufficient to illuminate the area.
2. Advantages of emergency light over inverter bulbs?
The significant advantage of emergency light over the inverter bulb is low power consumption and low-temperature performance.
Inverter bulbs are intended to use in a fixed position, most probably indoor. So, you cannot take an inverter bulb anywhere for emergency purposes.
But in the case of rechargeable emergency lights, they are portable, lightweight, and easy to carry. So, you can use a portable emergency light, both indoor and outdoor.
3. What is the difference between solar emergency light and non-solar emergency light?
Solar emergency light uses solar radiation as the source of power. The solar panel provided on the emergency lights can charge the battery present in the emergency light. In contrast, non-solar emergency light relies on the ac supply for charging.
4. How long does it need to charge an emergency light?
Well, it depends upon the type of battery used in the emergency light. In general, for a lithium-ion battery with a 1500mah capacity, it can take up to 8 hours to completely charge.
5. Is fast charging available for emergency lights?
Charging speed depends upon the type of battery that is used in emergency lights. So if you are using lithium-ion or Nickel-hydride batteries, you can charge them with high power up to a maximum limit (as per the manufacturer) and thus can charge it quickly.
Hope this guide would have been informative to help you know everything about Emergency Lights and select the best rechargeable emergency light for your need.
Find this article useful? Please share it with your friends!