A perfect start for a day is a perfect coffee..!!! A cup of good coffee in the morning can boost your energy level for the whole day. In this article, you will explore how to use a stovetop espresso maker/ Moka pot and five best stovetop coffee maker/coffee percolators available in the Indian market.
Taste of coffee can vary with a variety of coffee beans, processing, roasting temperature, grind size, etc. The preparation style (espresso, drip, Chemex, French press, etc .) also matters for a good coffee.
The different coffee brewing method is well explained in coffee-brewing-methods.com. Also, coffee has several health benefits. Healthline.com has an excellent article about the health benefits of coffee.
Out of several methods, the coffee prepared by an espresso maker has several distinctive features. Espresso is highly concentrated coffee with a superior aroma and flavor. Espresso is made by pushing hot water through a layer of coffee powder. The preparation of espresso required lots of training and experience.
Even though espresso is the best coffee, the cost of the espresso maker is a little higher.
A decent alternative to espresso maker is Moka pot/ coffee percolator. We can call Moka pot as a stovetop espresso coffee maker. The coffee made with Moka pot very much resembles espresso made coffee, with bold aroma and flavor.
In Moka pot also, coffee is made under steam pressure. This pressure of steam passes through ground coffee beans, producing good coffee similar to the espresso maker. The pressure inside a Moka pot is about 1 bar, but in an espresso maker, it is around 9 bar.
Several percolators are available to buy online. These percolators have three main parts. The bottom portion, which can hold water, has a pressure valve. The middle portion is a perforated funnel that holds finely ground coffee powder. The upper portion is a collection part where freshly brewed coffee gets collected.
A 6 cup percolator can brew around 12-ounce coffee. Similarly, a 4 cup coffee percolator can brew 8-ounce coffee decoction.
How does the coffee percolator / Moka pot work?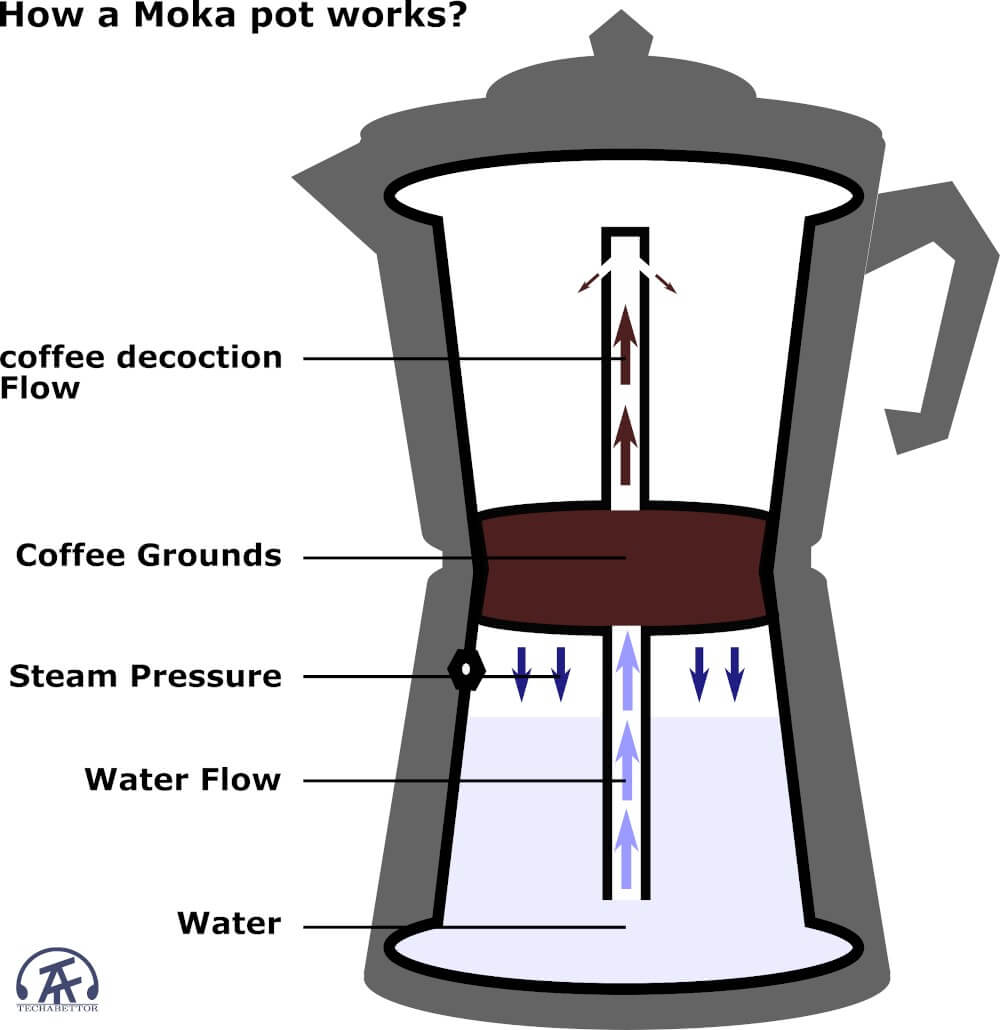 Water gets vaporized, pushed through the finely ground coffee powder, and finally gets collected in the upper portion. While steam passes through the coffee powder, it forms decoction.
How to Use a Coffee percolator / Moka pot?
Important instructions:
Don't heat or place an empty (without filling water) Moka pot/ percolator on the stovetop.
Keep the level of water below the safety valve. Do not overfill water above the safety valve.
Also, don't overheat the percolator.
Steps: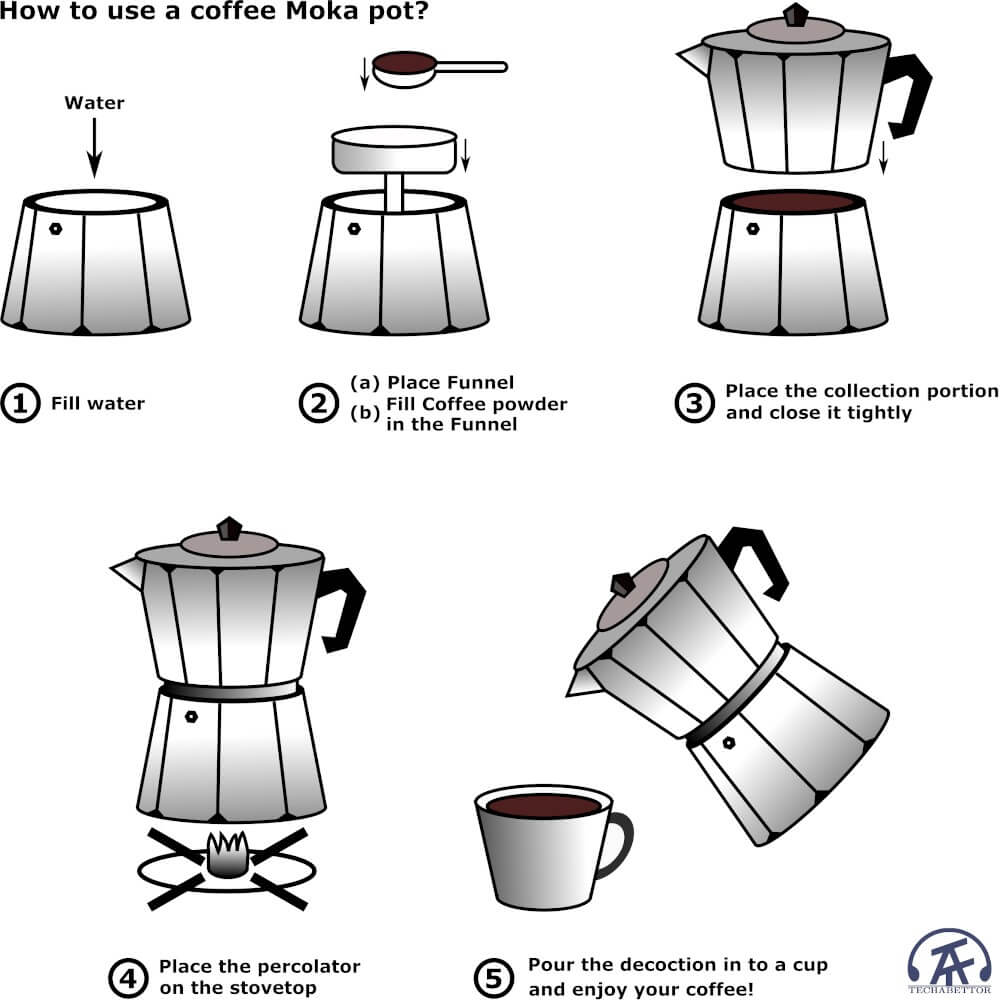 First, pour water in the bottom portion. The level of the water should be below the pressure/safety valve.
Place funnel above this. Add coffee powder in the funnel. Fill the funnel completely, but don't press the coffee powder.
Place the collection portion above this and close it tightly.
Place the percolator on the stove or induction cooktop. Low flame is advisable.
After some time, coffee starts getting collected in the top collection portion. (Don't heat for too long, coffee will become bitter).
After the coffee is brewed, if needed, dilute it with hot water.
Best stovetop coffee percolators/ Moka pot available in India
5 Best stovetop coffee percolators/ Moka pot available in India
Now you know how a Moka pot works and the steps to prepare an espresso coffee using a Moka pot or stovetop espresso maker. We will see five best stovetop espresso coffee makers or Moka pots available in the Indian market.
Bialetti 6800 is one of the best coffee percolators or Moka pots available in India. This model is a 6 cup model with a convenient flip-up top and side pour spout.
It has a classic elegant design with a beautiful octagon shape. Also, It is made of durable polished aluminum that is easy to wash with warm soapy water.
You could prepare 6 cups ( 2 ounces each) coffee devotions effortlessly in 4 to 5 minutes using Bialetti 6800. This made in Italy Moka pot also has a safety valve that ensures the right pressure inside the pot and safety.
Features at a glance:
Another coffee percolator on this list is again from Bialetti. Bialetti Elegance Venus is a stainless steel coffee percolator with 4 cup capacity (230 ml).
This stovetop espresso maker is induction top compatible also. Also, it has a beautiful, attractive design and is easy to handle.
A safety valve is also provided to ensure safety during its operation.
Features at a glance:
This is a 6 cup coffee percolator with an aluminum body. This Moka pot also has a classic look with the octagonal design.
Other features include a comfortable handle, Flip-up top and side pour spout.
Features at a glance:
JAYANTHI Percolator is also a stainless steel Stovetop Coffee percolator. So you can use it on an induction cooktop also. 4 to 6 cups of coffee decoction can be prepared using this percolator
It has an elegant design with ergonomic and heat resistant handles. It also has a safety valve.
Features at a glance:
Leo coffee percolator is an Italian style steam-based stovetop coffee maker, made of high-quality stainless steel and easy to maintain.
It is a decent Moka pot alternative. These are available in 4 cups, 6 cups, and 10 cups models.
Also, Leo coffee percolators can be used both in gas stoves and induction cooktops.
Stylish and durable design makes Leo coffee maker an attractive addition to any kitchen. You can make coffee instantly with Leo coffee percolator.
Features at a glance: