Choosing your very first musical keyboard can be an overwhelming task, much like charting unknown water, unsure of what you are up against. Any instrument you may potentially like is a matter of personal tastes and touch, influenced by the genre of music you plan on pursuing or like.
In the case of electronic keyboards and digital pianos, there's so much to choose from, and the secrets that await to be unlocked are limitless. They come in different numbers of keys, with several functions, sounds, touch responses, prices, etc.
There's also the big question of whether your exploration will take you on the path to becoming a professional musician, a bedroom producer, or will it remain just a hobby? Based on all these intricate facts to be kept in mind, here's a list of some electronic keyboards for beginners that may just be cut out to your liking.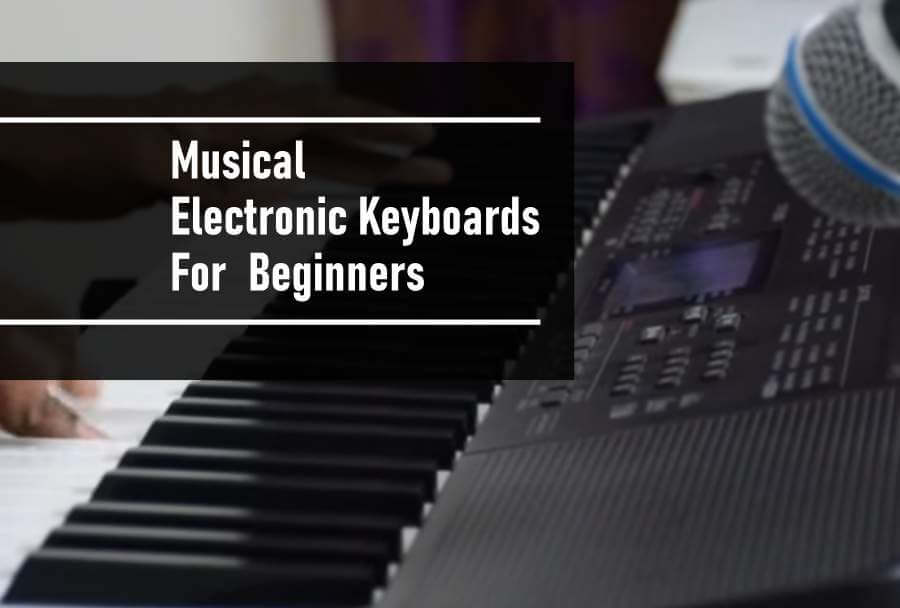 Top 8 beginner musical electronic keyboards
Top 8 Best musical electronic keyboards for beginners
1. Yamaha PSR E363
The PSR series from Yamaha offers high-quality digital musical keyboards at affordable prices. The PSR e363 is a fantastic portable keyboard with 61 keys and a wide range of tones and functions.
It is an ideal instrument for small gigs, practice as well as home recording sessions. The e363 is among the most affordable of the PSR series, but that doesn't mean it compromises any essential features.
It comes with touch-responsive keys that can be set for soft, medium, or hard. The 574 voices mean that there will always be something new to dive into. The keyboard also boasts of a dual function that enables the user to play two sounds simultaneously.
There is also a built-in chorus and EQ, which allows some interesting tweaks to the voices present. The built-in drum machine and tap-tempo allow for some groovy beats. The auto-fill function allows fun phrasings in between the bars. The dual function can split the keyboard in two so that two people can simultaneously play it with either the same or different instruments.
The keyboard also supports a "Two way MIDI and audio transfer." This feature makes it compatible to be used for recording into software like audacity or to be used as a midi keyboard with the likes of FL Studio, Logic Pro, etc. This keyboard is perfectly suited for beginners as well as intermediate players alike.
2. Casio CTK-2550
CTK-2550 from Casio is a very budget-friendly and beginner level electronic keyboard for kids and those who are entirely new to the instrument. It has 61 piano-style keys, 400 tones, and 100 different kinds of rhythm to keep any newbie interested and occupied.
It includes special effects like reverb and hall and also supports accompaniment function. The Dance Music mode allows for the creation of awesome dance songs and tunes. As mentioned before, this instrument is exclusively for those who are new at playing the musical keyboard.
The song bank contains 60 songs which the user can learn by playing along and improving their left-hand, right-hand synchronization. Although, one major letdown is that it has no touch function, which can be a bit frustrating to those looking to play something soulful and with genuine piano touch.
The Chordana Play app connectivity allows a smartphone connection opening up a whole new avenue of exploration. CTK-2550 can also be powered by 6 AA batteries making it handy to carry around or practice in times of power outages.
3. RockJam RJ561
The RockJam RJ561 has to be one of the best electronic keyboards for beginners in a budget. Talking about delivering as close an experience as a piano, the RJ561 does an incredible job and comes remarkably close to the performance of keyboards from Yamaha, Casio, etc.
With 61 keys and some pretty neat functions, it has touch-sensitive keys, and the design is relatively compact and portable. With 100 tones, 100 rhythms, and 50 song demos, it has quite a lot to offer, although not quite comparable with Yamaha's likes.
Dual feature playback and the rhythm section have to be added to the list of pros, but one major con must be its lack of weighted keys and an overall lack of feedback. This is due to the plastic keys which aren't heavy like in an actual piano.
But given the fact that there are other features like recording what you play, a sustain option, and split mode, which is pretty much standard in all entry-level keyboards. The RJ561 could be a very serious option to consider and obviously a good investment for the future if one is willing to overlook some minor inconveniences.
4. YAMAHA PSR-I500
The PSR series never fails to surprise! Packed with a ton of features, this entry-level keyboard from Yamaha is well suited for intermediate players looking to up their game.
The PSR-I500 is an Indian series keyboard, meaning that it comes with many Indian instruments aimed at those into classical music or someone looking to do something experimental. And surprisingly, the tones are really good, making it sound like the real deal.
With 61 keys, 801 instruments, of which a wholesome 50 are Indian, DSP effects, pitch bend, this powerhouse is suited for practice as well as for live performances, and you can be sure that it'll never fail you.
The MIDI support with a built-in soundcard enables it to record in DAWs (Digital Audio Workstations). The presence of classical percussion instruments makes it the perfect choice for fusion music production.
Now, the downside maybe the quality of the keys, as they may not live up to the expectation compared to a piano, but that purely is a personal opinion.
The PSR-I500, however, has lesser functions as compared to other models. Hence being aware of what one's looking for in a keyboard is the right way to consider whether this instrument is your calling. But as a beginner level keyboard, PSR-I500 would be a good option.
5. Casio CT-X870IN
Take a close look at the Casio CT-X870IN's specifications, and the resemblances with the I500 start to be obvious. This budget-friendly keyboard from Casio lets you explore the classical side of Indian music without burning a hole in your pocket.
CT-X870IN is a 61 key digital keyboard with 600 built-in tones and 195 different rhythms, of which you get to explore 21 Indian tones and 26 Indian rhythms.
Spec-wise, the Casio is a bit toned down compared to the Yamaha, but that doesn't affect the tone quality and overall feel. With some excellent tones and realistic Indian instruments, this keyboard will allow anyone to run for their money.
It has got all the stock functions that you expect from a device of this price range like 3 level touch sensitivity, record function, accompaniment, and even a harmonizer. But what is surprising is the presence of a pitch bend, which is hard to come by in other brands in the same price range.
Overall this keyboard is suited for people pushing through to intermediate levels and for intermediate players looking for a practice device with reasonably good specs and good sound quality.
6. Casio CT-X9000IN
Another addition to the Indian instrument series, the CT-X9000IN, is an entry-level musical keyboard that packs quite a lot of punch under the hood. Although it is similarly priced as the PSR-I500, the difference reveals itself once you start playing side-by-side.
For starters, the CT-X9000IN has a bigger and better amp and speaker configuration. Although both are 61 keys, the CT-X9000IN has 800 preset tones, 100 user tones, split configuration, layering function, 32 different reverbs, 16 choruses, delay, DSP, EQ more. It also boasts of 39 Indian rhythms of the available 250.
Of course, there is the sustain button, overdubbing, real-time recording,16 channel MIDI, although without a built-in sound card.
In short, the CT-X9000IN comes with nearly all the features you can think of with excellent sound quality. It definitely has value for its money and gives a strong competition for its rivals. The build is also good and feels satisfying to play, listen, and even to the eyes.
With so much packed into it, a new user can feel overwhelmed very quickly. Still, the design is highly intuitive for the user to figure out over time. In conclusion, it is a fantastic electronic keyboard with versatility and value for one's money.
7. Yamaha YPT260
Suppose you are an absolute beginner looking for something not too complicated for a start. In that case, this budget-friendly keyboard is your thing. Combined with the rich sound quality, build, and trustworthiness of Yamaha, YPT260 is the obvious choice.
YPT260 keyboard comes with 61 keys, 400 different sounds, a nine-step lesson function, auto-accompaniment, reverb, master EQ, an audio input jack, and even a recording function. The audio jack can be connected to an external device to practice over any song of one's choice. The songbook available for download can be used to expand your skillset by practicing over them.
The duo mode allows two persons to play the keyboard simultaneously. Honestly, that is an irreplaceable function for any beginner keyboard.
The design is kept very compact. Also, YPT260 can even be powered by 6 AA batteries and is lightweight and easy to carry around. The simple layout means there is no room for frustration for a person who's just getting started.
The manufacturers have cut no corners in its quality despite being a lower-priced product. YPT260 is a perfect digital piano for beginners. For its price range, this now is quite a bargain!
8. Roland E-X20 Arranger Keyboard
The Roland has got everything and a little more up its sleeve when it comes to a beginner/intermediate keyboard. Trusted by seasoned professionals and intermediate players alike, Roland keyboards are quite a good choice for even those beginners who are quite serious about their passion for music.
The E-X20 offers 128 high-quality voices with reverb effects, chorus, an internal song bank, and ten memory banks to record your compositions.
Now the E-X20 is also fully capable of being used as a MIDI controller via a USB printer cable. So it can be used to record songs and other compositions and arrangements to a computer.
The presence of a pitch bend is also a plus point as it opens up new horizons in real-time playing as well as in a DAW (Digital Audio Workstation). Another pro is that it can be powered with 6 AA alkaline batteries, making it the go-to instrument in case of any emergency session.
It is also relatively lightweight to carry around during gigs, and can also be the best instrument to practice scales and get a feel for the keys. This musical keyboard can be a fresh take on the already available similar choices in the market.
Conclusion
The basic idea behind an electronic keyboard is versatility and the choice of different instruments it offers. Being able to practice, play, and record from such a wide variety of instrument choices is educational and enlightening.
For people whose focus is primarily on learning the piano should go for a keyboard which has an uncompromised piano tone and key response for coming as close as possible to the real deal.
As for others who are just starting to explore, the choice can be a bit flexible. The best part about all the facts mentioned above is that there is just the right choice for every kind of beginner/intermediate player in the above list.
With a little more digging around and making some minor exceptions, you might find the right instrument for you. You can go through the comparison chart for finding a perfect musical keyboard of your preference. Also, these electronic musical keyboards can be an excellent gift for your loved one.