Grooming your face only takes a couple of minutes, if you do it right and to do so, you need the right beard trimmer.
Life is hectic, and in most cases, men tend to forget the basic grooming requirements. However, not being able to visit your salon shouldn't stop you from getting a perfect beard.
Not only a trimmer is an excellent substitute for visiting the salon, but it's also a lot cheaper. However, be wary of the cheaper rip-offs. They appear similar but cannot provide the clean finish you get from a premium gadget.
Before diving into a list of the best trimmers, let's discuss what you should consider before buying one.
Purpose- Are you interested in manscaping or only shaving your beard? Trimmers are packed with various features, so filtering needs will help you narrow your search.
Wired or Cordless- Matter of personal preference, either works fine, but a cordless trimmer is an excellent option if you travel a lot as you won't get any charging plugs in the wild.
Beard length- You want to fully shave or try on different styles? More expensive trimmers come with special combs, giving you complete control over your beard's size and shape.
Budget- Premium trimmers can get quite expensive, so make a budget before shopping. However, that doesn't mean you resort to cheaper alternatives. You can get some excellent options discussed in the list below, so stay tuned. Don't just go for the best in the market. Find your requirements and budget accordingly.
If you're looking to buy a beard trimmer in India, the following list will surely come in handy. So without further ado, let's begin.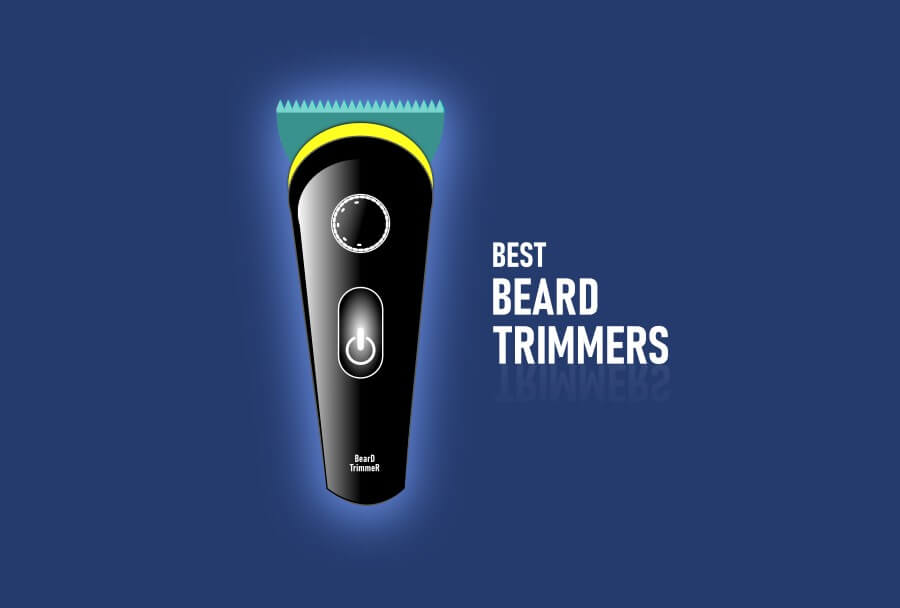 5 Best Beard trimmers available in India
Philips QT4011/15 Trimmer
Philips is a well-known brand in the trimmer industry. They are responsible for creating some of the most innovative and unique trimmers in the world. It's precise, easy to handle, and is fully charged within a few minutes.
In fact, one of the key selling features of this trimmer is the standby. Users have reported to squeeze out 2-3 hours of usage, which is almost 4x longer than ordinary trimmers, making this the ideal trimmer for traveling around the globe.
One of the best features about the Philips QT4011 is the titanium coated blades that provide superior cutting experiences compared to others in the same price range. These are also self-sharpening blades that can retain the cutting edge for a very long time.
Irritation on the skin is one of the key reasons why most people steer away from trimmers. The feeling is generally caused by rough edges when it comes in contact with your skin. However, with the QT4011, that's not an issue. The smooth edges result in a flawless trimming experience and smooth face.
A versatile trimmer makes it possible to experiment with various beard designs. The Philips QT4011 offers superior control and a precise cutting experience making it one of the best beard trimmers for men. It is also highly recommended by men who have benefitted from the ease of the and long battery life as well. Get this trimmer today and create unique styles from the comfort of your home.
Philips QT4011/15 Specifications:
Advanced titanium coated stainless steel blades
Charging time 1 hour
Supports up to 90 minutes of cordless usage
0.5mm precision setting
Cutter width 32 mm
Up to 20 length settings available between 0.5 and 10mm
Stubble type comb for better edge control
Best suited for short beards and stubble look
Cleaning brush included
Worldwide voltage 100-240 V
Washable attachments for more natural cleaning
Grip handle for better control and maneuverability
2-year guarantee
Carry pouch included
Philips QT4001/15 Trimmer
The Philips QT4001 may appear to be a downgrade from the QT4001, but that's not the case. Instead, it's a cheaper alternative at a very acceptable price range. As mentioned above, you need to budget for trimmers as they can get costly quickly, and this one fits right into the affordable section.
The QT4001 also comes with the adjustable wheel giving you precise control over your beard. You can even trim down beards that are 3 days old with the 1 mm setting. The simple ergonomic design is easy to handle and fits in nicely with most facial structures.
One of the typical problems that most men face while trimming is length adjustment. The combs are either too small or not appropriately placed, resulting in significant gaps and not subtle bald patches. The QT4001, however, has that covered. For a more budget-oriented option, it offers surprising flexibility for the users, making it possible to experiment with various beard designs.
The skin-friendly rounded tips also provide a pleasant cutting experience and leave behind no irritation. Also, the ergonomic design makes it easier to maneuver along your facial contours.
The QT4001 is a steal if you're looking for a budget trimmer on Philips. The detachable head ios easy to wash off, and you don't require any oil to lubricate the insides. It is one of the best cordless beard trimmer available in the market. Like all Philips trimmers, this one also comes with a 2-year guarantee.
Philips QT4001/15 Specifications:
Stainless steel blades
Ergonomic design with an easy-grip
Mostly suitable for short beards
Cutters width 32 mm
Total 10 number of cutting settings
Offers precision of up to 1 mm
Stubble type comb
Range of comb length 1 to 10 mm
On plug charge indication
Up to 10 hours of charging time
45 minutes of cordless usage
Worldwide voltage- 100- 240 V
Mi Beard trimmer
Xiaomi has always been a value for money kind of manufacturer, and it seems to maintain its reputation when it comes to the beard industry. Let's start with the design.
The trimmer has a simple ergonomic design offering the perfect hold you'd expect from premium products. The self-sharpening stainless steel blades and the rounded edges ensure you don't run a scratchless and irritation-free cutting experience.
One of the best traits of this trimmer is the length adjustment. With two separate combs, you gain control over a wide cutting range. The possibilities are endless. From shaved faces to thick beards, the Mi trimmer does it all. The versatility offered by these trimmed is next to none.
Next comes the battery life, and it seems that Mi has it covered as well. You can't help but appreciate the customizability. In addition to cordless and corded usage, the battery also supports shot sessions of 10-minute usages on 5 minutes of charging. However, the full charging time is 2 hours and offers 90 minutes of runtime.
Although it comes with detachable heads, the IPX7 water coating makes cleaning even more natural. Finally, the travel lock is a nice touch.
If you're looking for an affordable beard trimmer with lots of customizability, look no further. Get the Mi trimmer today and experience a cutting experience like never before.
Mi Trimmer Specifications:
Comes with 3 beard combs
Cutter width 30 mm
Stainless steel body
Total of 40 settings with both combs combined
With cutting precision of 0.5 mm
Travel lock and LED indicator
Supports both corded and cordless use
Non-scratch teeth for a scratch-free and non-irritated cutting experience
Charging time 2 hours and 90 minutes cordless usage on a full charge
Worldwide voltage 100- 240 V and 5V adaptor
1-year warranty
Detachable attachments
IPX7 body and is fully washable
Combs and cleaning included in the box
Charging cable and travel pouch included in the bag
Braun BT3021 Trimmer
The Braun BT3021 trimmer is a bit on the expensive side but is an excellent value for money as reported by the users. Let's start with the build quality. The trimmer is easy to hold and feels well made. The range of settings allows for more precision cuts and contour edges. The cutting edge also feels quite smooth and provides a seamless cutting experience without any irritation. The lifetime sharpening blades also ensure usability a few years down the line.
This trimmer is highly recommended by its users, mainly because of its usability. It's simple to use and easy to maneuver. Not only can you create some awesome designs but do so consistently. The sheer control you get on this device is remarkable and makes it one of the best cordless beard trimmer for men.
Like the Mi trimmer, the Braun BT3021 is also waterproof. So, you can wash it directly under running water without fearing for its safety. You even get a charge indicator and a universal voltage adaptation.
Trimming beards at home can be difficult as you can easily end up with scraggly and uneven results. Consistency is a significant problem with home trilling solutions. Most of the premium trimmers do a great job of adjusting to all sorts of facial contours.
The Braun is best known for its consistency and is a great option for shaping the beard precisely to your liking. Although it's not an all-purpose beard trimmer, with a bit of skill, you can easily get away reasonable good contour or trim.
Braun BT3021 Specifications:
Comes with one comb
Ergonomic designs for contour edging
Precision dial with 20 length settings
Precision length 1 to 10 mm
Lifetime sharp blades
Full charge time 10 hrs
Standby 40 minutes
Washable water-resistant body
Worldwide voltage 100 – 240 V
Panasonic ER-GB37-K44B
The Panasonic ER-GB37-K44B is a bit on the expensive side but offers a superior cutting experience thanks to the 45 degree cutting blades. Although it isn't strictly round-shaped, the trimmers don't irritate and provide quite a comfortable trimming experience.
The quick adjustable setting makes it possible to trim beards of all shapes and sizes. The key feature of this trimmer is shaving capability. Just apply some foam to get a superior shaving experience similar to using a razor. Using the adjustable dial in the middle, you can easily adjust the trimming length. Experimenting with your beard is now even more comfortable with the best beard trimmer India.
According to some of the users, the trimmer is very silent, and the build quality feels quite premium. The sharp self-sharpening blades also provide a clean finish allowing you to experiment with all sorts of designs. Although it's not IPX7 waterproof, the splash resistance does a good enough job of protecting the electricals during foam shaves.
Panasonic also provides many offers, so if you wait a bit, you can even get the trimmer for a lot cheaper. The box also contains a cleaning brush, oil, detachable comb, and the charger. The trimmer is best used for home purposes as it's a bit bulky for traveling around.
Panasonic is well known in the trimmer industry, and the ER-GB37-K44B is the best in the lot. Get it today and give you beard the perfect shaving experience.
Panasonic ER-GB37-K44B Specifications:
Offers precision cutting with a 45-degree edge
Offers we and dry shaving
Comes with a comb attachment
Quick adjustable precision control for up to 19 settings
Cutting length range of 1 – 10 mm with 0.5 mm precision
8 hours of charging time
Up to 50 minutes of cordless usage
2 years warranty
Conclusion
There are several beard trimmers available on the internet, and at times it can be overwhelming to choose one over the other. The best way to zero in your choices is to list down your requirements.
Almost every beard trimmer for men has critical selling points. Instead of getting swayed by the various choices, it is best to prepare a checklist for the task.
Do you travel a lot?
If so, you should get a trimmer with a longer battery life.
Are you looking for a multipurpose trimmer?
Get a trimmer that has shaving functionality and works with foam.
What are thoughts on water resistance?
If you want to thoroughly clean the trimmer after an extended trimming session or drop it in the dirt.
Do you experiment with intricate designs?
Longer trimming sessions drain a lot of charge, so prioritize on a bigger battery. Also, keep an eye out for combs and the overall adjustable length of the device.
Hopefully, these tips should help you choose from among the best beard trimmers for men India. Happy Shopping!