Are you looking for the best irons under Rs 2500 in India? We've covered the top 5 irons under this price range in this article. These irons are ideal for all your requirements and will simplify your life!
An iron box is a basic necessity of any house. Due to this, more than a hundred brands of irons are available today for travel, garment steaming, laundry, cordless, quilting, professional, and commercial. All the irons have different features and are priced at different amounts. But if you are looking for the best Iron under Rs 2500, it might become a challenging task for you to find the perfect one.
Since there are many iron brands that claim they have included the best technology, it can be confusing for you to find excellent quality clothing iron boxes at a reasonable price.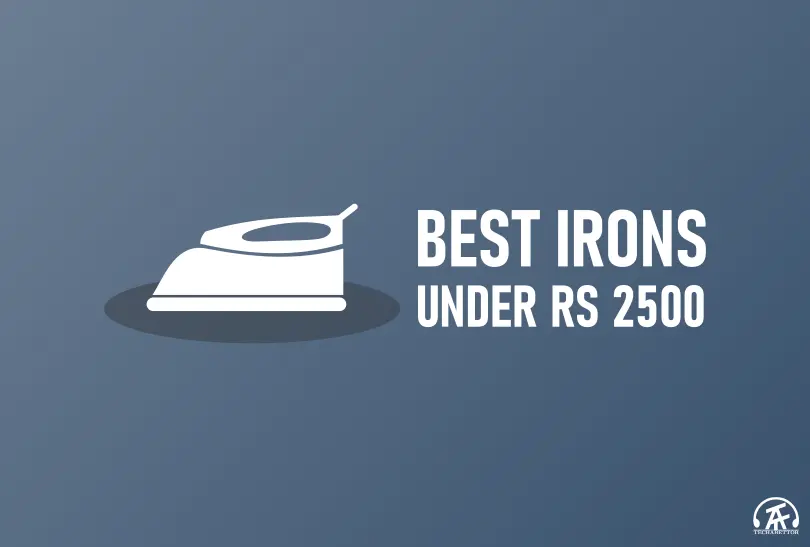 Also, if you want to purchase a steam iron under Rs 2500, you will find out that there are many steam generator iron boxes, which assure quality; therefore, here is the list of 5 Best Irons under Rs 2500 in India.
Best Irons under Rs 2500 in India
1. Philips EasySpeed Plus Steam Iron GC2145/20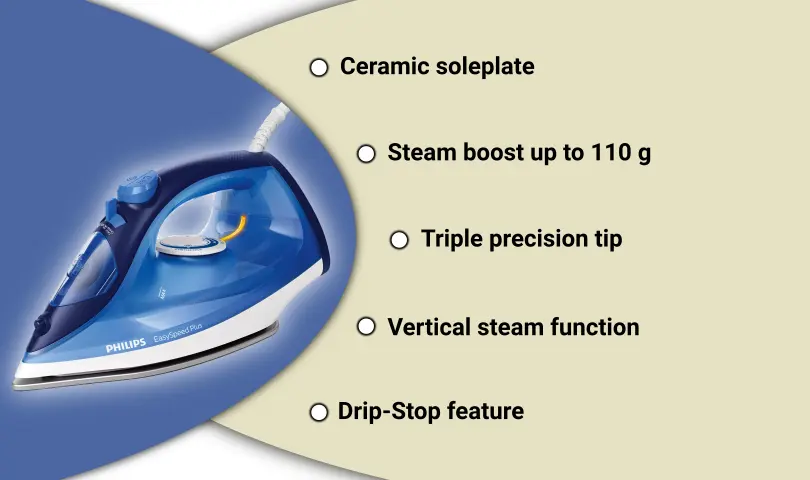 The Philips EasySpeed Plus Steam Iron GC2145/20 will make your ironing super quick as it has 2200 W power. It helps in maintaining continuous high steam output and quickens the process of heating the iron plate.
This iron box from the Philips range is entitled to give 30 g/min constant steam to provide perfect steaming with an absolutely outstanding performance. For eliminating all the stubborn creases, it comes with a steam boost of 110 g.
There are no hauling, non-even heating, or snagging complaints in this iron when it comes to quick ironing because of its three-tip precision tip and scratch-resistant ceramic soleplate.
This iron box's water tank can hold 270 ml of water; hence, you do not have to refill the tank time and again.
Key Features:
Eliminates odor and kills bacteria from the clothes
It comes with a two-year warranty
Encompasses drip-stop feature to avoid leakage at low temperature
Built-in Calc-Clean slider helps in removing salt deposits from the water tank.
One of the best irons under Rs 2500
2. Morphy Richards Super Glide 2000-Watt Steam Iron
The Morphy Richards Super Glide 2000-Watt Steam Iron will glide on all the garments smoothly. It has 46 steam holes, which makes it supremely easy to iron any fabric within no time.
This light-weighted iron box has excellent performance as it emits 11 g/min of steam and flattens all the stubborn creases with a 150g turbo shot. With the help of light water spray, you can quickly flatten all kinds of garment fabrics.
This iron box has a transparent water tank of 350 ml, making the refilling process easy and fast. Vertical ironing of suits, curtains, jackets, etc., is possible with this iron. The sharp tip of the iron will allow you to access all the intricate parts of your clothes.
Key Features:
It comes with an Anti-Calc feature and a two-year warranty.
Requires little extra time for the iron to heat up properly so that the steam functions efficiently and avoids any leakages.
It has a 360-degree swivel cord for effortless movement.
3. Havells Magnum 1840-Watt Steam Iron
The operating voltage range of this iron box is 220 V to 240 V. It comes with 1840 W power, making the process of ironing relatively fast and efficient.
In order to offer comfort while ironing, it has a soft grip on the handle. With a large tank of 300 ml water, you do not have to worry about its refilling. You can iron all the garments in the vertical position as well.
This iron will remove the creases in the vertical position also. It comes with the controller of humidity, power of steam, and direction for effortless ironing.
Key Features:
Havells magnum comes with a two-year warranty
It has an American Heritage coating, which allows the iron to glide over all kinds of garments smoothly
It comes with the feature of vertical steam of burst
Also read: Awesome Electronic Gadget Gift Ideas For Any Occasions
4. Panasonic NI-E410TMSM 2150-Watt Steam Iron
Panasonic NI-E410TMSM is one of the best Steam Iron under Rs 2500. The Auto Anti-Calc Feature of this iron box leads to minimum calcium formation and crystallization, which prevents all 29 steam vents from clogging.
The U-shaped steam over the soleplate gives a 25% higher steaming rate. While ironing garments, the fabric doesn't gather, making it easy and faster to iron the clothes.
The soleplate is five percent longer than usual, which allows hassle-free ironing.
Key Features:
It has a titanium coating soleplate with an Anti-Calc system.
It comes with one year warranty.
The cable can rotate up to 360 degrees.
It comes with a vertical steam feature with a push button.
5. Bajaj MX40C 2000 Watts Steam Iron
Bajaj is one of the oldest and leading companies in the electronics sector. The Bajaj MX40C 2000 Watts Steam Iron comes with an operating voltage of 220 V to 240 V.
The capacity of the water tank is 210 ml, which ensures the uninterrupted ironing of garments. This iron has Anti-Drip and Anti Scale technology, which prevents scaling and leaking in the iron.
The variable steam output feature allows for ironing various kinds of clothes. With a few water sprays, you can remove all the creases within no time.
The sharp tip helps in ironing the complex designs of the clothes.
Key Features:
It has a vertical ironing function for suspended clothes like saree, curtains, jackets, etc.
It comes with two years warranty.
The soleplate of this iron is coated with ceramic for effortless ironing to prevent wear and tear.
Conclusion
All the iron boxes that are mentioned above are branded and reliable. Before buying any iron, it is crucial to consider its maintenance and safety factors. Therefore, go for the one which delivers higher safety and low maintenance.
The description and key features of each product will help you in making an informed decision. It is suggested that you look for each iron's unique features so that you can bring home a perfect iron for all your purposes. Before you buy one, do not forget to remember the points listed above.