If you are looking for a good wet grinder under Rs 5000, then this article is for you. This article will help you pick the best tabletop wet grinder from the various models available in the market.
Do you also feel that it's hard to envision a kitchen without a grinder? Multitasking has become particularly important in this era of ever-busy lives because it helps one complete multiple activities simultaneously. Multitasking helps one to be more versatile and better needed.
The time it takes to cook a dish will reduce when you use a grinder. Therefore, one can spend more time with loved ones, and there are many perks that tabletop wet grinders offer. They have eased the complicated job of conventional wet grinding into the straightforward one.
No doubt, the market is crowded with wet grinders from different manufacturers, and picking the best wet grinder under Rs 5000 from hundreds of choices is a challenging job. This is why we've curated a list of the best tabletop wet grinders under Rs 5000, so you can pick the best one.
So, without further ado, let's get started!!
Best Tabletop Wet Grinders Under Rs 5000 in India
1. Butterfly Rhino Plus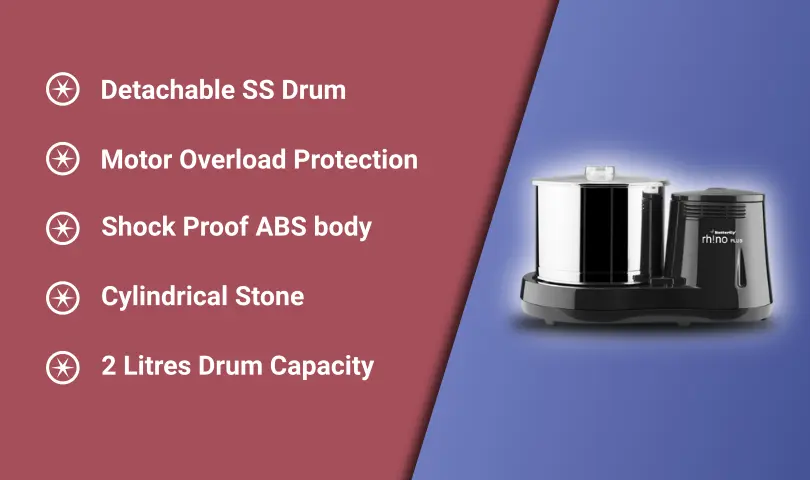 Why should you invest in Butterfly Rhino Plus? The answer is that it provides better quality performance, and the special ventilator eliminates motor heating.
In fact, the ultra atta kneader can give a good hand on puris, parathas, and Rotis because it makes them tastier and softer with this grinder's help. This mixer is unquestionably worthy of producing the best results.
Butterfly Rhino Plus has vacuum feet that protect it from sliding around. The anti-skid function holds the system in place for efficient running. Thanks to the vacuum bolts, this mixer does not move while in operation.
Features
ABS Body
Single-phase motor with higher speeds
Polycarbonate arm lid that is both unbreakable and translucent
For easy operation, the stainless-steel drum is detachable.
Specifications
Brand: Butterfly
Material: Plastic
Wattage: 150 Watts
Speed: 1300 RPM
Item Weight: 12.7 kg
2. Sowrna Lakshmi Wet Grinder
DGMR Sowrna Lakshmi is a well-known brand that has the best tabletop wet grinder under Rs 5000 – Sowrna Lakshmi Wet Grinder. The unit has a capacity of 2 liters and is equipped with cylindrical grinding stones that are very good at grinding batter.
You also get attachments for kneading the dough and scraping the coconut.
The attachments are made of food-grade plastic, and the drum is made of high-quality stainless steel. The cylindrical shape of the stones stops them from eroding even after years of use. The system can ground 2 liters of batter in 30 minutes or less.
You won't have to think about the excessive heat because it turns at a rate of 960 RPM. Overall, it's a durable option that's also reasonably priced.
Features:
Sturdy construction
Excellent for grinding
Easy to clean
hassle-free and low-noise
Specification
Brand: DGMR ENGG WORKS
Material: Multi-ply
Wattage: 150 Watts
Item Weight: 12 Kilograms
3. Prestige PWG 10 Wet Grinder
The Prestige Wet Grinder PWG 10 With Stainless Steel Jars has an Advanced lid-locking mechanism that is easy to use and secure during grinding.
Heavy Duty 200W Motor is provided for all your grinding needs. Also, it has a transparent lid for easy viewing so that you can easily check the progress of grinding.
The material is sturdy, made up of Stainless-steel Jars that provide a mirror finish. Also, this wet grinder comes with high-quality grinding stones, a Polypropylene lid, and a Compact Space Saving Design.
Overall, it does not take up much space in the kitchen and conveniently helps you do all your grinding tasks.
Features
The lid is transparent for quick viewing.
Robust Material
Grinding stones of outstanding quality
Design that saves space
Specifications
Brand: Prestige
Material: Plastic
Item Weight: 10000 Grams
4. Sowbaghya Edge 2 LTR Tabletop Wet Grinder
The Sowbaghya EDGE wet grinder is built to handle the difficult job of grinding. What you have to do is to place the ingredients in the unit and turn this best tabletop wet grinder under Rs 5000 On.
The space-saving, sleek architecture conceals a powerful motor with an incredible 1440 RPM that can grind batter to the ideal texture for delicious and soft dosas and idlis.
With a size of 2 Litres, the Sowbaghya EDGE wet grinder is a lightweight design. It's rugged, with a stainless-steel drum that's easy to remove, an unbreakable transparent shell, and grinding stones.
Hand-free action is supported by a simple thread lock, conveniently removable drums, and a stone.
Lastly, it would undoubtedly satisfy the requirements magnificently.
Features
Body Cooling Ventilation
High-quality grinding stones
Silent Operation
Compact design
Specifications
Brand: SOWBAGHYA
Material: Plastic
Wattage: 150 Watts
Item Weight: 18 Kilograms
5. Bajaj WX1 230-Watt Table Top Wet Grinder
Bajaj Electronics is one of the most well-known brands in the kitchen and home appliances industry. Small to medium families can benefit from the Bajaj WX 1 230Watt wet grinder.
It contains a 2-liter stainless steel drum that would last a long time. The top of the wet grinder consists of a polycarbonate lid. You can see the grinding process since the lid is see-through.
It has effective and long-lasting grinding stones that reliably produce an even and smoother batter.
The machine's function is pretty simple. Super clean and smooth exteriors make it convenient to clean.
This consumes 230 Watts of power. In the case of overheating conditions, Overload security is provided.
The motor and other components have a 2-year warranty from the manufacturer.
Features
150 Watts Motor
2-liter capacity
LED indicator
Specifications
Brand: Bajaj
Material: ABS
Wattage: 230 Watts
Item Weight: 14 kg
Conclusion
A great wet grinder will always provide superior grinding consistency while retaining the original fragrance of the spices.
These wet grinders under Rs 5000, which are available from some of the industry's best companies, have performance durability and are available for purchase on your favorite online retail website: Amazon.
Also, tabletop wet grinders, with a sleek design and minimalist aesthetic, make a great gifting option for the modern homemaker.
We've given you exposure to all of the product's details, including detailed specifications and features. Hopefully, these are enough for you to make a wise choice.
So, enjoy your kitchen time with these handy wet grinders!!