The 21st century has given us all sorts of devices and technologies. And one of the most incredible technologies is Smart TVs.
The modern-day necessity has revolutionized the digital world, and smart TVs are among the most surprising aspects of the new world. This means the TV market has transformed so much that this idiot box offers many enhanced features that smartphones and PC deliver.
The days when TV was just for watching your favorite TV shows are gone. Nowadays, smart TVs has come up with several smart features that you can do anything from it.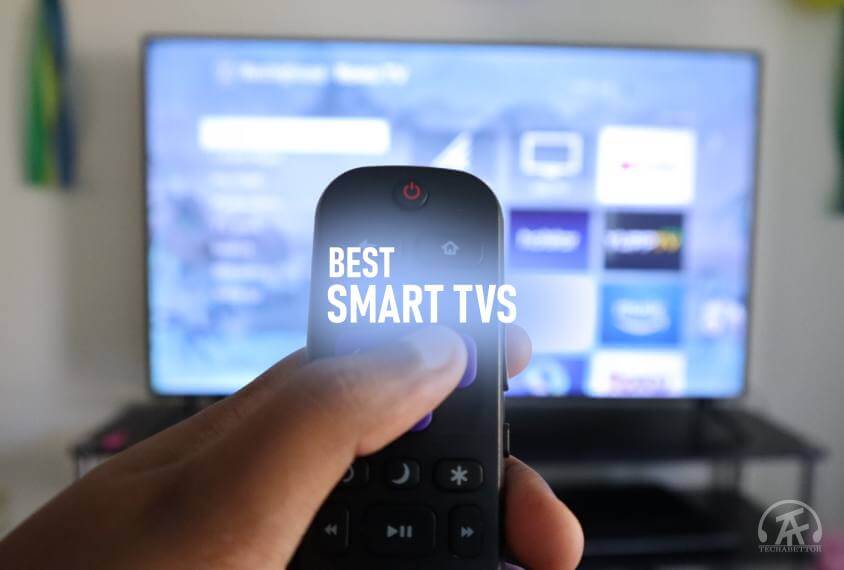 So, we have gathered a list of best smart TVs in India so that you can buy the right product without a second guess. But first, you need to understand the meaning of the term Smart TV.
You can't consider any new television model, a smart TV. Smart TVs have integrated internet and interactive Web 2.0 features. With Smart TV, users can access all internet-based and conventional TV content.
This kind of TV delivers content to and through internet-based services like Video-on-demand, online shopping, home networking solutions, gaming, multimedia applications, social networking, and other services.
Using Smart TV, you can easily access Netflix, Spotify, YouTube, Amazon, etc. And now, with the modern voice-enabled assistants, you can even control your TV using voice commands. But that is a feature that is optional for the consumers. So, let's take a look at the best smart TVs in India and see which one suits your household better.
Best Smart TVs Available In India
10 Best Smart TVs Available in India
If you are planning to buy the best smart TVs in India, you have come to the right place. Here we will dig out and explore some of the best smart TVs in India that will surprise you: –
1. OnePlus 4K Q1 Series
With a certified Android Operating System and a display of 3480 x2160 pixels, OnePlus Q1 is among the best 4K smart TVs. This 55 inches screen QLED TV has a motion rate of 480 hertz.
Unlike other Smart TVs, OnePlus has 4 HDMI ports to connect the set-top box, Blu-ray players, gaming consoles, etc. Alongside there are 3 USB ports (for USB 3.0, 2.0, and Type C port) that can be used to connect hard drives and other USB devices.
Powered by a full range of 2 speakers and 2 sub-woofers, the TV has impeccable sound quality. And for additional features, the TV comes with lay VOD selection, OnePlus Connect Mobile Sync & Control, Screen Casting, Bluetooth Stereo Mode, and File Browser.
Despite being a new brand in the Smart TV industry, OnePlus has the trust of the consumers, and hopefully, it will live up to the expectations.
Features:
Lightweight design with a nearly bezel-less screen
QLED display with 4K resolution (3480 x2160)
Android operating system with Google Assistant support
Built-in Chromecast
50W RMS sound output
OnePlus connect App
2. Sony Bravia KD-55A9G Smart OLED TV
Explore the world of fascinating colors and incredible contrast with this OLED 4K HDR Smart TV that emits more than 8 million pixels. If you talk about the picture quality, 55A9G has a Picture Processor X1™ Ultimate picture processor with 4K X-Reality PRO clarity enhancement feature that perfectly meets the latest power consumption standards.
Moreover, if we see its sound, it has 60 Watts output with Acoustic surface audio plus technology. This smart TV of Sony is the master series designed by top creators who have brought magic in the virtual world.
Apart from that, with a screen resolution of 3840*2160, that is supported by Dolby's vision and Dolby Atmos making view incredible. Moreover, this Android smart TV can quickly capture your voice and turns it into command.
Features:
OLED display with 4K resolution (3840×2160)
Android Operating system
Built-in Chromecast
Enhanced Google Play
Studio quality Netflix Calibrated mode
Excellent immersive sound with 60W output
3. Samsung UA55TU7200
Samsung, another name in the world of electronics, delivers mind-blowing gadgets to its clients. Also, Samsung UA55TU7200 is one of Samsung's best 55 inches smartTV in India. It comes with a Crystal 4K UHD panel with superior technology to make your home perfect entertainment setup.
The connectivity options include WiFi, Bluetooth, Optical audio out, RF, 2xHDMI ports, and one USB port. So you could able connect all types of devices and set-top boxes to this smart Tv.
Tizen™, the operating system, makes Samsung TU7200 user friendly to operate. Furthermore, it has Alexa and Google Assistant that help you control the TV via your voice. If you talk about its display, it comes with a 4k resolution crystal display panel that enhances the user's watching experience.
However, if you talk about the warranty, it comes with one year comprehensive and one year panel by the company.
Features:
Resolution: 3,840 x 2,160 (Crystal UHD)
Delivers Purcolor
Picture Quality Index: 2000
Crystal Processor 4K that offers robust picture quality
20W RMS sound output
Alexa and Google Assistant support
Mobile to TV Mirroring, DLNA with Airplay 2 support
4. Sony KD-43X7002G
You can bring the world of entertainment into your living room with this Sony 43 inch smart TV. Sony KD-43X7002G is one of the best 43 inches smart TVs in India with a 4K Ultra HD LCD. The resolution of 3940*2160 delivers quality images with clarity enhancement of 4K X-Reality Pro.
Apart from this, the manufacturer has given a stand and cable holder so that all the wires and cables are tucked inside it without delivering a mess in your living area.
If you are a fan of YouTube, this smart TV is one of your best buddies. Furthermore, if you talk about connectivity, it has 3 HDMI ports and 2 USB ports that will easily connect with set-top boxes and hard drives.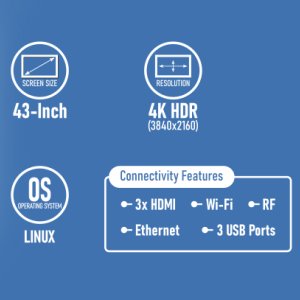 Features:
4K UHD display
Operating system: Linux
Smart plug and play
One year warranty
Triluminous display offers a broader palette
20 watts sound output
Dolby™ Audio
50-hertz refresh rate
5. TCL 55C8
TCL has been in the market for a long time now, and it has a special place in the best 55 inch 4K smart TVs of India. Operating on Android, TCL 55C8 comes with several pre-installed apps like Netflix, YouTube, and other apps.
The 4K UHD LED panel gives a spectacular finish to TV and takes the viewing experience one-level up. Incorporated TCL WCG (Wide Color Gamut) technology, the TV has realistic colors and a life-like quality in the video.
The TV consists of an in-built sound system with 24-watt RMS output and Bluetooth compatibility and a screen mirroring feature. So, you will be glad to know that you are getting the best product for your home.
Features:
4K UHD display with Wide viewing angle
Android P Operating system
2.4GHz/5GHz dual-band built-in WiFi
TCL WCG technology for realistic colors
Narrow Bezel with edgeless design
Built-in Chromecast and Google Assistant support
6. LG 55UM7290PTD
The LG 55UM7290PTD is another best smart TVs in India that comes with 4K a new standard for high definition. However, this feature delivers true immersion even if you view it at a wide-angle. Apart from that, it has 3 HDMI ports and 2 USB ports so that you can connect any device with TV.
Moreover, most of the clients found this smart TV surprising as it is very light in weight with metallic design.
However, if you talk about the key features that make it stand out of the crowd, it has Apple Air Play2 support, DTS Virtual X, 4K more upscale, AI launcher, and Magic mobile launcher, Quad-core processor, etc.
All the above qualities of this LG smart TV make the watching experience more comfortable and impressive.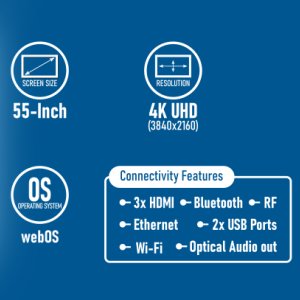 Features:
Simple yet sophisticated design
4K IPS display with active HDR
Comes with dynamic shade enhancer and true color accuracy
Operating system: webOS
Home at a single button
20 watts RMS sound output
Voice control over ThinQ AI, Alexa, and Google Assistant
7. Sony Bravia KD-49X8000G Smart Android TV
A 49 inches, 3840 x 2160 pixel(4K) resolution, and an Android-based operating system, Sony Bravia is the Smart TV that has always been one of the top choices for Indian customers. It is apparent that we include Sony X8000G Series in our list of best smart TVs in India.
This Smart TV comes with a Trilyminous Display so that you can experience excellent picture quality with 4K HDR & 4K X-Reality Pro. In-built WiFi, 4 HDMI ports, and 3 USB ports are used available for connectivity. Also, it comes with Android Nougat and has ClearAudio+ that supports a 4×4 Sound System.
Sony Bravia is among the most exquisite Smart TVs in India that deliver unmatched service to the customers. The quality colors, sleek design, and future technology make it the best.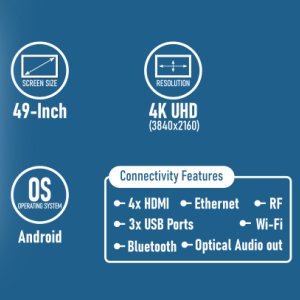 Features:
Display with 4K resolution
4K X-Reality PRO for clarity enhancement
20 Watts RMS sound output
Dolby™ Audio with DTS Digital surround sound
Operating system: Android
Built-in Chromecast and Alexa support
8. Samsung UA40N5200ARXXL
Using the Tizen Operating System, Samsung TV is taking the technology to the next level. With a full HD display, you will get unmatched video quality.
Along with all this, features like PurColor, Micro Dimming Pro, in-built LED, and sleek design make Samsung one of the best 4K Smart TVs in the market.
For connectivity, the TV has 2 HDMI ports that can be used for gaming consoles and set-top boxes and 1 USB port to connect hard drives and other USB devices. Additional features like Personal Computer, Screen Mirroring, Mobile Set-up, Content Sync & Share, Live Cast, etc. are also available in the Smart TV.
The computer-like utilities combined with super large display make Samsung one of the top contenders for your household items. Choose smartly.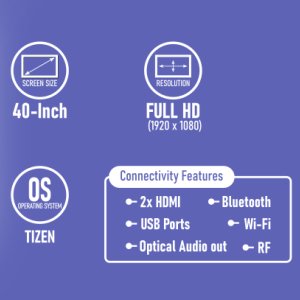 Features:
Full HD display (1,920 x 1,080) resolution
It could be used as a personal computer in emergencies.
Screen mirroring, live cast and home cloud features available
Picture quality index: 500
20Watts RMS Sound output
Operating system: Tizen
9. LG 43UK6360PTE Smart TV
As far as an exceptional technology goes, LG UK6360PTE certainly one of the best smart TVs in India. This 43 inches smart TV can display 4K content with color accuracy and clarity.
It comes with a resolution upscaler that converts the content to match the 4K standards. The consumers can pick from multiple picture modes tailored to improve their watching experience and use the Picture Wizard III technology. It has a 2-channel 20-watt speaker supporting DTS Virtual X Surround Sound.
The 2-way Bluetooth Audio playback feature allows any sound to synchronize with TV. Moreover, the TV is powered by Google Assistant and has a voice-command feature.
Along with getting unrestricted access to the internet, you can also record content to watch later.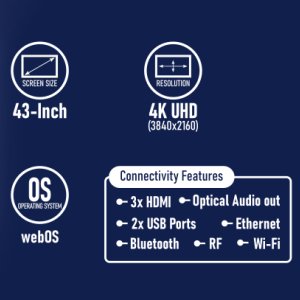 Features:
4K Ultra HD IPS display with active HDR
2 way Bluetooth wireless sound
Surround sound with DTS Virtual:X
Magic remote: Single remote for multiple devices
20 Watts RMS sound output
AI ThinQ™ with Google Assistant
10. Onida 43-Inch Fire TV Edition
Onida has gained a lot of popularity over the years because of their world-class televisions, and this Onida best 43 inches smart TV in India with Full HD smart TV is no exception. The best part of Onida 43FIF smart TV is that it runs on the Fire TV platform that you are getting a very reasonable price.
Moreover, this platform delivers enhanced watching experiences to the users. This means it is an excellent smart TV for watching various things like TV shows, gaming, and movies. Furthermore, it has an IPS display with a 1080P resolution and a 60-hertz refresh rate.
This Fire TV has smart features like dual-band WiFi, display mirroring for compatible devices, voice remote via Alexa, latest apps, etc. Apart from that, it has a full HD resolution of 1920×1080 with 3 HDMI ports and 1 USB port.
Features:
Full HD (1920×1080) resolution
Operating system: Fire OS
Excellent connectivity options
Delivers awesome picture quality
UI usage runs very smooth and easy
Come with five-star energy rating
16 Watts RMS sound output
Alexa voice control
Tips for buying a Smart TV
Out of a ton of Smart TV options currently on the market, you'll be able to find a smart TV that perfectly suits your needs. But let's get to the brass tacks.
Some features to keep in mind before considering buying a Smart TV are listed below.
Screen Size
The display size of a TV is a personal preference. While most TV manufacturers will tell you that the bigger the screen, the better, it is not always true. Both small and larger screen televisions have their pros and cons.
Also, depending on screen size, there is some minimum viewing distance you have to keep between your TV and your sitting place while watching TV. This point will lead to the next point, which is room size.
Room Size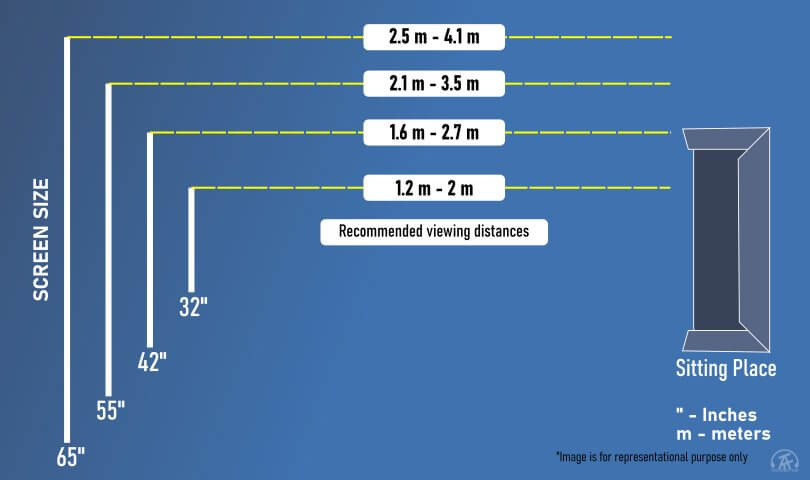 It is essential to consider the available space in your room for a TV before buying a Smart TV. The type of room, the available space, and lighting are the factors that can affect your TV viewing experience.
If you plan to have a TV in a small room, TV with a smaller display size would be the right choice. If the TV is for a large living room,
then a smart TV with a bigger screen size could be better.
As mentioned earlier, While you are going to procure a smart TV, consider the distance between the TV and sitting place.
There are several factors to count when it comes to room size, and ultimately it is the personal preference. Still, the bottom line is – buy a TV according to the size of your room.
Screen Resolution
The smart TV's display screen resolution is one of the most important factors to consider while procuring a Smart TV. Simply say, the higher the screen resolution, the better the image quality is.
To be more precise, each image is made of thousands of pixels. The higher the pixel density (number of pixels per square inch), the better the image quality.
Screens with different resolutions are available in the market. The most common screen resolutions for Smart TV available are 1080P( Full HD-1920×1080) and 4k (3840 x 2160). Also, several Smart TVs are now available in 8K resolution. And the list goes on.
Without getting into too many technical details, one thing to always remember is that anything above, 1080P makes great viewing experience. For a TV set, especially of larger screen size, 1080P or below is not recommended.
Present-day most of the contents are available in 4K format. So investing in a smart TV with 4K screen resolution will be a better choice.
Operating System
While some brands have developed their operating systems for Smart TVs, others use modified versions of several existing ones. Most brands prefer to use their customized version of the Android operating system for TVs, which happens to be the most popular in the market.
Input connectivity options
Make sure you are given all the input connectivity options for the TV. A smart TV must include all the input ports that a computer might have. Right from HDMI, RF connectivity, USB ports, audio, and video connectivity, a Smart TV usually comes with all the options.
List of Input Connectivity options: WiFi, Bluetooth, Ethernet(LAN), RF, Audio-Video connectivity, HDMI, USB, Digital audio (optical) output and Headphone
Sound Output
A good quality sound output could enhance the viewing experience. So the total sound output from the smart TV can influence your viewing experience. The total RMS sound output is represented in Watts. The higher the RMS, the sound output will be higher.
Also, most of the smart TVs come with Dolby Digital and DTS surround sound features. So select a Smart TV with good sound output. You also get a sound bar along with your smart TV.
Casting option
The big advantage of having a smart TV is that you can mirror or cast your smartphone or laptop on the smart TV.
You could also use your smart TV as a second monitor for your laptop (if your laptop supports miracast or Chromecast). But please remember there will be some lagging if you are planning to use smart TV as a second monitor.
But you can easily share your smartphone screen with smart TV through the WiFi network. Screen mirroring is very simple if you have an Android smartphone. If you have an iPhone, this may need some additional steps.
If you and your family members have an iPhone, select a smart TV that has inbuilt Airplay support along with Chromecast and DLNA support. Otherwise, You may have to install some third-party casting App for mirroring your iPhone to the smart TV.
So choose a smart TV with Chromecast, DLNA and Airplay support.
Some Final Words
Even though the price of these branded Smart TVs will be higher than regular TVs, but we can promise you that you will get your money's worth.
These above are the best smart TVs in India with all the excellent features that can make your viewing experience incredible. All the models in this list of best Smart TVs in India have unmatched quality of service. But before you begin to quest the best smart TV 2020, look for some of the features like sound, operating system, display, etc.
And you can buy them using finance options so that the big purchase won't affect your regular budget. But while you are investing in the technology, make sure that you get the best one.
Moreover, if you have any of the preferred likings, don't hesitate to ask about it. It will make your money worth investment. We hope you like this article on the best smart TVs in India that help you buy the best smart TV.
*NB: The images provided in this article are for reference purpose only. Please cross-check the specifications with the manufacturer's website.