With numerous options available on the market, it can be challenging to find the perfect computer monitor. But don't worry, we've got you covered. In this article, based on our analysis, user experience, and rating, we're going to list the best computer monitors under Rs 15000 in India.
If you're like most people, you may spend most of your time in front of a computer. Then it's so important to use a computer monitor that's comfortable and easy to use.
Not only are these monitors affordable, but they can also offer great features and performance. Moreover, monitors with bigger screen sizes will add extra comfort and strain-less experience to your everyday computer usage.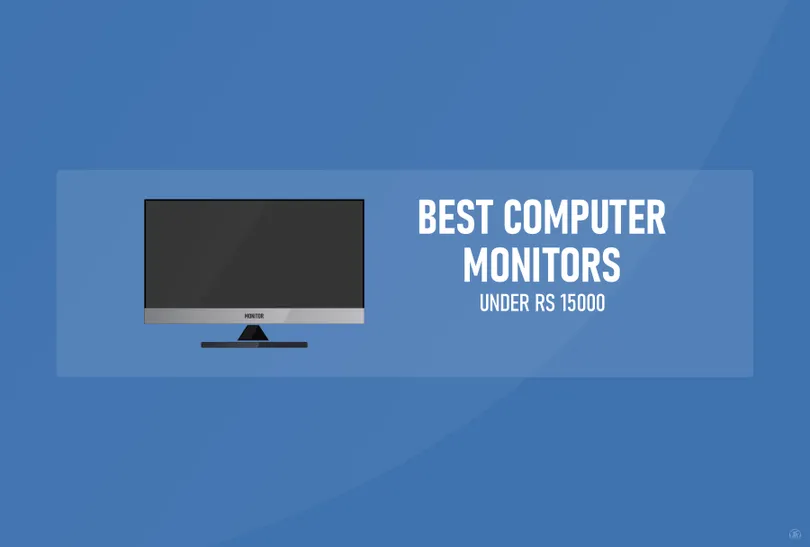 Whether you're a student searching for a budget-friendly monitor to use in class, or an office worker who needs a reliable monitor for everyday work, we have the perfect options for you. We also included several gaming monitors for your gaming needs in this list.
Also, our buyer's guide will help you choose the perfect monitor for your needs.
Best computer monitors under Rs 15000
| Computer Monitors | Display Type | Display Size (inches) | Refresh rate | Response time | Display Max. Resolution | Input Ports | Headphone Port |
| --- | --- | --- | --- | --- | --- | --- | --- |
| Acer Nitro VG240YS | IPS | 23.8 | 165 Hz | 0.5 ms | 1920x1080 | HDMI, DisplayPort | Yes |
| BenQ GW2780 | IPS | 27 | 60 Hz | 5-8 ms | 1920x1080 | HDMI, D-sub, Display Port 1.2 | Yes |
| LG 27Ml600 | IPS | 27 | 60 Hz | 5 ms | 1920 x 1080 | HDMI, D-sub, | Yes |
| ViewSonic VX2458-C-MHD | VA | 24 | 144 Hz | 1 ms | 1920x1080 | HDMI, DVI-D, DisplayPort | Yes |
| MSI Optix G24C4 | VA | 24 | 144 Hz | 1ms | 1920x1080 | HDMI, DisplayPort | Yes |
| Samsung LS27C360EAWXXL | VA | 27 | 75 Hz | 4 ms | 1920 x 1080 | HDMI, D-sub | Yes |
| LG Ultragear 24GL600F | TN | 24 | 144 Hz | 1 ms | 1920x1080 | HDMI, DisplayPort | Yes |
| Samsung LF24T350FHWXXL | IPS | 24 | 75 Hz | 5 ms | 1920x1080 | HDMI, D-sub | No |
| Dell S2421H | IPS | 23.8 | 75 Hz | 4 ms | 1920x1080 | HDMI | Yes |
| AOC 24V2Q | IPS | 23.8 | 75 Hz | 5 ms | 1920x1080 | HDMI, DisplayPort | Yes |
| HP M22F | IPS | 21.5 | 75 Hz | 5 ms | 1920x1080 | HDMI, VGA | No |
1. Acer Nitro VG240YS – Gaming Monitor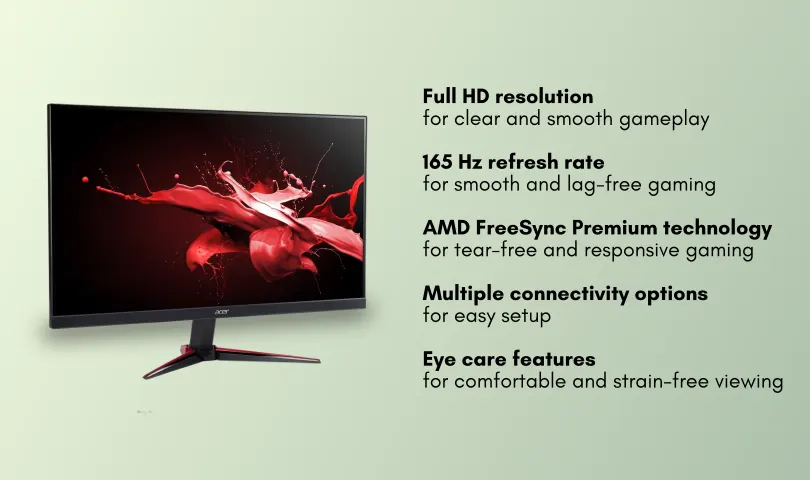 It's hard to find a good-looking monitor that's affordable, and it's even harder to find a monitor that's affordable and good for gaming.
Acer Nitro VG240YS is the perfect solution for you. This is one of the best gaming monitors under Rs 15000. Also, the Nitro VG240YS gaming monitor is affordable and good-looking and has been designed with gamers in mind.
If you're searching for a quality gaming monitor that is affordable, look no further than Acer Nitro VG240YS! It features a 1920×1080 resolution, a 165Hz refresh rate, a 0.5ms response time, and AMD FreeSync Premium technology, which means it can handle all the action without tearing or stuttering. Plus, its IPS panel provides crystal-clear images that make your games look amazing.
Features
Refresh rate of 165 Hz
Full HD resolution
250 NITs
Flicker-free display with Bluelight shield
connectivity options include two HDMI and one Display Port (1.2)
The game mode feature is available.
Slim bezel
A headphone port is provided.
Pros
IPS panel with up to 165 Hz refresh rate
Great picture quality for a monitor under Rs 15000
Cons
No provision for cable management
No height adjustment
2. BenQ GW2780- 27-inch Everyday work Computer Monitor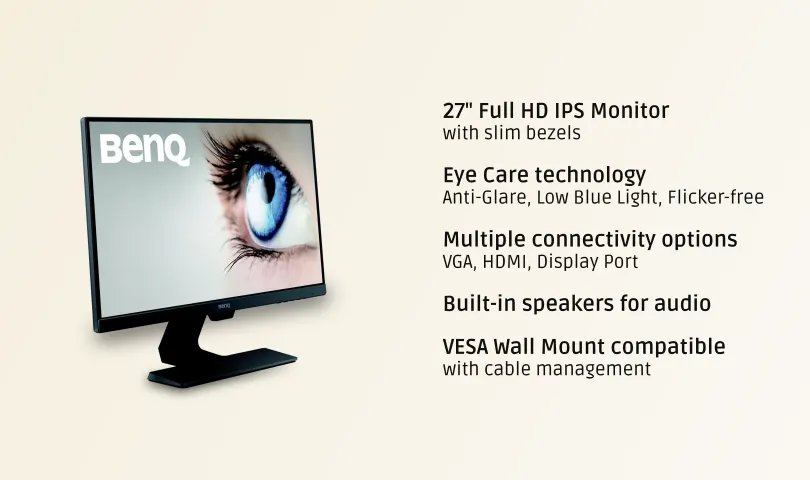 If you are a busy professional and know you need a monitor to help you stay productive and organized. But, you don't have enough time or money to spend on a high-end model.
Most monitors that are in the affordable range are small and cramped. They don't offer the screen size that you need to work efficiently. But BenQ GW2780 is different.
BenQ has created the perfect monitor for busy professionals like you. The GW2780- 27-inch Computer monitor offers a bigger screen size than most monitors in the affordable range, making it ideal for everyday work. This is one of the best 27-inch monitors under Rs 15000.
It is also VGA, HDMI, DisplayPort, and headphone compatible. Moreover, it has a 1920×1080 resolution, so you can read the text and see images clearly.
Plus, an edge-to-edge slim bezel design, cable management system, and lightweight design make it easy to move around, so you won't have to waste time keeping your workspace organized.
Features
flicker-free 27-inch Full-HD monitor
a 178-degree wide viewing angle
Eye-care technology
Brightness Intelligence Technology (BI Tech.)
250 NITs
sculpted base
beautiful premium texture for scratch resistance
VESA wall mount compatible
built-in speakers
Pros
27-inch monitor
A cable management system provided
Suitable for Photo/Video editing
Cons
The inbuilt speaker's audio output is not that great
3. LG 27Ml600 – Office friendly computer monitor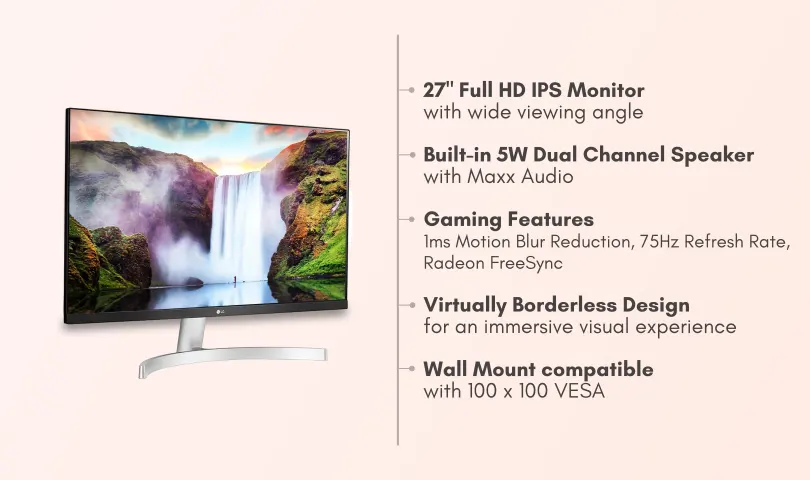 Without any doubt, we can say LG 27Ml600 is a Perfect Blend of Performance and Style.
If you're in the market for an office-friendly computer monitor under Rs 15000, look no further than the LG 27Ml600. This sleek and elegant monitor is packed with several features that will enhance your computing experience.
One of the standout features of this LG monitor is its display size. This 27-inch monitor is perfect for both work and gaming. 1ms Motion Blur Reduction and AMD Radeon FreeSync features ensure smooth and fluid visuals while gaming or watching high-definition content.
The picture quality is truly remarkable, thanks to its vibrant colors, Dynamic Action Sync, Crosshair, and Black Stabilizer features. Whether you're looking for a monitor for office work or for streaming and gaming purposes, LG 27Ml600 would be a great choice.
Features
3 side bezel-less design
Panel Type: IPS
Connectivity options include HDMI and D-sub
178-degree viewing angle
Tiltable and Wall mountable
The split screen feature is available
Has all specifications which support everyday work and gaming.
Pros
Great picture quality
27-inch monitor under Rs 15000
Easy to setup
1ms Motion Blur Reduction and AMD Radeon FreeSync technologies
Cons
Need improvement inbuilt quality
No USB ports
The sound quality needs improvement
4. ViewSonic VX2458-C-MHD Curved Gaming Monitor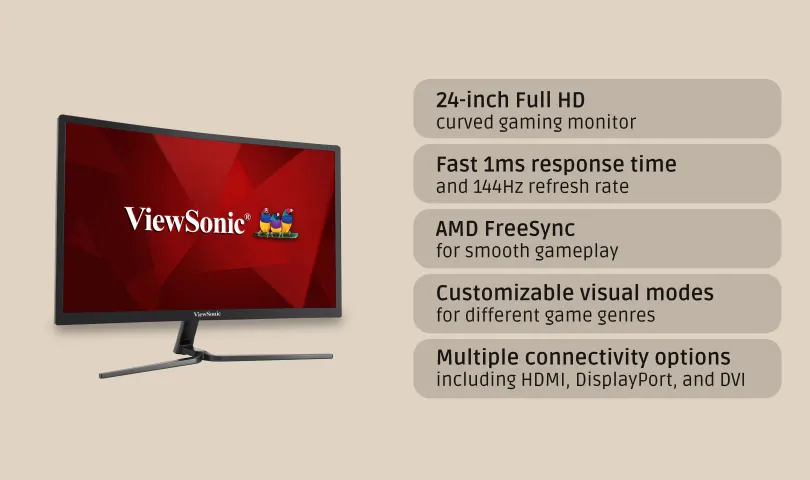 Whether you're a dedicated gamer or just want a monitor that looks great in your home, ViewSonic has the perfect product for you. With ViewSonic's VX2458-C-MHD gaming monitor, you'll have everything you need to dominate the competition.
This is a Full-HD edge-to-edge monitor with a VA display panel, 144Hz refresh rate, and 1 ms response time.
Also, the ViewSonic VX2458-C-MHD monitor features an Anti-Glare screen that will reduce eye fatigue and improve your gameplay experience. It has a curved screen that will make it easier to see the action from any angle.
You will get the necessary connectivity options for a perfect gaming experience, including HDMI, DVI-D, DisplayPort, and headphone port.
Plus, it has built-in speakers that deliver clear sound. To top it off, it has a tilt adjustment and a flicker-free screen to reduce distractions.
If you are looking for a gaming monitor with a curved display for around Rs 15000, then ViewSonic VX2458-C-MHD would be a great option.
Features
24-inch curved VA panel display
Up to 144 Hz refresh rate
280 NITs
Connectivity options: HDMI, DVI-D, DisplayPort
Headphone port provided
AMD Free Sync technology for the smooth gaming experience
Pros
Up to 144 Hz refresh rate
Curved gaming monitor
Cons
It does not have the VESA mount option
It has a slight backlight bleeding
5. MSI Optix G24C4- Curved Bezel-less Gaming Monitor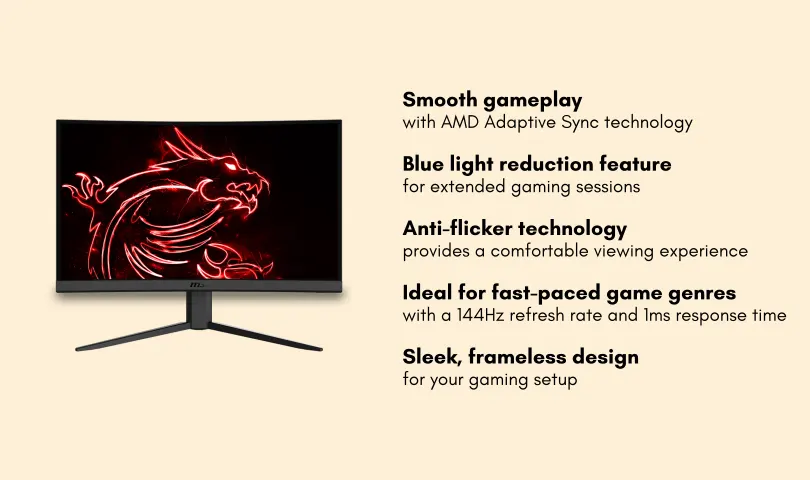 MSI has the best gaming monitors on the market, and the Optix G24C4 is no exception. MSI Optix G24C4 is the perfect choice for gamers who demand the best quality, performance, and design.
This is also a VA panel monitor with a 144 Hz refresh rate and 1 ms response time. With a curved design that promotes an immersive gaming experience, plus AMD FreeSync for smooth gameplay, this computer monitor is perfect for anyone looking for top-notch quality. Additionally, its frameless design lets you see every detail on your screen easily.
With MSI Optix G24C4, you can game in comfort and style. Its low blue light feature reduces the strain on your eyes during long gaming sessions, and its anti-glare surface keeps your screen clear and glare-free. Also, it has a backlit feature, and you can use it in any environment – even in rooms with low light.
Features
24-inch curved display with 144 Hz refresh rate
VA panel
250 NITs
Frameless monitor
AMD FreeSync for the smooth gaming experience
Anti-glare and anti-flicker
VESA mount supported
Pros
Fast response
144 Hz refresh rate
Great for gaming
Cons
No height adjustment
Room for improvement in color reproduction
6. Samsung LS27C360EAWXXL Curved Everyday Monitor
This 27-inch curved monitor from Samsung offers great value for its price. With a sleek design and a full HDR, the LS27C360EAWXXL provides sharp and vibrant visuals that are perfect for both work and entertainment.
The monitor features a VA panel with a refresh rate of 75 Hz, ensuring smooth and crisp images without any motion blur. It also has a response time of 4ms, which is sufficient for everyday tasks and casual gaming.
Connectivity options include HDMI, VGA port, and headphone port, allowing you to easily connect your devices. Also, the AMD freeSync and flicker-free technology eliminate screen tearing and stuttering, providing a seamless gaming experience.
The LS27C360EAWXXL comes with a curved design that enhances your viewing experience by providing a wider field of view and reducing eye strain.
One of the standout features of this monitor is its Eye Saver Mode, which reduces blue light emissions that can cause eye fatigue. This is particularly beneficial for those who spend long hours in front of the screen.
Features
27 Inches Samsung Monitor – Full HD Resolution
VA Panel
75Hz Refresh rate for smoother visuals
AMD FreeSync for reduced image tearing during gameplay
Game Mode for optimized game settings and enhanced visibility
Eco Saving Plus mode for energy efficiency and reduced power consumption
Pros
Curved panel
Accurate color reproduction
Energy saver feature
Cons
Refresh rate is upto 75 Hz
No built-in speakers
7. LG Ultragear 24GL600F Full HD TN panel monitor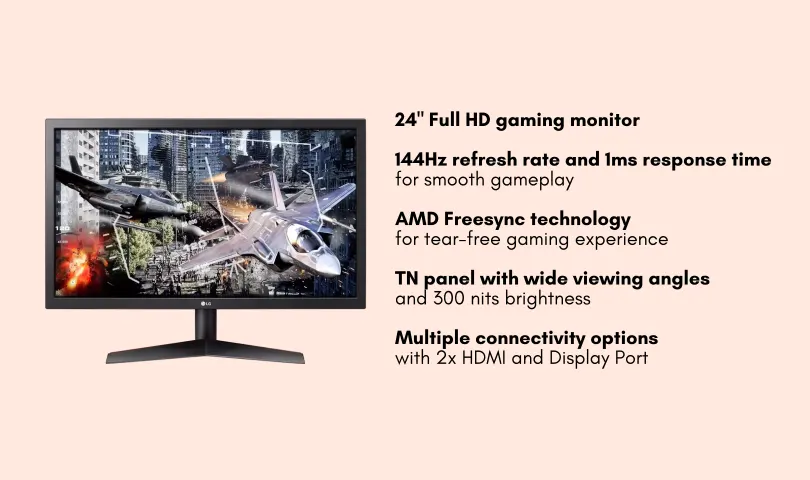 Are you looking for an affordable gaming monitor to keep up with your fast-paced gaming sessions? Then have a look at LG Ultragear 24GL600F.
With LG Ultragear 24GL600F, you get a TN panel gaming monitor with a 144Hz Refresh Rate, 1ms Native Response time, and Black Stabilizer. Plus, Dynamic Action Sync ensures that the action on the screen remains consistent and smooth no matter how frantic the battle gets.
Also, LG Ultragear 24GL600F is a 24-inch monitor with AMD Freesync technology. FreeSync technology eliminates tearing that arises due to a low frame rate. Moreover, it can be wall-mounted (VESA mount compatible).
If you are looking for an LG gaming monitor under Rs 15000, then LG Ultragear 24GL600F best suits you.
Features
24-inch TN panel display
144Hz refresh rate and 1ms response time
Connectivity options: 2X HDMI ports, Display Port, and headphone port
300 NITs
AMD FreeSync technology
VESA mount compatible
Pros
Two HDMI ports
144 Hz refresh rate
Good for gaming
Cons
No built-in speaker
No height adjustment
8. Samsung LF24T350FHWXXL 24-inch bezel-less monitor
Samsung LF24T350FHWXXL is a bezel-less computer monitor with a 24-inch IPS display. Samsung's advanced display technology provides superior image quality, and AMD FreeSync technology minimizes stutter and offers a smooth gameplay experience.
Also, the AMD FreeSync technology ensures the proper sync between the monitor and the graphic card refresh rate. The Game Mode feature fine-tunes the optimal setting, including color balance, sharpness, gamma level, and contrast for any game genre.
If you are looking for a bezel-less, budget-friendly gaming monitor under Rs 15000, then Samsung LF24T350FHWXXL is an excellent option.
Features
24-inch IPS monitor with a 75 Hz refresh rate
5 ms response time
Border less design
250 NITs
VESA mount support
Connectivity options: HDMI, D-sub
Pros
Budget-friendly everyday work monitor
Cons
No headphone port
No height adjustment
9. Dell S2421H 24-inch Full HD Everyday Work Monitor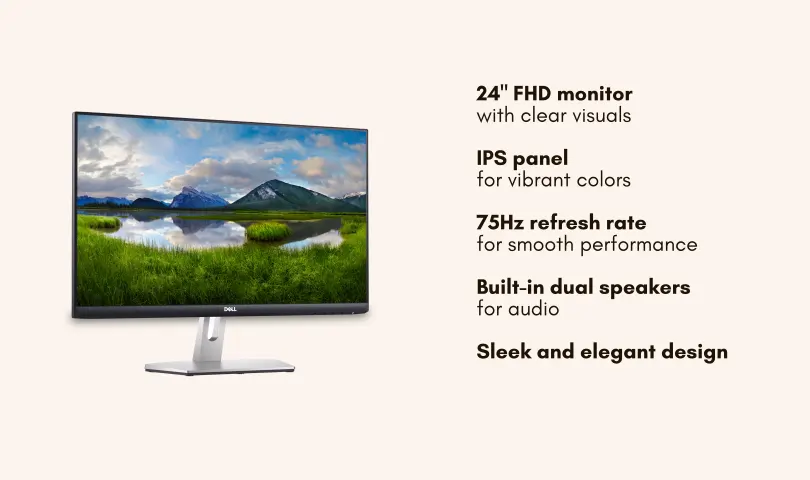 Dell S2421H is one of the fantastic monitors under Rs 15000 with an IPS panel. It features a beautiful design with AMD FreeSync technology that ensures smooth and responsive gameplay. In addition, it offers IPS technology for better image quality, even in bright light.
A beautiful and fast monitor is essential for a productive work environment. With Dell's 24 Monitor-S2421H, you can be sure that your images will look great no matter the situation. Plus, its low response time (4ms) makes it perfect for gaming or other fast-paced activities.
If you are looking for a Dell monitor with energy star certification under Rs 15000, then S2421H is the perfect product for you. Also, this monitor has an anti-glare screen with a 3H hard coating. Moreover, this monitor comes with a 3-year limited warranty.
Features
23.8-inch IPS display
75 Hz refresh rate with 4ms response time
250 NITs
2 HDMI input and 3w dual speakers
With flicker-free technology and a 3-sided bezel-less screen
Pros
Great monitor for everyday work
Two HDMI ports
Cons
Some users reported having the ghosting effect while gaming.
No height adjustment. But able to tilt the monitor.
10. AOC 24V2Q Ultra Slim Monitor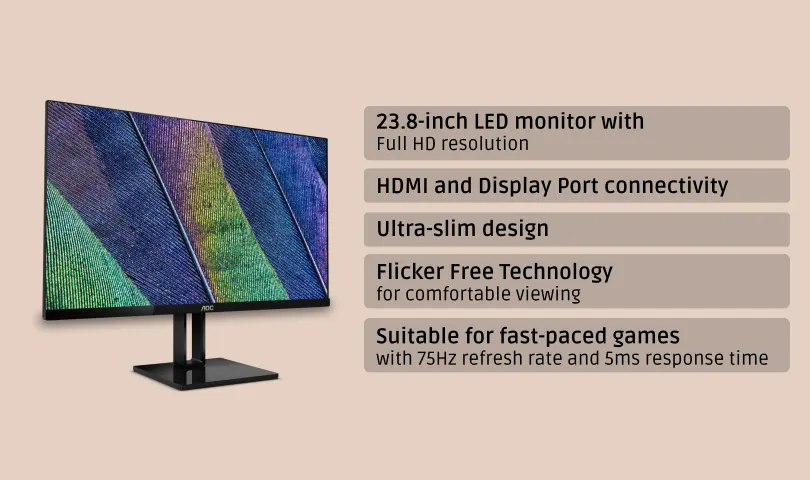 AOC 24V2Q is a 3-side frameless ultra-slim monitor with a 23.8-inch IPS display. FreeSync technology is incorporated for occasional gaming.
If you're looking for a monitor that will help you stay productive and comfortable, then the AOC 24V2Q is perfect for you. The 5ms response time, flicker-free technology, and low blue light make this monitor suitable for home and office use.
With an ultra-thin bezel and anti-glare screen, it's easy to focus on your work. Also, AOC 24V2Q has an attractive minimalistic design.
Features
Full-HD ultraslim IPS monitor
75 Hz refresh rate
250 NITs
Three-side bezel-less design
Energy efficient
Connectivity options: HDMI, DisplayPort, and headphone port
Pros
Energy Star 8 rated
Minimalistic design for everyday use
Cons
No VESA mount option
No height adjustment option
11. HP M22F Eye Safe Certified Full HD Monitor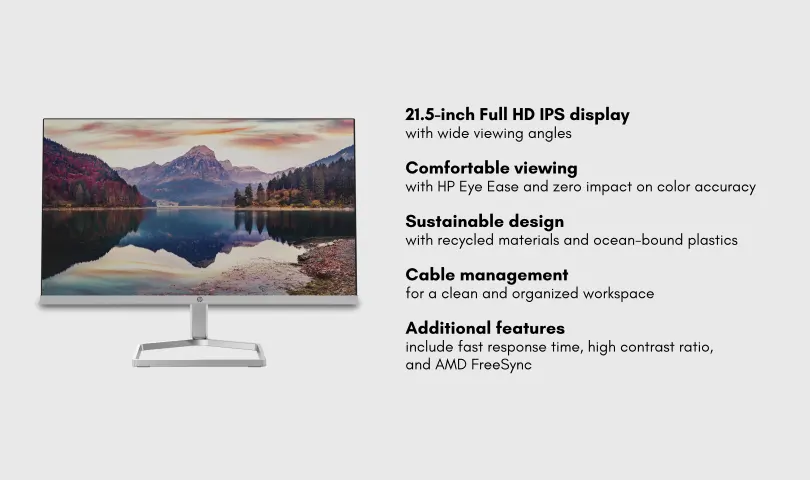 HP M22f FHD is an IPS monitor with a Full HD display and enhanced visual quality. Moreover, with its Eyesafe certified and cable management features, the HP M22f FHD Monitor is perfect for busy offices.
Also, the low blue light, LED-backlit, anti-glare and 3-sided micro-edge are some noticeable features of HP M22f.
If you are looking for an HP monitor under Rs 15000, then HP M22f is one of the best computer monitors with an IPS panel for work.
Features
IPS monitor with 75 Hz refresh rate
3-sided bezel-less
Cable management option
300 NITs
Connectivity options: HDMI and VGA
Pros
Budget-friendly simple monitor for everyday usage
Inbuilt cable management option
300 NITs brightness
Cons
No VESA mount option
No headphone port
No height adjustment
How to select the best monitor for your computer?
Finding the right PC monitor that perfectly suits your needs for just the right amount of money can be challenging, especially if you are unaware of the latest trends and innovations that's been going around in the tech world.
Several factors need to be considered when looking for a computer monitor in a specific price range. The specs will vary considerably, and you might end up paying more than what you bargained for, with redundant features that are way behind the competition.
The following buyer's guide will look at what needs to be considered while buying a computer monitor under Rs15000.
Display size and Screen Resolution
As a rule of thumb, a few specs separate the thin line between a sub-par experience with an excellent visual experience. Hence the very first thing that needs contemplation is the screen resolution-
To be very clear, Screen Resolution 'Does not' mean screen size. The screen size is measured in inches and is an important parameter to look for according to your needs (like casual use or gaming). Display resolution is measured in pixels and represented in the form 1024 × 768, 1920 x1080 pixels.
In conscience, the higher the resolution, the sharper and more detailed the image will be. A small screen can have a higher resolution, but you will have to deal with a more significant eye strain to make out the details. Needless to say, high-resolution devices will cost more, and paired with the screen size and refresh rate required, it is possible to arrive at an economic conclusion while choosing the right monitor.
Strictly from a gaming perspective, a 22-27″ display is a minimum requirement. For other uses, it can be according to one's convenience.
Screen Refresh rate
Simply put, the refresh rate is the number of times the images on the screen refresh per second. You might have heard numbers like 60 Hz, 90 Hz, 120 Hz, etc. A 60 Hz (Hertz) display means that the images on the screen refresh 60 times every second.
A higher refresh rate is often recommended for earnest gamers and those in video editing.
But it should be noted that the company-specified refresh rate can only be achieved when paired with a decent graphics card. The pairing of high resolution with high refresh rates of about 120 Hz or 144 Hz is excellent for gaming but comes at the cost of a powerful graphics card.
Type of Display
The terms LCD, LED, and OLED displays are not new to us.
Suppose gaming is the only thing on your mind. In that case, we strongly recommend an OLED monitor. It is more efficient with a crisp display and is ideal for gaming. If it is paired with a 1080/1440 pi resolution, a 120/144 Hz refresh rate will do wonders with an excellent graphics card.
If you are looking for a monitor for gaming and everyday work, either an LCD or an LED display will walk the walk, as both of these have been shown to get the job done satisfactorily.
A Full HD variant will have more details and double the pixels than an HD variant. For a more immersive experience, it is also advisable to go for curved displays, which provide a better experience if cost is not a constraint.
G-Sync/Freesync
The G-Sync feature is available in Nvidia graphic cards and Freesync in AMD graphic cards. So what is it? In short, it is a display technology used to rectify screen stuttering, tearing, etc., while playing certain games or videos. This mainly happens because the video or game frame rate that runs on the computer differs significantly from the monitor's refresh rate.
The point to be noted is that the above-said technologies only work with their respective graphics cards. In other words, you need an Nvidia/AMD graphics card to use the feature.
Additionally, the monitor must support this feature. Freesync works over HDMI and display ports, while G-sync works only over display ports. Given the rise of PC gaming and 4k videos, these features are unexpendable in today's PC monitors. They reduce the lag in moving the cursor and provide a smooth display experience.
NIT
Nit is a unit to measure the screen's brightness in the technological world. The higher the number for nit, the brighter the display will be. Why does this matter? A brighter display means a more detailed picture even in bright surrounding conditions.
Although it is not as huge a factor compared to the other points, most people won't be able to identify the difference anyway in home conditions. If you plan on using the monitor in a place with a bright background, do give it a thought before choosing your product.
Power Rating
Another factor to consider is the monitor's power rating. Savings in power will reflect savings in electricity bills and long-term savings.
Also, it becomes necessary to see if the existing power supply is adequate for the device and whether additional ventilation is needed. Generally, LED monitor consumes less power than LCD monitors. Even in this type of distinction, an increase in screen size means a proportionate increase in consumed power. Selecting a device that fits your power consumption needs is always smart.
F.A.Q: Computer Monitors
Are IPS panels better than VA panels?
While they both have benefits, IPS might be a better option if you are looking for faster frame rates in gaming, everyday work, or high-resolution image processing. IPS panels provide increased resolution and color accuracy over traditional VA panels. Additionally, they can often offer an anti-glare surface that reduces eye fatigue during long periods of use.
Which is better: an IPS panel or a TN panel?
IPS monitors have better viewing angles, making them ideal for use in a traditional work environment or when playing video games.
The major downside to TN displays is that they suffer from ghosting and blurriness when viewed from an angle. This is why professionals generally prefer IPS displays.
Can I connect an external monitor to a laptop?
Yes, you can connect an external monitor to the laptop. If your laptop lacks an HDMI or VGA port, you might have to get an adapter or docking station to connect the monitor. Once connected, you can either extend your laptop's display onto the external monitor or use it as your primary display.
What is the refresh rate of a computer monitor?
The refresh rate is the number of times per second that a monitor's image is refreshed. It is measured in Hertz (Hz). A higher refresh rate delivers smoother image output and decreases motion blur, making it ideal for gaming or fast-paced video content. The majority of monitors have a refresh rate of 60Hz or 75Hz, although gaming monitors often come with a higher refresh rate.
What are the best 27-inch monitors under Rs 15000?
Best 144Hz IPS/VA Monitor under Rs 15k?
Is there any difference between HD and UHD monitors?
Yes, there is a difference between HD and UHD monitors. HD (High Definition) refers to a resolution of 720p or 1080p (Full HD), while UHD (Ultra High Definition) refers to a resolution of 4K or higher. UHD monitors offer much higher pixel density and sharper image quality compared to HD monitors.
Conclusion
With the wide range of options available, finding the best computer monitor under Rs 15,000 can be a daunting task. However, our comprehensive list and buyer's guide have made it easier for you to make an informed decision. Whether you're a student, office worker, or gamer, we have included options that cater to your specific needs. We understand the importance of choosing a reliable and budget-friendly monitor, and our recommendations are based on extensive research and analysis.
Before making your final decision, we highly recommend you go through the list above and consider all the options available to you. Each monitor has its unique features and specifications that may align better with your preferences and usage. By taking the time to thoroughly review the list, you can make an informed decision and find the best computer monitor under Rs 15000 that suits your needs perfectly.