Do you know that there are many choices when it comes to can water dispenser pumps? This article lists the top 5 water dispenser pumps available in India and gives a detailed comparison of them with each other.
Though water purifiers provide us with a potentially unlimited supply of safe drinkable water, the upfront cost involved in installing one of these can be massive. That renders it unaffordable to most of the country's people. The only safe, reliable, and affordable option to the masses are water cans, which cost very little and come in a standard size of 20L massive can.
Most of us have seen these cans, and if you are one of the few unfortunates who had to pick these containers up to transfer water to some other water cooler, you'll know how difficult it is to pick them up and take out the water due to their heavy weight.
Many companies have come up with automatic and manual water dispensing machines to solve this problem, which requires significantly less effort to use the cans. Let's see some of the best water dispenser pumps available out there and compare their features.
Best Can Water Dispenser Pumps
1. Hoteon Automatic Water Dispenser Pump for Drinking Water Can
Hoteon Automatic Water Dispenser Pump for Drinking Water Can is a hassle-free, easy-to-use water dispenser pump with a 5.5cm bottleneck, which comes with a rechargeable battery.
It is a portable water pump that can be used in homes, offices, or outdoors. When it is mounted on the water can, you are just required to press the LED light switch to get the water, and to turn the flow of water, press it again.
After dispensing 600ml water, the pump will stop automatically; therefore, it is easy to use for children as well. With this automatic feature, you do not have to worry about spillage.
Key features:
One switch operation to turn the water on and off
Protection system button, which will dispense only 600mL and stop automatically
Safe high-density ABS-rated plastic and food-grade silicone tube
Built-in 1200mAh Lithium battery can last for 8-10 bottles of 20L each
2. Konquer TimeS KTS Automatic Silicone Wireless Water Can Dispenser Pump
One of the online bestsellers, Konquer TimeS KTS Automatic Silicone Wireless Water Can Dispenser Pump, is an all-time customer favorite due to its cost, simplistic design, and one-switch operation.
It comes with a DC adapter, which consumes negligible electricity. The complete pump and the tube are covered with food-grade silicone material, making it non-toxic and child-friendly.
This pump dispenser is a universal fit because it perfectly fits the screw-top jug or bottle with a 2, 3, 4, and 5 gallons water capacity.
However, it does not fit on the water cans with screw-type tops or the bottle that comes without caps.
Key features:
Only one silicone-capped button to turn the water pump on and off
BPA-free material with a body made up of 304 stainless steel.
Strong ABS Body plastic shell which protects it from drops and shocks
This water dispenser comes with a micro USB charging cable, which avoids the hassle of unnecessary extra charging wires
Fits into all water bottles of sizes ranging from 5.5 to 5.8 cm
Also Read: Best Rechargeable LED Emergency Lights
3. Watamate Turbo+ Wireless Automatic Water Dispenser Pump
Watamate Turbo+ Wireless Automatic Water Dispenser Pump comes with Dual motors and a rechargeable Li-ion battery.
The dual motor provides a powerful pumping capacity, which doubles the water dispensing speed compared to the traditional water dispenser pumps. No heavy lifting and a long-lasting battery are the two best features of this water dispenser pump.
It is suitable for children, youngsters, elders, and even pregnant women. It has a long and impressive battery life, which can pump up to 5 cans of 20L each before charging again.
Key features:
Only one silicone-capped button to turn the water pump on and off
With a one-time charge, it can pump up to 5 cans.
With just 3 hours prior charge, it becomes ready to use
It comes with a rechargeable battery of lithium 1200 mAh, which works even during a power cut
It is perfect for project sites, picnics, offices, and short trips.
4. Tissaj Automatic Rechargeable Drinking Water Dispenser Pump for Can
It is one of the best water can dispenser pumps that is available in India. It is an electrical cum built-in battery dispenser that works perfectly on all standard water cans.
To dispense the water, you have to press the button for three seconds gently, and it will dispense 600 ml of water, which makes it convenient to use.
It has a six feet long USB cable, which makes the charging process hassle-free.
Key Features:
It comes with an in-built Li-ion battery which is rechargeable up to 1800 mAh
Portable and light in weight
It is approved by the FDA, and it is BPA free
5. Empathy Manual Water Pump
The Empathy Manual Water Pump is convenient as there is zero maintenance of this product. It is a manual water pump that comes with a push button.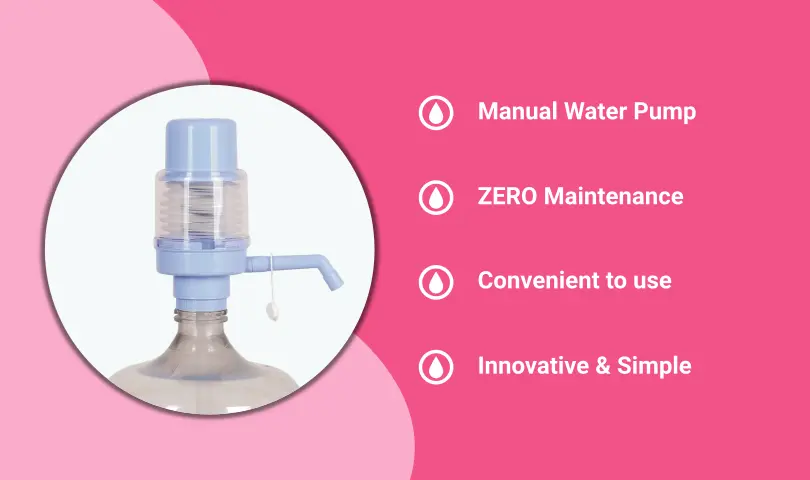 It does not work on battery; therefore, you can remain to worry less about its charging and electricity bill.
This manual water pump can be used with all the universal bottles of 20 liters and 23 liters. This pump is perfect, especially for bisleri-type regular bottles.
The pump has a transparent middle part in its center from where the spring can be seen. This manual pump is easy to attach and detach.
Key Features:
The plastic used in the pump complies with all the food packing regulations.
The spring in the pump is rust-free and unbreakable
It is hygienic, innovative, and easy to use
Conclusion
Water is a critical element of life, and we cannot survive without water. Not only do we need a sufficient amount of water to drink, but it is also a core raw product for daily life activities ranging from cooking, hygiene, and sanitation to industrial processes, which account for a core of our country's economic activity.
Hence, it will turn out to be a smart decision to invest in the right water dispenser pump if you want to drink water safely with ease and without spending a large sum of money to buy a purifier. Based on your budget and needs, you can select any of the water dispenser pumps listed above or the thousands of others available in the market.