Are you about to bring home your recently bought DSLR? While it is undoubtedly an exciting time, but hold on for more shopping for the DSLR. While a DSLR is complete in itself, you need DSLR camera accessories to help keep it safe, clean and improve its performance. Let's see what are the top 11 camera accessories without which you cannot possibly proceed.
Essential accessories for your new camera
A camera bag is a DSLR's safe space. As you do various types of shoots, you will need to have a camera bag to keep your camera safe and sturdy.
Different types of camera bags that can be used for DSLRs are holster bags, shoulder bags, backpacks, sling bags, and rolling cases. They are divided as per their usage. Rolling cases are the most robust bags designed to withstand almost anything – depending on the model.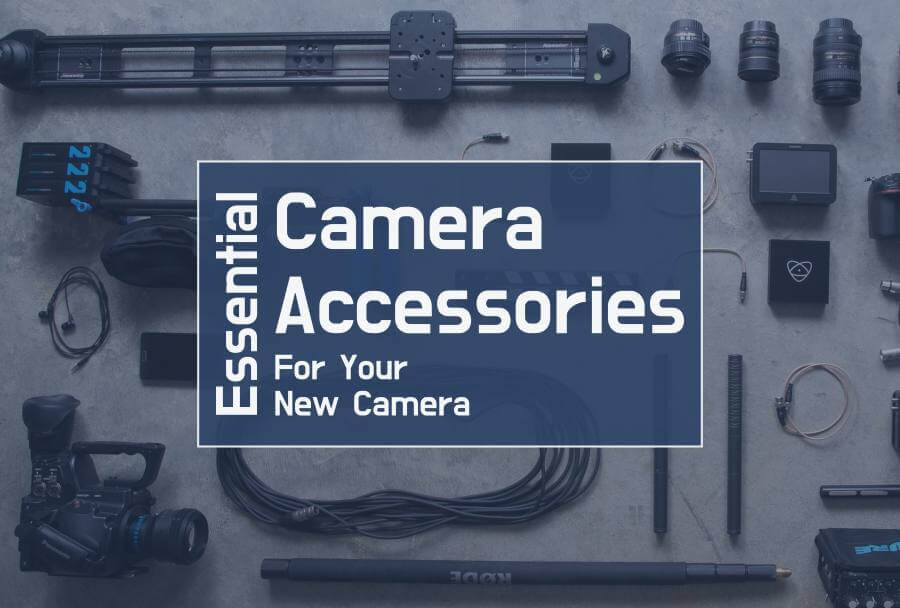 Shoulder bags and holster bags, on the other hand, can keep an SLR with a couple of lenses, depending on the size, and are for everyday usage. Backpacks and sling bags are popular because they are designed for travel.
Many of these bags will also come with a rain cover, which is essential for some forms of photography.
Depending on your genre of the shoot, you may need one or many memory cards. Ideally, you should have one more than the required memory cards in your camera bag.
You might also have to make the choice of memory cards with respect to speed and size. While SD cards are the most common, some pro models also support CF cards. They are also classified as per the writing speeds.
So, if you are going to do Full HD Videos on your DSLR, you will need a faster card, as opposed to ones for photos. If you are going to shoot 4k videos, you will need an even faster card, and so on.
Usually, every camera comes with a guide that tells you the minimum card speed you need for the kind of shoots you will be doing. Burst mode shoot also relies on card speed.
A Memory Cardholder is a small smart tool that helps keep your cards safe and in one place and is a cheap and handy must-have tool. A fast memory card reader is also a requirement, especially as you go up the ladder of shooting more.
3. Extra Battery
An extra battery is almost essential. It isn't only about the requirement for those who shoot a lot; it is also insurance. Situations in which you run out of battery or forget to charge or do not have access to electricity – an extra battery would be a handful.
Also, in case you are into mirrorless, then it becomes one of the essential photography accessories. The cameras with electronic viewfinders consume more power than the optical viewfinders. Also, the current generation cameras allow you to shoot videos in excellent quality. Why devoid yourself of all the extra shooting capabilities? Buying a spare battery is almost essential.
If you are a full-time cinematographer, wedding photographer, or travel photographer, among many others, then you need even more spare batteries.
Some people argue that tripod should be a part of the camera kit only, and shouldn't be categorized in digital camera accessories.
The importance of the tripod can never be understated. None of the other DSLR camera accessories helps perfect your picture as much as a sturdy tripod manages to do.
Tripods help you in composing better shots. Also, it helps you in shooting long exposures, getting sharper pictures, and shoot better videos.
You have to choose one carefully between the brand, the quality, and the head according to your requirement. Starters can manage with low-range brands, but the tripod needs to be sturdy. There are metal body and carbon fiber tripods available.
Carbon fiber tripods are sturdy and lighter as compared to metal bodies. The heads are usually pan-head, ball-head, and gun-head. A pan-head is ideal if you plan to shoot videos, while a ball-head is a photographer's best friend. Gun-head is a fusion that works equally well for both kinds of shooting.
Remote shutter release automatically becomes one of the essential camera accessories when you purchase a tripod.
If you shoot on a tripod, then hitting a shutter can cause a slight jerk. You can put it off with a timer, but a remote shutter release is the best option. It enables you to shoot without touching the camera.
The starter models are simple infra-red shutter buttons, while some of the advanced models even let you change the settings.
An intervalometer is another useful device that is an advanced version of the remote shutter release. It helps you take pictures at equal intervals, which can then be merged later. Star trails shoot requires an intervalometer, much like time-lapse and hyper-lapse.
An external flash is another insurance that one can give to themselves. It isn't among the must-have digital camera accessories, but it is an accessory that stretches you.
It is useful while shooting portraits, and you don't only need it when it's dark. A flash can be your fill light and can expand your horizon with regards to your shoot. When shooting backlit subjects, a flash can empower you to create fascinating portraits.
Also, a pro-tip, to never use in-built flash. In-built flash is a small and harsh source of light. It also doesn't have many options for modifiers.
An external flash has almost as many modifiers as strobes these days. For your product, fashion, and even food photography, the external flash will help you create some magical pictures.
This isn't one of the essential camera accessories, but one that can be pondered upon, especially with the kind of shoots you plan to do. The filters could be costly, though, because cheap filters will spoil the image quality.
Please keep in mind that any glass you add to your lens needs to be as good a quality as the lens glass itself; otherwise, the overall image quality will come down. The three most common filters used by photographers are UV Filter, CPL, and ND Filter.
UV Filter works like a protective filter, which you can keep on your camera lens and forget about it. It helps you protect the lens from wind, rain, sand, etc. It is easier to clean a filter than the lens without degrading the quality of the images produced by the same.
CPL or Circular Polarizing Filter is the next most common filter, used to cut out reflections, especially when shooting outdoors.
The third most common lens filter is the ND filter or the Neutral Density filter. These filters help reduce the amount of light reaching the sensor without impacting color reproduction. Shooting long exposure during the day is impossible without an ND filter. ND filter comes in different sizes, also known as stops. An ND8, for example, reduces 3 stops of light, and so on.
Camera neck-straps usually come with the camera itself and help you keep the camera hanging around your neck, allowing you to let go of the camera from time to time. However, normal neck-straps can cause marks, especially when cameras hang from your neck for long times.
Padded camera neck-straps are among the most important digital camera accessories, irrespective of the camera type. They help you protect your hands as well as neck from facing extreme strain. The padded straps have a softer and more ergonomic design.
Travel photographers, wedding photographers, wildlife photographers, and nature photographers need this protection. It becomes even more essential while using long lenses and full-frame bodies.
As you know, full-frame bodies are heavier, and the long lenses are particularly harsh on the body.
Handgrips are another handy tool at our disposal that protects our wrists. These grips allow you to hold cameras for slightly longer without hurting your palm or wrists and provide a better grip.
9. A Microphone, Especially for Video Shooters
It's no more even a headline that digital cameras are producing excellent videos these days. Many of the feature films have been shot over DSLRs. The way they have improved in usage and resolution, it has become almost automatic for everyone to shoot videos.
The sound of the in-built mic isn't as great, though. An external microphone can be a great addition to your kit.
You can have a very basic microphone as well as a high-end microphone – depending on your budget. Please make sure that the audio you record is of good quality.
A mic may be a mono or a stereo mic. You can manage with a mono mic for documentaries and even dialog because it offers a more consistent sound and clarity.
For shooting ambiance, a stereo mic allows you to record a more immersive sound. You will also need brief learning on how the mic works so that you utilize it properly.
A camera cleaning kit is a certain requirement for your digital camera. Among the most essential photography accessories, a cleaning kit helps you keep your lens and camera exterior clean and dust-free.
Allowing dust to stay on lens or body is dangerous. Apart from routine clean-up with a professional, a kit consisting of an air blower, a cleaning solution, a micro-fiber cloth, and a lens pen covers your camera against all possible dirt and dust.
The cleaning kit helps keep your camera body, viewfinder, camera lenses, and even mirrors and sensors clean.
Please note, do not clean your lens unless it actually needs to be cleaned. The cameras and lenses come with special coatings, and if you overdo your cleaning, those may be removed, thereby exposing your lens to larger issues.
It is also advisable to remove your lens and clean mirror and sensor only when you are sure of the technique and process.
Do you know that rains can harm your digital cameras in more ways than one? Also, clouds are one of the best natural props to light up your photographers.
The problem is that clouds lead to rain, and you are never far from rains. Especially during travel, or outdoors, you can never be away from the rain.
Camera Rain Cover helps to pack a camera rain cover in your bag, especially since they have become affordable and available in different sizes. The beautiful part about a camera rain cover is that it allows you to shoot the dramatic portraits or landscapes while it is raining.
If you don't have a camera rain cover, you would have to pack your camera as soon as you inkling the rain on your head. With a rain cover, you are one step ahead of the weather and can check-mate even the clouds.
Final thoughts
Most of the digital camera accessories we listed above fall into the essentials category. Simultaneously, some of them can be optional and depend on the types of photography someone is going to indulge themselves into. As we discussed here, a rain cover will be a ridiculous accessory for someone who is into studio photography and doesn't do any form of outdoor photography.
Some of the camera accessories are an excellent gift option also if your beloved one has a camera.
Picking the camera accessories is mostly done when buying the camera, while lenses can be added to the gear later on as the photography flourishes.